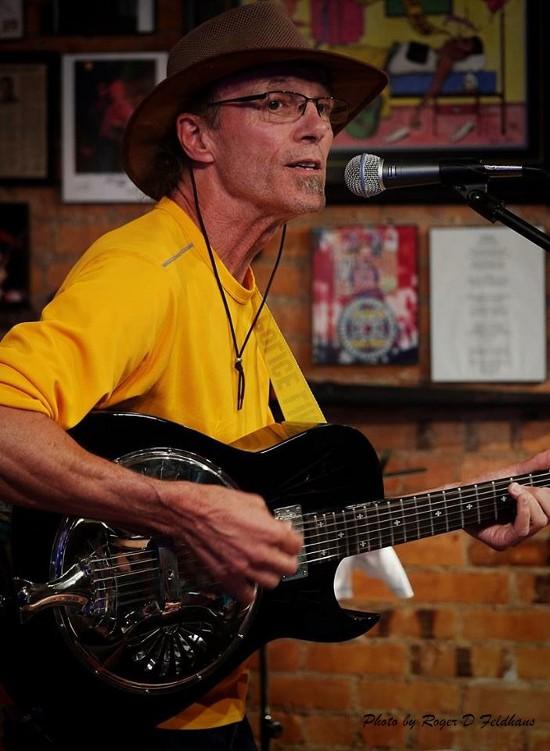 When Blue Grass, Iowa's David G. Smith recorded his last studio album, he actually cut enough material for two records. Given the consistently topical/political nature of 2014's One House, a listener might expect the leftovers to taste a little like ... leftovers.
As the singer/songwriter/guitarist said in an interview last week – in advance of the local album-release show for First Love – "This one covers quite a bit of territory. ... This record is a little bit more on the softer side of things, maybe a little more introspective. It's funny how a group of songs can seem to fit together."
Indeed, it's easy to hear that the record is bound in sorrow; half of the songs deal with lives and loves lost.
"This sixth album kind of brings me up to square one as far as my artist's life," Smith explained. "These songs were written a while ago, a lot of them. They've been sitting and waiting patiently to be noticed. ... It's kind of a bit of fate involved here, that all of this shows up on one record."
So First Love – Smith's third studio album – doesn't reflect a bleak period but is instead a "compilation ... of several rough patches" experienced both personally and by others. "Carrie," in fact, was initially written in the 1970s. (Smith said he's written roughly 1,500 songs over the decades.)
The album eases the listener into the depths, leading off with a song that will be familiar to Smith's fans – a remixed version of his wonderful "Fear" with newly recorded vocals – and the appropriately titled gentleness of "Ocean Soul." The title track hints at the album's primary theme ("First love / after the last one died"), but "Nightlife in the Stix" keeps things light with its backwoods campfire funk, and "Lost in You" ably captures comfortable and comforting love.
From that point forward, though, the record mostly swims in dark waters: deaths too soon, Alzheimer's Disease, a relationship ended. Smith, as is typical with his songwriting, omits narrative specificity, preferring instead to concisely sketch emotional states.
So "In the Silence" isn't explicitly about Alzheimer's, but it's clearly enough about dementia – and about how disease can erode the seemingly solid foundation of personality: "She used to be this one thing ... / But now there is this something new." (Smith's April 30 Redstone Room show is also a fundraiser for the Greater Iowa Chapter of the Alzheimer's Association.)
And the lyrics of "Carrie" only hint, subtly, that the subject is gone, with the piano, cello, and vocals acting as both a lament and contemplative celebration. Smith isn't an artful lyricist – his heart is always on his sleeve – but his songs have an earnest directness and simplicity in word and treatment that's effective and appealing. Even when tracks such as "In the Silence" and "Carrie" lack storytelling detail, the genuine feeling in delivery gives them force.
And as heavy as the album is, "I Can't Tell" effortlessly brings the listener back to the surface on the back half, playfully evading the consequences of life's poorer choices with its refrain of "That's another story / I can't tell." The song features Keb' Mo' on guitar and America's Got Talent's Alicia Michilli on background vocals – chastising and egging on the narrator.
Getting both of those guest artists was just another example of things falling into place on First Love. Michilli filled in for another artist who was supposed to sing on the track – before she reached the semifinals on the NBC show in 2015.
As for Mo', Smith explained that he was recording in Nashville with producer Blue Miller. "We're setting up mics, and ... I said, 'It would be really cool to have somebody like Keb' Mo' on this song, doing some slide work.' ... Little did I know he [Miller] had just met Keb' ... and little else did I know that Keb' just lived around the corner from Blue.
"And only in Nashville does this kind of stuff happen."
David G. Smith will perform on Saturday, April 30, at the Redstone Room (129 Main Street, Davenport; RiverMusicExperience.org). The 7:30 p.m. show also features Julie Christensen. Tickets are $11.50 to $12.
For more information on David G. Smith, visit DavidGSmithMusic.com.