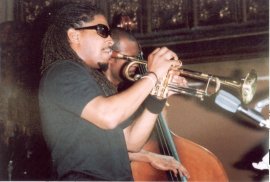 When was the last time a Quad Cities venue featured a performance that included a jazz band with a dancer? I have lived in the Quad Cities for 30 years and have never heard of anything like that happening here.
That will change on August 19 at the River Music Experience's Redstone Room, when acclaimed 27-year-old trumpet player Corey Wilkes and his Abstrakt Pulse band will conduct a workshop at 3 p.m. and a matinée performance at 6 p.m.
In addition to the Chicago-based Wilkes, the band includes Kevin Nabors on tenor sax, Junius Paul on bass, Isaiah Spencer on drums, and tap dancer Jumaane Taylor. All members of the band are in their 20s and loaded with talent and energy. I saw them perform at the Vision Festival in New York in June, and they were well-received by an audience consisting of knowledgeable jazz fans and musicians.
Wilkes grew up on Chicago's South Side. One of his childhood friends was Maurice Brown, another talented young trumpet player. Corey attended Rich South High School in Richton Park, where he not only earned a spot on the Grammy High School Jazz Ensemble but was named the top high-school trumpeter in Illinois.
Corey spent as much time as he could performing at Sunday-night jam sessions at Fred Anderson's Velvet Lounge and sitting in with bands at the Velvet. Corey has said: "The Velvet was an important place. I learned more there than I did at school just being around musicians, having conversations, and playing all styles of music there."
Corey earned a scholarship to Berklee College of Music, which he attended for three years. Wilkes returned to Chicago, and he and Maurice Brown formed a group called Double Trouble. Unable to get bookings, Corey and Maurice moved to Baton Rouge, Louisiana, to study under educator and clarinetist Alvin Batiste (who died earlier this year).
After six months, Corey's financial situation was so bad that he moved back to Chicago, where he was better able to find work. During a show at which Corey performed with singers Oscar Brown Jr. and Maggie Brown, he was also a guest with the Association for the Advancement of Creative Musicians big band and made a big impression on Roscoe Mitchell, the director of the Art Ensemble of Chicago. Corey was then asked to be the first to fill the trumpet chair long held by the late Downbeat Hall of Famer Lester Bowie.
In addition to touring and recording with the Art Ensemble and his own bands, Corey works regularly as a sideman with Ernest Dawkins, Ari Brown, Kahil El'Zabar, Nicole Mitchell, and Will Calhoun.
Corey can be heard on the recently released Art Ensemble live double CD Non-Cognitive Aspects of the City (Pi) and the CD/DVD Hot 'N' Heavy: Live at the Ascension Loft by Kahil El'Zabar's Ethinic Heritage Ensemble on Delmark Records.
Admission to the 3 p.m. workshop is $3. Admission for the 6 p.m. performance is $10. For more information, call (309) 373-0790.