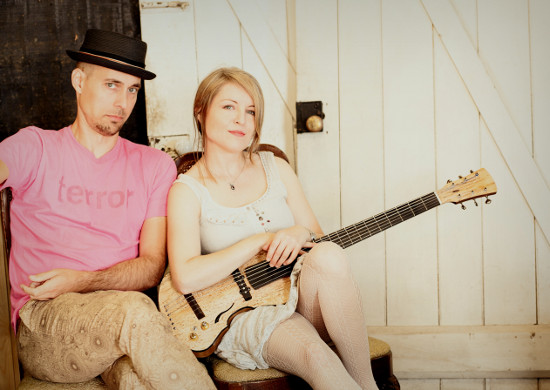 If you read the bio of Strangled Darlings on the duo's Web site, you'll get a hint of tension between capitalized Art and something at the other end of the spectrum entirely.
First: "Jess and George met at party in 2009, with their spontaneous duet of the Prince song 'Pussy Control.'"
Then: "The songs work with nontraditional subjects for inspiration. Some song subjects include : the works of great authors (Faulkner, William Blake, Gabriel García Márquez, Donald Barthelme, Anna Akhmatova) as well as witchcraft in the Civil War, the morality of Somali piracy, and the media impact of Neil Armstrong."
Into that mix you can throw in a clear understanding of the crass realities of the decentralized modern music business - the need to get attention, and an acknowledgment that emerging bands have to tour relentlessly to build an audience.
All three of those basic elements are evident on the song "Kill Yourself," from the upcoming album Boom Stomp King. It's a bright, cheery ditty on the one hand, with the title and matching refrain designed to generate maximum curiosity.
In a recent phone interview, singer/songwriter/mandolinist George Veech acknowledged some less-than-pure motives behind the song. "The biggest fear of an artist is to not have an audience, to not be heard. I know damn well that saying 'Kill Yourself' is taboo in a lot of ways, and I'm not advocating [that]," he said. "It helps get attention. I got your attention now, and then let's talk about the actual details."
The track had its origins in a photo shoot, when Veech and singer/cello-bassist Jessica Anderly happened upon a thrown-out television with "Kill Yourself" scrawled on the screen.
But despite the cheeky title and airy tone, there are serious nested messages within. Most obviously, the song is an on-the-nose anti-consumerist screed, but Veech also directly ties it to mortality: "Death / Death / Don't let them take it from you. / It's the engine of beauty and dignity, / Motivator of all we do. / It's a miracle, / It's why there's a God. / It's something you must embrace."
In e-mail responses to questions, Veech wrote that Boom Stomp King "was written to reflect that concern about material objects as a shield against death."
And within that, the album reflects fear of Strangled Darlings' decision two years ago to pursue music full-time, with the members ditching regular jobs and homes for life on the road in an RV. "Bringing your dreams to the masses is actually terrifying, but terror is a potent artistic impetus, and the lyrics of the album clearly are about leaving normal life behind and why that is so scary," he wrote.
Musically, the band has also transitioned, as Strangled Darlings shifted gradually from band to duo, and as Veech was more fully able to articulate and flesh out his songwriting ideas. "When I was first writing songs, I would bring in a song and assume that everybody could just throw something down," Veech said. "A lot of times, that led to a ... pastiche. ... It didn't have a singular vision. ... That got a little confusing stylistically as to what was going on."
Devil in Outer Space, the group's 2011 debut, could be called chamber folk, while the next year's Red, Yellow, & Blue pared down the sound and made clear Veech's love of Tom Waits - in being untethered from obvious genre, in the spooky, discordant sonic details of "King of Kings," and in the woodsy waltz of "Orange Peel." (Veech amusingly wrote: "I try so hard not to let my admiration of Tom Waits come through the music. It's like having toilet paper stuck to your shoe. I mean, I would be very sad without the contributions that paper has made to my life, but it's time to leave the bathroom and see what the rest of the house looks like.")
Boom Stomp King, despite the promise of the title, is a decidedly more refined, delicate, and precise affair, with all of those characteristics epitomized by opener "Neil Armstrong." Without other band members or session players, Veech and Anderly rise to the challenge of creating vibrant musical life with just mandolin, bass, vocals, and occasional harmonica and percussion, with particular attention to vocal textures and groove.
The instrumental building blocks are particularly articulate in "All We Do Is Make the Sound," which derives its power from each note and utterance shouldering weight yet remaining elegantly simple and supple. The evocative vocal layering on "How Many Steps to the Moon" is an impressive demonstration of the group's ability to transcend its rudimentary instrumentation.
Veech wrote that the gradual shift over three albums took the band from "a more frenetic jangling motorcoach with smoke billowing out the side, careening around corners, hooting and hollering to something a little more muscular and groove-driven."
The band believes strongly in the editing process, and given the sheen and polish of Boom Stomp King, I'll let Veech describe that process in a perhaps-too-vivid simile that reflects his world view, his humor, and his literary bent: "In an ideal songwriting experience that never occurs, the entire tune pops out of the clam shell like Aphrodite. In reality, maybe it's more like real birth with blood and poop and screaming ... . We clean that up in the editing process and then the studio process, and what you hear is like the Ann Geddes version of a newborn. ... All artists do their best to make the final product look more like a naked goddess than a blue puking newborn."
Strangled Darlings will perform on Thursday, June 11, at Rozz-Tox (2108 Third Avenue, Rock Island; RozzTox.com). The 8 p.m. all-ages show also features the Toby Brown Band, and admission is $5 to $10.
For more information on Strangled Darlings, visit StrangledDarlings.com.