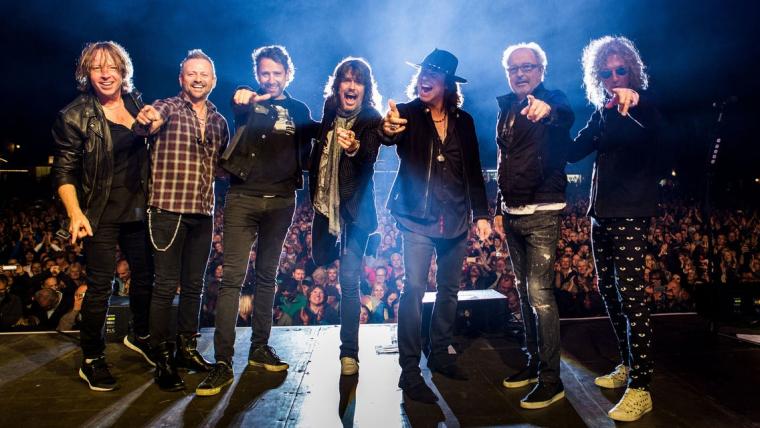 Tuesday, March 10, 7:30 p.m.
Adler Theatre, 136 East Third Street, Davenport IA
One of the most enduring and successful rock bands in music history makes a long-awaited appearance at the Adler Theatre on March 10 with the Davenport venue's hosting of Foreigner, the chart-topping, multi-platinum-selling musicians responsible for such iconic hits as "Waiting for a Girl Like You," "Hot Blooded," and the number-one smash "I Want to Know What Love Is."
With the band to this day fronted by co-founder and guitarist Mick Jones, Foreigner had its origins in the mid-1970s, its first lineup composed of Jones, saxophone player Ian McDonald, drummer Dennis Elliot, bassist Ed Gagliardi, keyboardist Al Greenwood, and vocalist Lou Gramm. Jones and Gramm became the group's chief co-songwriters, and when Foreigner's self-titled debut was released in 1977, it was an immediate sensation, peaking at number four on the Billboard 200 and scoring hit singles in "Feels Like the First Time," "Long, Long Way from Home," and "Cold as Ice." Released the following year, Double Vision was an even bigger smash, eventually earning 7x-platinum sales in the United States and double-platinum sales in Canada, and introducing another pair of memorable rock anthems in the title track and "Hot Blooded." Head Games followed in 1979, with its charting singles including "Dirty White Boy" and the title tune. And when Foreigner's aply titled fourth album 4 landed in 1981, it quickly became one of the group's most iconic albums, its featured singles including "Urgent," "Juke Box Hero," and "Waiting for a Girl Like You."
Released in 1985, Agent Provocateur was a top-five Billboard smash in the United States and a chart-topper in the United Kingdom, based in part on the staggering success of "I Want to Know What Love Is," Foreigner's biggest hit to date. It remains one of the band's best-known songs and most enduring radio hits, charting in the top 25 in 2000, 2001, and 2002 on the Billboard Hot Adult Contemporary Recurrents chart, and is listed as one of Rolling Stone's greatest songs of all time. With additional studio albums ranging from 1987's Inside Information to 2009's Can't Slow Down, Foreigner's albums have sold more than 80 million copies worldwide – almost 40 million of them in the United States alone – and 16 of the band's single have landed in the Billboard Top 30.
Foreigner brings its tour to Davenport on March 10, admission to the 7:30 p.m. concert is $69.50-115, and tickets are available by calling (800)745-3000 or visiting AdlerTheatre.com.