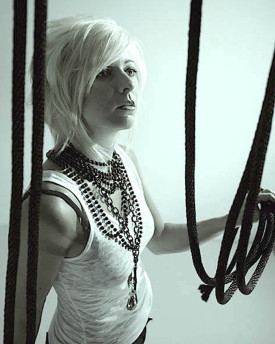 Like many other singers/songwriters, Noëlle Hampton moved to Austin, Texas, to make music. What she didn't expect is that it would stop her career cold.
It took five years, but Hampton is back, with the album Thin Line and a fall tour stopping at the Redstone Room on September 18. With an expressive, soulful, and purposeful voice as comfortable in rockers as it is in ballads, Hampton sounds right at home in the record's unforced and well developed (if somewhat generic) tunes.
mp3 "Thin Line"
In San Francisco, she had a promising start in the late 1990s and the early part of this decade. She earned a slot at Lilith Fair and opened, according to her biography, for an impressive litany of national acts: "Chris Isaak, Richard Thompson, John Hiatt, Wilco, Jewel, Pat Benatar, Sarah McLachlan, Train, Joan Armatrading, Paula Cole, LeAnn Rimes, Garrison Starr, Graham Parker ... ." Bob Dylan, too. She released a full-length album in 2000, a Christmas record in 2001, and an EP (reflecting a shift to the full, polished roots sound she still has) in 2002. She scored a pair of short films with her musical and romantic partner André Moran, who's now her husband.
But she and André decided to leave the Bay area. "We knew we could never really settle down there because it's just so expensive and not really meant for an artist," Hampton said in a recent phone interview.
During tours, Austin felt like a second home, and with its vibrant musical scene, it made for a natural landing spot. They could afford to buy a house, and tours from the middle of the country are logistically easier than those from the west coast.
The pair had a few shows after they arrived in Austin, but then other things got in the way: moving, new jobs, a new town, getting hitched ... . "Time started to just pass by and pass by, and we weren't really being musical," Hampton said. "It definitely affected my spirit, and I was really really really low. And I felt like I was never going to do this again. And I didn't know how to find my way back."
Austin didn't help matters. "The level of talent in this town is mind-blowing," Hampton said. "I think it can be a little bit daunting in a way. ... I wanted to be challenged, but then at the same time, it was hard to be challenged."
Television turned out to be the catalyst for a fresh start. An editor on the ABC show Men in Trees had remembered her song "Here on the Ground" from the 2001 short film BigLove (starring Sam Rockwell and Mary McCormack) and contacted her about using it in the show. The track was prominently featured in an episode that originally aired in November 2007.
Before then, Hampton said, she had been talking with producer Mark Hallman about getting in the studio, but the project wasn't moving forward. "I just felt so unmotivated," she said. "You feel like you've lost yourself. You don't even trust that you're a musician anymore, or an artist, if you don't do it for so long. You need your ego to get back up on track a little bit. This whole TV thing kind of made me feel like, 'Hey, I'm not forgotten. Somebody remembered me, and my music did withstand the time I wasn't present.' ... I was able to start to crawl back out of this hole that I'd found myself in."
Based on Thin Line, you'd never know that Hampton had been away for so long. She sounds like an old pro, and the songs are arranged with precision and economy without being bloodless. The funereal Americana of "Firecracker" is particularly effective, and Hampton's singing rests between the earthiness of Joan Osborne and the prettiness of Sarah McLachlan. "It is my story," she said. "It is my frustration with myself."
mp3 "Firecracker"
If Hampton shows no signs of rust when it comes to making music, she said she's still finding her way on the business side of things. "So much changed [in the music industry] in that little amount of time that I was out of this business," she said. "It was a little bit daunting to come out of this weird cocoon and see how differently I had to do everything."
She wants to tour Thin Line in Europe, but she also hopes to get its songs licensed for television and movies. Aside from the satisfaction of having her work widely distributed, it's "one of the only things that pays musicians nowadays," she said.
But that could be in danger, she said, if musicians believe that the exposure makes it worth licensing their songs without compensation. "We're only screwing ourselves," she said.
That sounds like somebody's who, in addition to being on the right musical path, has a pretty fair sense of the music industry.
Noëlle Hampton will perform on Friday, September 18, at the Redstone Room (129 Main Street in Davenport). The show starts at 9 p.m., and tickets are $5.
For more information on Hampton, visit NoelleHampton.com, MySpace.com/noellehampton, or NoelleHampton.BandCamp.com.