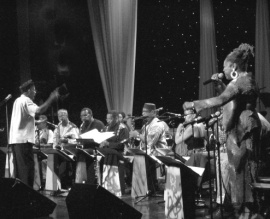 The Great Black Music Ensemble, with almost 40 members, has long been an avant-garde force in jazz. CDBaby.com asserted that the ensemble brings "the excitement of new sounds and rhythms, while incorporating the traditions of black music including funk, reggae, bebop, swing, and more" to its music. The group is one of two bands connected to the Association for the Advancement of Creative Musicians (AACM), a group that has made "unparalleled contributions to modern music," according to JazzPolice.com. Before 2005, the ensemble was known as the AACM Big Band.
The Chicago Tribune called the Great Black Music Ensemble "consistently impressive," and the mostly improvisational band will bring its show to the Quad Cities on the Fourth of July, featuring tenor saxophonist Ari Brown, alto saxophonist Ernest Khabeer Dawkins, flutist Nicole Mitchell, trumpeter Corey Wilkes, trombonist Steve Berry, and singer Saalik Ziyad.
Ziyad grew up singing in the AACM youth choir. "I wasn't interested in jazz," he admitted. "I was a choir geek." Once Ziyad got to Northern Illlinois University and branched out musically, he "fell in love" with jazz, he said.
His singing, along with the music and vision of many others, has led to what the Baltimore Sun called a foray "into the elusive art of large-group improvisation."
Blending so many musical personalities can be tricky, especially when it comes to improvisation. Ziyad said that the group usually goes over which tunes to play in rehearsal, with more improvisation given to certain pieces depending on who is playing and how many musicians are in the piece. A larger piece may have less improvisation, but musicians always have the freedom to deviate from the script, said Ziyad.
The group is led by Mwata Bowden, a composer/musician described by SoundSlope.com as a "secret weapon" for his musical talents with reed instruments and the didgeridoo.
Other then the occasional blues festival and rare trips overseas, the group calls the Velvet Longue in Chicago home, playing up to 40 times a year. Ziyad enjoys the intimate atmosphere of the lounge but also welcomes the wider audience a festival brings.
Besides the eclectic mixture of blues, ballads, and Latin songs, Ziyad likes to mix in a little bebop-style singing, though it's rarely called for on the sheet. In fact, not much is; many of the singer's lines, Ziyad said, are improvised from a trombone line, a bass line, or whatever is in his head. "I'm just like other instruments," he said.
With such a large number of musicians on its roster, the ensemble has a plethora of different sounds and programs; Ziyad said that commissioned compositions, pieces written by members of the group, tribute shows to artists, and completely improvisational pieces make up their repertoire.
Ziyad's bold, old-school voice races through a verse only to suddenly slow down and hang on a note, much like Wile E. Coyote's attempts to stop himself from running off a cliff. Other singers in the ensemble burst forth with cries and chants on different tracks.
It's that kind of almost jarring music, the type that catches your ear for its unusual sound, that the Great Black Music Ensemble makes: offbeat rhythms; percussion that sounds like brushes on a countertop; piano keys that defy natural progression; a horn that seems to bleat, not blare. But it works wonderfully; these "misfit" sounds gel together to form an ambiance of eccentric harmony.
The track "There's a Sparx in the House" begins with a wailing female voice and what sounds like wind chimes, as well as a tambourine. From there, the voice transitions to an garbled sound - one you realize moments later is actually an instrument. Later in the song, a saxophone blares on its own and, mid-solo, screeches tremendously. An almost terrifying assault of percussion swallows the sax whole. The song ends with a piece of poetry/song that celebrates the voice as the "first instrument."