I've reviewed several recordings by both Sean Ryan (solo and with his band The Dawn) and Jim the Mule over the years, but the You're Gonna Regret Me EP is the first opportunity I've had to hear Ryan as part of the latter band.
It's a bit of a revelation, as Ryan's voice, musicianship, and sensibilities are excellent complements to Jim the Mule's sturdy country rock. With multi-instrumentalist/singer Ryan and guitarist/singer Tom Swanson splitting songwriting and vocal duties over seven tracks, there's a natural variety, and the EP format feels like an ideal showcase for the different facets of the ensemble.
More importantly, each song is mature with a fully formed, distinct personality, yet they clearly spring from the same parents; their differences resonate as much as their similarities.
The EP opens with the rollicking, chock-full title track, banjo paired with country guitar, and Swanson's casually confident singing matched against the female backing vocals. At less than two and a half minutes, it seems almost cruelly abrupt given all that's going on.
"Shimmy Shimmy Shake" returns the band to its familiar straight-ahead Americana rock, and "Big Dumb Rock" also travels that path. The former's sharp, warm lead guitar and the latter's cheeky, infectious chorus lift them above genre exercises. "Brighter Day" is a dusty, campy cowpoke anthem complete with tuba, and Ryan's earnest singing is enticingly incongruous with the otherwise arch treatment. This is certainly the most playful I've heard Jim the Mule, live or on record.
But You're Gonna Regret Me is really distinguished by three tracks. Ryan's "Peaceful Heart (It's a Long & Restless Wind)" oozes longing, and the singing and lead guitar, in particular, are full of hope weighed down by authentic sorrow. "Wanderer" is a gentle rocker carried by Ryan's stalwart voice but gorgeously filled out by organ, subdued guitar accents, and a lovely, extended instrumental outro featuring coalescing guitars. And Swanson's patient "Marilene" has a wash of soft instrumental colors that builds into the restrained intensity of its chorus.
Jim the Mule and Sean Ryan & the Dawn will be sharing the spotlight at an August 24 CD-release concert at the Redstone Room, with both bands playing their new records in their entirety.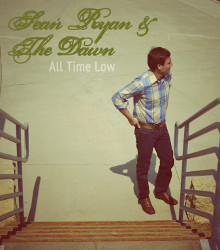 Sean Ryan & the Dawn's All Time Low suffers a bit in the comparison. It has plenty of charms, but at almost twice the length of You're Gonna Regret Me, it begs for more diversity, sharper definition, and greater nuance.
Ryan's voice and playing remain strong and certain throughout, but there's a nagging homogeneity over the 13 tracks - less in style and instrumentation than in tone and approach. The songs often lack a sense of drama and arc, more simple and direct statements of ideas and feelings than developments or explorations of them. You can get a pretty full sense of each track from the words of its chorus - for example, "Just stay with me" - and such straightforward lyrics need more vigorous or surprising musical treatments to avoid feeling blunt and obvious.
The strongest tracks highlight that shortcoming by way of contrast. The loping "Pass Me by" employs a slightly anxious rhythm and swells of light feedback and keyboards. The prominent drums, keyboards, sax, and high-pitched bass of closer "Comeback" create a funky mood, and Ryan's voice and the words don't need to pull such a heavy load. Horns, a faster tempo, and relatively aggressive guitars elevate "Ashamed to Go," and underscore that the roots-rock context of Jim the Mule serves Ryan's songs better than the generally more laid-back treatments of the Dawn.
And the solo-acoustic-guitar instrumental "Folk Song" is the album's most lyrical, expressive, and evocative track - concisely sketching an emotional landscape without words.
Jim the Mule and Sean Ryan & the Dawn will be holding a joint CD-release show on Friday, August 24, at the Redstone Room (129 Main Street, Davenport; RiverMusicExperience.org). The Kerry Tucker Band and Busted Chandeliers open, and the show starts at 8 p.m. Jim the Mule will perform at 9:30 p.m.; Sean Ryan & the Dawn go on at 10:30 p.m. Advance tickets are $7, and admission is $10.
For more information on Jim the Mule, visit JimTheMule.com. For more information on Sean Ryan & the Dawn, visit RCReader.com/y/dawn.