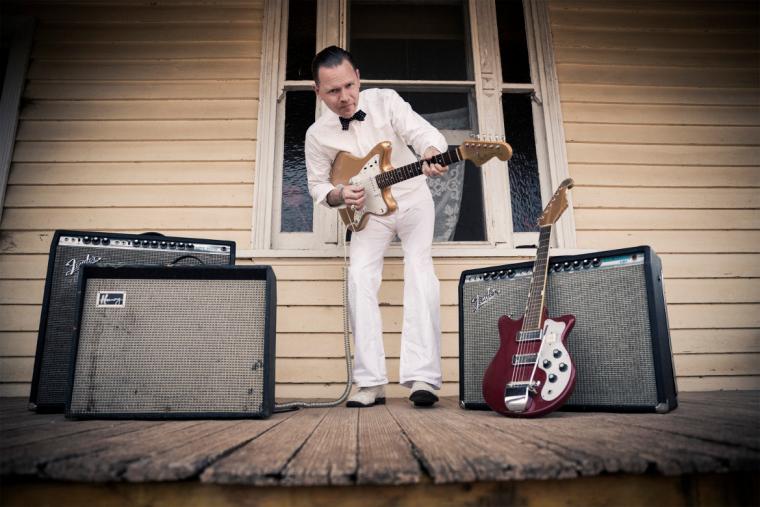 In a way, C.W. Stoneking's Gon Boogaloo brings the Australian singer/songwriter/guitarist back to his childhood.
When he first heard old blues recordings as a kid, he's said, the music grabbed him because it was "deconstructed" and unlike anything he'd ever experienced. "Everything I'd heard before that had been produced to quite a high degree," he explained in a phone interview last week, in advance of his June 6 Daytrotter show. The singers had unconventional and untrained voices, and the production was nonexistent.
And so it (mostly) goes with Gon Boogaloo, Stoneking's 2014 record finally getting its U.S. release on June 3. Although there are no cracks and pops, the album was recorded live with two microphones, and it has a primitive simplicity and raw elegance. The main vocals are occasionally blown out, the backing singing sounds unusually distant, and most of the songs have a thin fog lending them a time-worn softness.
But while a love of ancient blues clearly drives the songs, Stoneking plays an electric guitar, and the hypnotic grooves recall everything from early rock-and-roll ("Get on the Floor" and "The Jungle Swing") to the haunted charisma of Tom Waits ("The Zombie" and "Mama Got the Blues"). The female backing vocalists have an innocent, kid-like sweetness, while C.W. holds court like a carnival barker with tales told as often as they're sung. It's an immensely compelling record, universal and timeless yet idiosyncratic.
Gon Boogaloo was a long time coming – his previous album, Jungle Blues, came out in 2008 – and its final form was a result of practical considerations as much as artistic ones.
"I have a long list of excuses," Stoneking said of the gap. "I had a couple kids in between the albums, and we did the Europe and UK thing, which was about two and a half years of very intense touring." (Stoneking last toured the United States in 2009, he said.)
And "I took up the electric guitar, which I hadn't really touched since I was a teenager – like 20 years or so. ... I had to spend some time on the thing. I was really quite bad at it."
The switch to electric from the National guitars he'd previously played was a choice made with shows in mind. "When I started making up my new songs, I started putting more of these backing-vocal parts in, and I quickly realized that if I was going to have backing singing such a feature of the record, I wouldn't be able ... to take my horn players on the road as well," he said.
That meant Stoneking would need to be the primary instrumentalist on tour, which addressed a frustration he had with live performance: "I got tired of making up bits of music and then I didn't get to play it myself. I just wanted to be more of an instrumentalist. If I had an idea – a musical theme or something – then I'd actually play it on my instrument. I couldn't really do that on the type of guitar I was playing. It just didn't have the presence to play parts like that."
Stoneking knew he wanted to pare down the recording process from the overdub-heavy Jungle Blues, but that, too, wasn't much about an artistic vision.
"I liked the sound," he said of his previous album. "I really hated mixing. ... I couldn't stand to go through that. I just wanted really simple, just a recording, not have to get bogged down in that aspect of it."
Still, he added, "I didn't plan to go quite so minimal. That was the result of playing around ... trying to get a guitar sound ... ." He disliked the sound from the amp mic, so "I kept shifting it back, shifting it back, and then I realized it was further away than my vocal microphone. And so we got rid of it altogether. ... We started out with an eight-track and ended up recording on a two-track, which actually sounded nicer ... ."
Stoneking's pragmatic nature seems strange given his lived-in oddness as a musical artist, but it appears to be consistent. Consider the 1990s shipwreck he was involved in off the coast of Africa, the source of his song "Jungle Blues."
"I found myself thrown across the cabin in the middle of the night, and water rising into the boat," he said. "And I leapt out of there with my banjo."
But Stoneking didn't grab it because it was his prized possession.
"You need a multipurpose tool if you don't know what's ahead of you," he said. "The banjo's an excellent paddle, you can use it to wave down airplanes, you can use it for a magnifying glass ... ."
I should have pressed him on that last one, but instead I asked if those were really the considerations running through his mind. "All of that. Time slowed down. I read the Bible front to back."
C.W. Stoneking will perform on Monday, June 6, at Daytrotter (324 Brady Street, Davenport; Daytrotter.com). Tickets to the 7 p.m. show – which also includes The Lowest Pair and Brett Harris – are $8 in advance and $12 at the door.
For more information on C.W. Stoneking, visit CWStoneking.com.