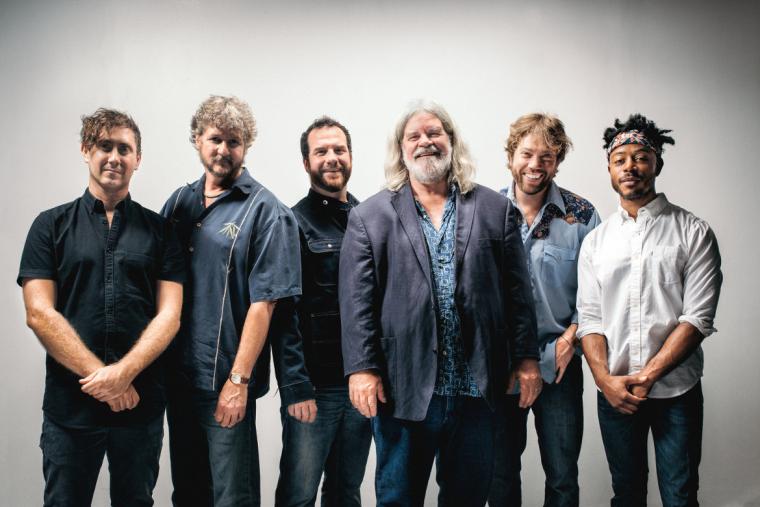 It was 2007 when I last spoke to Vince Herman, and he was promoting a show with Great American Taxi. I asked him about some festival dates that Leftover Salmon – the long-running, self-described "polyethnic Cajun slamgrass" jam band that he co-founded – had played that summer.
Herman was clear that, in his view, Leftover Salmon – which went on hiatus in 2005 after soldiering on for three years following the death of bandmate Mark Vann – didn't have much of a future without its founding banjo player. "As a business entity and as a musical entity, it just didn't have its old boogie-woogie to it," he told me. "We did it as long as we could before it was too much."
That obituary turned out to be premature, as Leftover Salmon over the past seven years has had a remarkably active second act.
Part of that was getting more distance from Vann's death. "We took some time to recover our spirits ... ," Herman said in an interview last week for Leftover Salmon's July 3 show at the Redstone Room. "We really needed to give it a break so we could come back to it and feel like, 'Wow, these are beautiful tunes to dive back into.'"
But the key, he said, was finding the right person to fill Vann's role in the band. That was banjoist Andy Thorn, who joined in 2010. "He definitely has a Mark-like feel to him, not only his playing but hanging out with him, also," Herman said. "That was an important part of making the equation happen."
Leftover Salmon, he added, probably wouldn't be where it is today without Thorn in the fold: "The writing and playing are great, and not only make the old stuff feel right but pointed us in some new directions that seemed like fun to explore."
Thorn hasn't been the only change for the band in recent years. Joining the core of Herman, co-founder Drew Emmitt, and longtime bassist Greg Garrison are drummer Alwyn Robinson (a 2013 addition) and jazz-trained keybordist Erik Deutsch (who hopped aboard last year, following a stint at the keys by Bill Payne of Little Feat).
"Changes keep coming," Herman said. "When you're on year 28 of this stuff, you've got to learn to roll with the changes, and they've been fun."
The band's resurgence has been documented in a pair of studio albums, 2012's Aquatic Hitchhiker and 2014's High County. But for an outfit best-known for its live shows, the treasure of recent years is 2015's 25, which features 25 live tracks to mark the band's 25th anniversary.
Emmitt had, for several years, also teased a Cajun and zydeco-flavored album for Leftover Salmon, but Herman said that was in the works with Payne in mind. "We were going to do a New Orleans record with Bill Payne, and when he left to go join the Doobie Brothers, that kind of put that on the back burner. ... We've got some tunes sitting around, lying in wait for that New Orleans project."
But he said the band was recently in Arizona recording for an album planned for release next spring, and the band's recent additions have been important contributors.
"Man, what an awesome interpreter of things Alwyn has been," Herman said. "He hears things that we would never think of – mostly the new stuff, but we do occasionally rework some things, and Alwyn always finds an interesting approach to it."
And while Deutsch is still relatively new, Herman said, he was impressive in the studio. "He's just getting more and more comfortable all the time," he said. "Erik just amazed us with his ear, and then what he produced."
As for the Redstone Room show, the venue stands out on Leftover Salmon's summer itinerary, loaded with outdoor festivals and a performance at the famed Red Rocks Ampihtheatre.
But the band has a Quad Cities connection. Herman's wife – Miss Moline Playground 1979 and Moline High School's 1991 homecoming queen, he noted with a laugh – still has family here, and they'll be celebrating her father's birthday the day Leftover Salmon comes to town.
And while a small room has a different feel from the outdoor festivals the guys usually play over the summer, Herman said it won't be a problem: "As long as that dancing energy is there and people are willing to cut loose a bit, we seem to find the right stride of things."
Leftover Salmon will perform on Monday, July 3, at the Redstone Room (129 Main Street, Davenport; RiverMusicExperience.org). Tickets to the 7:30 p.m. show are $37.75 to $43.
For more information on Leftover Salmon, visit LeftoverSalmon.com.