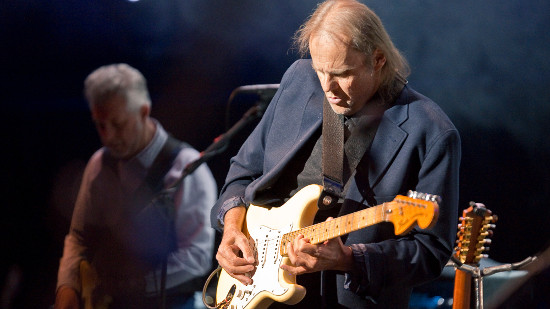 Last year was meant to be a celebration of 25 years as a solo artist for Walter Trout. For much of the year, it looked more like an obituary.
"Provogue Records for the last five years has been planning this big push," explained the guitarist/singer/songwriter in a phone interview promoting his July 21 performance at the Redstone Room. "They financed a biography to be written of me; they financed a documentary to be made about my life; they released all my back catalog on collector's item vinyl. And the whole record label was going to call 2014 the Year of the Trout. And to me, being an artist, my ship had come in."
Trout - a five-time nominee in the Blues Music Awards' Rock Blues Album category and a veteran of John Mayall's Bluesbreakers band - also had a new album, The Blues Came Callin'. "I've got this label and they're way behind me, and as soon as the record started to come out, I was sick and I canceled an entire year of touring."
Fast forward to the present. Another new album, Battle Scars, is nearly finished and is slated for release in October. One line from one track neatly summarizes, with a light touch, the fact that Trout missed his own party: "My ship came in and sailed away again."
You won't, however, hear the man complain - which is clear by his use of the vague and grossly inadequate word "sick."
In late May of 2014, Trout had a liver transplant.
This was preceded by an incident in which he bled so much that he required 22 pints of new blood; the typical human body has 10 pints.
And following the liver transplant, he said, his abdomen filled with bile: "My organs were digesting themselves. And that was the most painful thing I've been through, and they wouldn't give me pain killers because my blood pressure was 60 over 30, and they said, 'If we give you a pain killer, it will kill you.' So they moved me to a section of the hospital where I could scream and I wouldn't bother so many people. And I lay there and screamed for almost two days."
The liver problems, he said, were not a surprise: "I knew for a little while that I had Hepatitis C, but I didn't have any symptoms. And I know with that disease you can go for 40 years and not have any symptoms. ... You just carry the virus."
So he didn't know the source of various ailments. There was the dizziness that plagued him for several years, often forcing him to lean against an amp while playing.
Then there were issues with swelling and hand cramps. Trout told of being in Germany in spring 2013: "I woke up one night and I was swelled up like a balloon with fluid." His hand had been hurting, so he'd been taking magnesium. "The old drug addict in me from my 20s figured, 'Well, if it says on the bottle to take two a day, 15 is better.' I figured it was an overdose of magnesium. My legs were swelled up. My stomach looked like I'd swallowed a basketball. And I did the rest of the tour sitting on a chair."
So every two weeks he'd go in to have fluid removed from his abdomen, sometimes as much as 25 pounds. The fluid pressed on his lungs and diaphragm, making it hard to talk or sing.
But he soldiered on, doing two additional tours in a diminished state. "Both of those tours I had incredible hand problems," he said. "We played one festival where I couldn't do an encore, 'cause I played the last song of the set with one finger. I couldn't play chords. My hand was cramping excruciatingly, so I just took my index finger and moved it from note to note and played just little licks, and we ended the set. I had to tell them, 'We can't do an encore. I can't play.' And then I went to the merch booth at this festival, and I was unable to sign CDs 'cause both my hands were closed like claws. This all came from my liver, which at the time I didn't know. I just thought I was done. I was having therapy and acupuncture, and I was trying all kinds of stuff, and nothing worked. ...
"I had to re-think how I play, because if I tried to bend a string, it would cause an immediate cramp. So I couldn't bend strings. I couldn't vibrato. And how the hell do you play blues without bending a string or using vibrato? But I managed to pull it off. I re-thought everything I do, and I just played a bunch of kind of fast stuff. I meant it. I was doing my best, but when I watch those videos, I go, 'That's not really how I play.'"
In early 2014, Trout managed to record The Blues Came Callin', with the songs "Wastin' Away" and "The Bottom of the River" directly addressing his health, his mortality, and his frame of mind.
"I thought my last album was my final statement on life, because I did that while I was very sick," he said. "I finished it just a few days before I was hospitalized. Even the doctors didn't think I was going to come through. I couldn't walk; I could talk; I lost 120 pounds; I had a ventilator to keep me breathing; I didn't eat for four months; I had a hose up my nose and they gave me liquid nutrients. It was pretty heavy, pretty intense."
At some points, he said, he wanted to give up - but his wife and manager Marie forbade it: "There was one day when I said to her, 'Look, I can't do this any more. It hurts too bad. We both know I'm not going to make it here. The doctors know I'm not going to make it.' I said, 'I'm ready to go.' And she said, 'No. That's not an option. You are going to fight this, and I will be here with you and we'll fight it together. ... If you don't want to do that for the music, you have to do that for me and for our children. You need to be here for us. We want you here.'"
The music was slow in coming. Trout said that in the hospital after the transplant, "my oldest son came to visit me, and he brought me a Stratocaster, and he said, 'Dad, you've got to play. You have to keep in touch with who you are. You've got to do this.' I was too weak to lift the guitar. So they would take me out of the bed and they would move me into a chair, 'cause I couldn't walk, and they would place the guitar in my lap. And I couldn't get the string down to the fret. I was too weak ... and I couldn't get a note to come out. It was horrible. So I said, 'You've got to take that thing out of here. I don't want to see it. Right now I just want to try to stay alive, and I'll have to attempt that later.'"
And he did when he returned home in September. "I didn't have any callouses," Trout said. "I didn't have any muscles. I was skin and bones. ... I just had to force myself, and it was excruciatingly painful getting the callouses back and trying to build up the strength. But I just kept at it. I just went for it. I said, 'I got nothing else to do. I can sit here and just push.' And it came back eventually. ...
"It became so joyous to play. I was sitting on my couch sometimes for five or six hours and playing. I ended up pulling out all the tendons in the fingers on my left hand, and I've had to get therapy because I hurt my hand by playing so much." With a laugh, he added: "It's one thing or the other."
On June 15, barely a year after his transplant, he returned to the stage - at Royal Albert Hall, no less. He got three standing ovations, including "one just for walking on stage," Trout said. "I can just leave now."
Joking aside, he said he was "apprehensive," to the point that he couldn't do a scheduled interview before the show. "He might as well have been speaking Swahili," Trout said of his interviewer. "My mind was so on what I had to do, I couldn't concentrate long enough to even hear the questions."
The show, however, went well. "I had them set my mic right in front of amps back there, so if I felt like I needed to lean on something, I had my amp," Trout said. But "I found that I could sing two verses, and then when it was time to play a solo, I was like, 'Boy, I don't need this amp.' I would just walk out into the middle of the stage ... ."
And the day before we talked last week, Trout and his band played an unannounced show at a bar as a test of his stamina. "I didn't know if I'd make it through 45 minutes," he said. "My son was there, and he was keeping time, and we were just goin'. ... And I thought I'd only been up there for like half an hour. And he goes, 'You're already at 90 minutes, man.' ...
"I played for over two hours. I didn't have to sit down. I didn't fall down. I played my butt off. I bent the strings all over the place, and it's back. ... It felt like the old days. It felt like I was 25. Except when I was 25, I would have been shit-faced drunk, so I actually felt better than 25. ...
"When I got home from doing that ... , my fingers were like, 'Wow. What did you just put us through?' But this morning I'm fine, and I'm doing it again tonight in a different little bar."
Fans ponied up $241,000 to help offset medical costs for Trout, and now it's time for payback. Battle Scars will be part of that, and - like The Blues Came Callin' - it doesn't shy away from near-death experiences. "It is the musical journey of what I and my wife went through last year," he said. "Some of it is semi-dark and depressing lyrically, some of it is joyous, but it's a concept record about that."
Making the record, he said, represented a "creative renaissance," but it's also a gift to fans who supported him with everything from prayers to cash.
"I feel that I have a responsibility to them," he said. "They want to see me back. They want me to come back and do this for them. It means something for them. ... It's very poignant to me that they think that much of what I do. ...
"I'll give them everything I have."
Walter Trout will perform on Tuesday, July 21, at the Redstone Room (129 Main Street, Davenport; RiverMusicExperience.org). Tickets to the 7:30 p.m. performance are $15 to $18.
For more information on Walter Trout, visit WalterTrout.com.