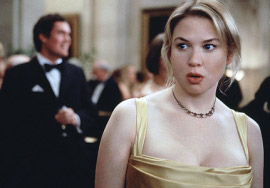 BRIDGET JONES'S DIARY
A terrific leading character can atone for a lot of wrongs in a film, and there might be no better proof of that thesis than Bridget Jones's Diary, Sharon Maguire's adaptation of Helen Fielding's incredibly popular novel. Our heroine, a 32-year-old British woman who works a dead-end publishing job, is a completely realistic type we almost never see in movies: a chain-smoking, wine-slurping, slightly overweight, unsatisfied-in-relationships flirt who wants desperately to better herself but doesn't have the motivation or discipline to do so. Flawed as she is, she's intensely endearing, and as perfectly played by Renée Zellweger, she's a magically comic creation, even more wonderful than Zellweger's previous incarnations of Dorothy Boyd and Nurse Betty. That the moviemakers spend the film's running length putting her in one humiliating situation after another, and that she's trapped in a predictable love triangle between a cad and a sweetie, aren't to be held against her; Bridget Jones, and Zellweger herself, triumph over their circumstances, creating a totally enjoyable cinematic work, flaws and all.
There's no true plot to speak of - Bridget has to decide whether to stick with her great-looking, egocentric boss (Hugh Grant) or take a chance on the duller chap who quietly loves her (Colin Firth) - and the resolution should come as no surprise to anyone who's seen, say, two or three romantic comedies in the past. Plus, director Maguire and the film's screenwriters are overtly fond of making Bridget look like an ass: Whether squeezed into a Playboy bunny outfit, making an embarrassing spectacle of herself every time she's called on to make a toast, or getting caught with her thong-clad rear exposed on national TV, Bridget is, quite literally, the butt of a joke every five minutes. This would be almost unbearably cruel if Zellweger didn't win us over completely from the start, a feat she accomplishes during the opening credits; the sight of her swigging wine directly out of the bottle while lip-syncing an impassioned version of "All By Myself" is a classic aria of comedic self-pity.
Zellweger is one of the few performers who continues to make going to the movies an occasional thrill; she's more than enough reason to catch Bridget Jones's Diary, but she's also backed by a terrific supporting crew. Grant, as he previously proved in Woody Allen's Small Time Crooks, is more than capable of playing an oily swine and gets a lot of big laughs; Firth is a lovably understated presence; and those great British pros Jim Broadbent, Gemma Jones, and Shirley Henderson (so poignant in Mike Leigh's Topsy-Turvy) add character and soul. The movie has its share of bum scenes and a built-in predictability, but it's a very funny character-driven comedy where the characters are truly entertaining; all is not yet lost at the multiplex.
BLOW
Director Ted Demme previously helmed a couple of truly entertaining domestic comedies, The Ref and Beautiful Girls, but he isn't yet the artist that the real-life drug drama Blow demands. The film's scope is epic: It tells the story of George Jung (Johnny Depp), a Boston youth who rose from small-time dope-dealer to become America's leading distributor of cocaine; in one staggering statistic, we are told that 85 percent of the country's coke found its way here through his actions. That fact alone should make Jung a fascinating, terrifying character, but in the movie's conceit, Jung is just a laid-back, sweet-natured guy who was just trying to make a little money for himself and the people he loved, and who got continually screwed over by his friends, his wife (Penélope Cruz), and even his mother (Rachel Griffiths). In a stronger director's hands, this tale could have been played for gut-wrenching irony: Jung, continually sinned against by the people he trusts, is completely clueless about the harm he himself is doing to others. (It's impossible to imagine that the actual Jung was this naïve.) But Demme doesn't shape his scenes toward any ironic or satirical point; they all share the same docudrama flatness, lacking even the slightest bit of bite. We've seen movies of this type many times before - GoodFellas and Donnie Brasco are the films it most closely resembles - and without the strong direction it requires, Blow ends up seeming pointless. Why are we being told this story yet again?
There are a few fun sequences. Once Jung begins to hit it big, we're treated to a witty tracking shot of him carrying a large box stuffed with currency, trying to find a place in his apartment to store it. (With all the other boxes of currency jammed into his pad, there's no room.) Paul Reubens adds some enjoyment as a fey hairdresser who gets Jung into the racket. And Penélope Cruz finally shakes off her yes-I'm-hot-but-hands-off shield and gives a fiery performance as a drug-abusing tart - or at least would have if she had better lines to deliver. But Johnny Depp is sadly remote in a role that has no shadings. As ever, he's a wonderfully focused performer, but he's given nothing to do beyond looking doleful, and his somnabulistic voice-over narration is a drain on the action. Blow is never out-and-out bad; it has been made with a fair degree of professionalism and earnestness, and it holds your attention. But it hasn't been made with energy or passion, and it simplifies the events that should have been incendiary. It's a bit of a stiff.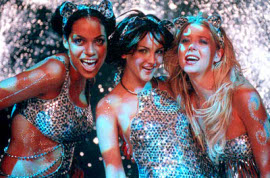 JOSIE & THE PUSSYCATS
Josie & the Pussycats producer Marc E. Platt has been quoted as saying about his film, "It's the kind of movie you want your kids to see. It has an empowering message." This, of course, begs two questions: Do eight-year-olds need to be empowered? And: Is he kidding? Like last fall's abysmal cinematic adaptation of Charlie's Angels, Josie & the Pussycats is self-congratulatory pap; the leading characters display their "empowerment" by acting as dippy as humanly possible while spewing fourth-rate bubble-gum rock lyrics. The movie, unfunny and amateurish, is hardly worth discussing; it even manages to trash the usually sublime Parker Posey. But it is important to note that the film's main plotline, which deals with subliminal messages being sent through the gals' songs, was not only handled with far more subversity and aplomb in a Simpsons episode a few weeks ago (an entertainment that was a good hour shorter) but is incredibly offensive when audiences are faced with the blatant, intrusive product placement that occurs all throughout Josie. As the success of Charlie's Angels proved, there is a sucker born every minute, but hopefully not enough of them to turn this into a hit.