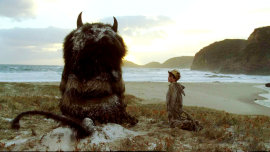 WHERE THE WILD THINGS ARE
Where to begin in describing all the things that could've gone wrong with director Spike Jonze's live-action take on Where the Wild Things Are? And where to begin in describing all the things that have gone magically, even miraculously, right with it?
The first list would be lengthy, to be sure, starting with the fact that Maurice Sendak's peerless children's book isn't at all lengthy. At less than 40 pages, some of which are devoted entirely to illustrations, this tale of the little boy in the wolf costume who becomes king to a land of worshipful monsters is slight, but gloriously slight - a giddy (and furry) carnival of imagination. But film audiences had every right to wonder how this slender narrative, all of 339 words long, could possibly translate into feature-film form. After all, what would the story be? Would it just be heroic Max shouting, "Let the wild rumpus start!", followed by 90 minutes of wild rumpus? And while Jonze's idea of having the monsters played by performers in enormous costumes sounded like a welcome respite from CGI, was it necessarily a wise idea? Could these lumbering beasts with the snouts, horns, claws, and paws, you know, move?
Well, they move, all right. And while these eight-foot-tall renditions of Sendak's beloved storybook creatures aren't especially graceful, they're fast and buoyant and exhilarating - just like Jonze's movie. In what has to stand as one of the happiest surprises of the moviegoing year, Where the Wild Things Are's director and co-screenwriter (with Dave Eggers) has delivered about as wondrous an adaptation as we might've hoped for, one that retains all the charm of its literary source while providing added layers of emotion, depth, and substance; it's both the Wild Things you remember and like nothing you could've imagined.
Astonishingly, the film's opening reel is every bit as vibrant and alive as Max's romps with his hirsute pals, and as indispensable to the movie as the black-and-white intro to The Wizard of Oz. As with that seminal entertainment, we're given just the right amount of information about our young protagonist's real-world experiences to make the subsequent fantasy resonate; scenes of Max (perfectly played by Max Records) taking part in a snowball fight, suffering the dismissal of his teenage sister (Pepita Emmerichs), and being unintentionally ignored by his loving mom (Catherine Keener, resplendent as always) are all echoed throughout his later adventures. Jonze and Eggers never push their points, yet we're always aware of the correlations between Max's lonely, melancholy home life and his time spent with the monsters, one underlined by the divinely eccentric and richly human work of Wild Things' vocal cast.
Enacted by such talents as James Gandolfini, Catherine O'Hara, Lauren Ambrose, Chris Cooper, Forest Whitaker, and Paul Dano, the monsters are a rambunctious, motley bunch. But they're also easily hurt and deeply sensitive - they're kids, like Max - and while Jonze delivers visual wonderment to spare, he might do his best work here with the supple, nuanced contributions of these polished actors. Taking Max under their wing (when not threatening to eat him), Sendak's toothy beings are both enchanted and utterly relatable; they have true personality, and as Jonze and Eggers forge their simple, lovely narrative about growing up and forgiveness and the heartache of childhood, the monsters take residence in your heart and head and stay there. Like Max, you're not quite ready to leave them at the film's end.
With stunningly beautiful cinematography by Lance Acord - the golden-hued scenes always seem to be transpiring as the sun either rises or sets - and a virtuostic score by Carter Burwell and Karen O, the movie looks and sounds about as gorgeous as a movie can. And Jonze's keen emotional perception results in scenes of sentiment that never feel calculated, so you're free to shed tears without a smidgeon of guilt. It's practically a no-brainer that kids will be enraptured by the movie, but Jonze and company have pulled off a far trickier feat by also making Where the Wild Things Are such a dizzying pleasure for the adults among us; it's the rare film indeed that so completely satisfies your inner and outer child.