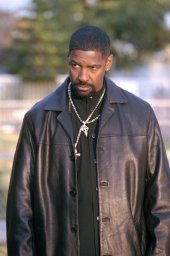 TRAINING DAY
In Training Day, Denzel Washington plays a character so far against type - a ruthless, volatile inner-city detective who just might be a sociopath - that the movie's opening 30 minutes give you a bit of a charge; you're willing to give this umpteenth good-cop/bad-cop tale the benefit of the doubt for the chance to see Washington showboat in a larger-than-life villain role.
Sadly, though, that showboating is all you see. Washington's performance, which has been widely praised, is filled with menacing glowers, inappropriate laughter, cunning insinuation, and a kind of sexual bravado, yet I didn't buy a minute of it. When Morgan Freeman or Samuel L. Jackson have assayed roles of this nature (in movies like Street Smart and Jackie Brown), there's no separation between actor and character; you feel so physically close to the threat they present that these actors practically slide off the screen and cock their pistols at your forehead. Washington doesn't enter his character's skin in the same way; he's presentational, commentating on the role while he plays it. (His portrayal tells you, "I'm not really a sonofabitch, but I play one at the movies.") He's got the physical and vocal mannerisms of the role down pat, but you're always aware of the wheels spinning; watching his performance in Training Day, you don't think, "Wow, that guy's vicious," you think, "Wow, Denzel Washington is acting vicious."
Washington plays Alonzo Harris, who acts as mentor-for-a-day to newbie partner Jake Hoyt (Ethan Hawke). At first, we're prepared for your standard "This is how life on the streets really is" flick, in which we're taught the old-news lesson that in order to catch a criminal, detectives oftentimes have to act like criminals. But Harris goes so far in this lowlife direction - making Hoyt smoke marijuana laced with PCP, beating (but not arresting) two would-be rapists, stealing cash from a drug lord's girlfriend - that we're forced to consider the idea that he's a rogue cop, using his young stooge to perpetrate crimes for the sheer hell of it. As cop-flick ideas go, this isn't a bad one, but the movie unfolds with a series of jaw-dropping coincidences and contrivances that undermine the gritty reality the film strives for, and while Training Day should be applauded for its anti-PC use of Washington, our leading cinematic figure of African-American decency, as the über-menace, it loses its confrontational power at the finale with the arrival of the Russian Mafia to dispense street justice - where did that come from?
Oddly, director Antoine Fuqua does his best work with the marginal characters - Harris Yulin, Raymond J. Barry, and Tom Berenger share a terrific scene as assorted sleazebag attorneys and judges, and are insidiously lit as minions of the Antichrist - and with Ethan Hawke, surprisingly edgy as the young man who's hurt and confused by his partner, and whose character arc is potently crafted. But even with the occasional fine moment, Training Day stands as Denzel Washington's one-man show, and if you find him as amazing here as many critics do, I can see how the movie can display a pulpy grandeur. If, though, you see the performance as a show-offy stunt (much like the acclaimed, awarded, and to my mind, mostly phony work of Robert De Niro in Awakenings or Geoffrey Rush in Shine), Training Day is rather grating, what Jon Lovitz's Master Thespian used to describe as an exercise in ac-ting!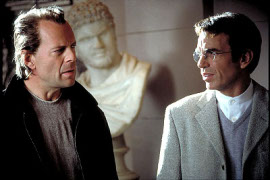 BANDITS
Few elements in film are as insufferable as forced jocularity, and Barry Levinson's Bandits is about as forced as movies get. This effort, which stars Bruce Willis and Billy Bob Thornton as bank robbers and Cate Blanchett as their unwanted accomplice, is about as blasé and forgettable as its title, but the one thing that lingers in your mind is the image of these three performers, so good in other roles, looking completely flummoxed by their "comedic" material and "colorful" characters; behind their teeth-clenched grins is a desperate look of "Help us!" Willis looks embarrassed by having to play the sane one who still dresses up in funny wigs and mustaches; Thornton prattles on with a series of hypochondriacal whines and complaints; Blanchett, the most ill-used, has her luminosity compromised by a beyond-tacky wardrobe and a set of character tics that make her seem psychotic - can this possibly be the work of the same director who coached marvelously naturalistic comic performances in movies such as Diner, Avalon, and Bugsy? Left without a coherent script (attributed to Harley Peyton, but also, reportedly, often improvised by the cast), our hapless trio looks mildly depressed even in the midst of their "wacky" escapades, a feeling likely to be shared by the audience.
NOVA 6 INDEPENDENT SERIES
Moline's Nova 6 theatre is bravely, and blessedly, offering Quad Cities' audiences a chance to view some of the year's more noteworthy alternative films, which would otherwise have made their area debuts at your local Blockbuster. So far, we've been treated to Takeshi Kitano's Brother and Tom Tykwer's The Princess & The Warrior, and in week two of the theatre's six-week experiment, discerning audiences will finally be able to see two well-regarded efforts that were released (in the country's larger markets) in June: The Anniversary Party and Songcatcher.
On October 17-19, Nova 6 will present The Anniversary Party, written and directed by performers Alan Cumming and Jennifer Jason Leigh, who recently appeared together in the smash Broadway revival of Cabaret. A sort of Long Day's Journey into Night for the Hollywood set, the film features Cumming and Leigh as an unhappily married couple who throw themselves a bash for their sixth anniversary, and whose guest list includes Gwyneth Paltrow, Kevin Kline, Phoebe Cates, John C. Reilly, Jane Adams, Parker Posey, Jennifer Beals, and Matt Malloy. While the booze and Ecstasy flow, all manner of truth-telling and sexual misconduct ensues, and even if you're wary of another Big Chill-y evening, that top-tier cast alone should make this a fascinating get-together.
Fans of the O Brother, Where Art Thou? soundtrack - and is there anyone who isn't one? - won't want to miss Nova 6's premiere of Songcatcher, which runs on October 20-23. Set in the Appalachians, circa 1907, Maggie Greenwald's film focuses on an embittered teacher (Tumbleweeds' Oscar nominee Janet McTeer) whose love of music is awakened by the folk songs of the period, and whose lust for life is revitalized by a romance with chick-flick mainstay Aidan Quinn. Critics have raved about the film's period detail and amazing score, and any movie featuring character actors Pat Carroll, Jane Adams (again!), E. Katherine Kerr, and David Patrick Kelly has to count as a must-see.