VICKY CRISTINA BARCELONA
In 1992's Husbands & Wives, Juliette Lewis' neophyte reads an unpublished novel by Woody Allen's author, and responds to its romantic ennui with an exasperated "Are our choices really between chronic dissatisfaction and suburban drudgery?" Sixteen years later, with Vicky Cristina Barcelona, the writer/director's response appears to be: Yup. Yet while we Allen fans have been here before, we've never been here before.
The film follows two young Americans - Scarlett Johansson's chronically dissatisfied Cristina and Rebecca Hall's suburban drudge Vicky - as they spend two months in Spain and fall under the spell of an insinuating, confident artist (Javier Bardem), and it's Allen's most enjoyable, assured, and moving work in ages. Its hyper-literate voice-over narration, while smartly employed, is a little precious ("They stopped at a charming sweets shop and sampled candies and cakes ... "), but otherwise, Allen's dialogue is graceful, his composition elegant, his plotting beautifully constructed (there are surprises galore), and, with particular kudos going to Bardem and Penélope Cruz - wildly unpredictable as Bardem's suicidal ex - his cast sensationally spirited. Add the ravishing, golden hues of Javier Aguirresarobe's cinematography and one of the movie year's most satisfying endings, and Vicky Cristina Barcelona is unmissable late-period Woody - proof that, at age 72, the old dog is still capable of marvelous new tricks.
TROPIC THUNDER
Hollywood, that magical kingdom of overindulgence, is a subject so ripe for ridicule that a Hollywood satire can score major laughs just by appearing reasonably accurate, which is what director/co-writer/star Ben Stiller's Tropic Thunder does when it's really working - which is about half the time. Concerning a team of actors who wind up unwittingly embroiled in an Asian drug war (while producers and promoters perform damage control from the States), the movie is filled with hilarious grace notes that feel just right: faux coming attractions for the stars' woebegone future projects; Robert Downey Jr., as a much-lauded Australian channeling Richard Roundtree; Matthew McConaughey as a laid-back manager angling for his client's TiVo. Yet for every seemingly effortless send-up, there's another that's nothing but effort; Stiller stages gags with so much brute force that you react less to the gag than the force. (It turns out that a Jack Black trying to kick heroin isn't necessarily a funnier one.) Points are made about product placement and Oscar bait and cinematically believable ultra-violence, and are then made over and over, and louder and louder; like Tom Cruise, all too recognizable here as an "unrecognizable" guest star, Tropic Thunder is professional and enthusiastic, and winds up trying way too hard.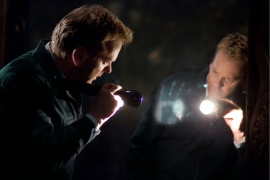 MIRRORS
There's an inventive, eerie, and rather beautifully filmed twist in Alexandre Aja's fright flick Mirrors, but seeing it requires patience, as it occurs about 100 seconds before the closing credits. Prior to that, you'll have to sit through about 8,880 seconds of Asian-horror tropes - murderous doppelgängers, broken glass, wide-eyed children, and lots and lots of water - and you'll likely feel every last one of them. Inspired by a recent Korean chiller (how novel!), the movie finds alcoholic ex-cop Kiefer Sutherland convinced that mirror images, pissed off at unspecified crimes of the past, are trying to kill him, his estranged wife, and his kids, and in the most ridiculous of many ridiculous scenes, he opts to save his family by racing to their house ... and covering the mirrors with paint. (It's the perfect plan! Unless the ghosts have access to a paint scraper ... .) Barring that unexpected laugh, the experience of Mirrors is grim, unpleasant, and rarely scary - though its unsubtle score keeps insisting that it's scary - and the shouting, sweaty Sutherland is agonizingly overworked here. At one point, he walks among the charred ruins of an estate-sized department store and snarls, "F--- this place." Funny, I was thinking the exact same thing.
STAR WARS: THE CLONE WARS
Star Wars: The Clone Wars is an animated - and I use that term loosely - installment that falls between episodes II and III of the franchise, and never in my life have I missed Hayden Christensen so much. This tacky, graceless commercial for a forthcoming TV series is an unholy embarrassment - making it even worse than The Phantom Menace and The Star Wars Holiday Special - but it was kind of fun determining which element was its most cringe-inducing. The torturously incoherent plot? The kindergarten-pageant dialogue? The cheapskate animation, with figures either moving at lightning speed or walking as if painfully constipated? Anakin Skywalker and his whiny sidekick, addressing each other (ad nauseam) as "Snips" and "Sky-guy"? Jabba the Hut's infant (!!!), whom our heroes call "Stinky" and whom Jabba calls "punky-muffin"? Yoda? (Throttle his throat you'll want to.) My winner: Jabba's uncle, who (a) speaks English, (b) listens to blues music while smoking opium, and (c) looks and sounds like a compost heap as played by Truman Capote. I thank George Lucas for finally revealing that juvenile, distasteful gay stereotypes existed even a long time ago in a galaxy far, far away.