THE PACIFIER
There's a moment in the Vin Diesel family comedy The Pacifier that should have really pissed me off, but instead it made me almost unaccountably happy: About midway through the film, Diesel, playing a former Navy SEAL entrusted with the safety of five fatherless youths (you've seen the trailers, you get the idea), enters their suburban digs covered in raw sewage, the victim of a practical joke pulled by the family's oldest siblings.
While his condition is assessed by the kids' principal, played by Lauren Graham - so honestly effervescent that she makes every movie she's in a little bit cheerier - you can see that Vin's angry façade is beginning to crumble, and that he's starting to smile. But it's not the character's mood that's lightening - it's Diesel's. This former SEAL is supposed to be mad as hell, yet the actor (and I use the term loosely) appears completely disconnected with both his role and his material; Diesel isn't even pretending to be in character at this point, and it seems a particularly insulting form of laziness. (Unless it involves Harvey Korman and Tim Conway, "unplanned" gaffes of this sort are almost never funny.) Yet director Adam Shankman is by no means blameless here: Surely there must have been one take where Diesel didn't noticeably break on camera, and this particular one made it into the final cut of the film anyway. Why?
It would be easy to say "Because Diesel's inept," or "Because Shankman's a hack," but I prefer this more sanguine response: "Because it makes Vin Diesel human." In this one, probably accidental, bit, I felt like I was finally seeing through Vin's macho-blowhard exterior and gazing at the goofball beneath - he might actually be having fun here - and there are scattered moments throughout The Pacifier when Diesel smiles and you truly believe it; the movie might not succeed in re-inventing Diesel as a Disney-friendly screen icon, but at least it makes this lumbering hulk a bit more likable. Although the movie is a senseless and predictable waste of time, it's nowhere near as dismal as you might expect: The youngest of the movie's children are untrained scene-stealers, Carol Kane shows up, doing one of her magnificently unfathomable accents (although I didn't care for the filmmakers' treatment of her as a receptacle for cartoonish ultra-violence), and former Kid in the Hall Scott Thompson, playing an outré community-theatre director, has a hilarious moment when, aggravated with his dancers, he spits, "That step-ball-change would make Bob Fosse rise from the dead just so he could have a heart attack ... again!" There's no reason on earth for any sensible person over the age of six to sit through The Pacifier, but it's less painful than a lot of what's out there, and I wouldn't have missed it for the chance to catch Vin Diesel - perhaps without his knowledge - onscreen with his defenses down.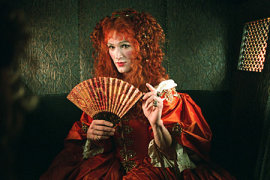 STAGE BEAUTY
Barring wondrous examples such as All About Eve and Mike Leigh's Topsy-Turvy, movies rarely get theatre - particularly period-style theatre - right. In order to differentiate between the portrayals of the actors when they're on stage and their more realistic behavior off, theatrical performances in movies are usually over-directed and obvious, and the process of putting together a successful show comes off as a mixture of happenstance, luck, and extreme implausibility; Annette Bening was sensational in Being Julia, but were we really expected to believe that finale in which she turns the tables on her nemesis by ad-libbing a major script re-write in front of a live audience? Shakespeare in Love gets away with its role-reversal climax because the whole script is constructed as farce, or rather, as an updated take on one of the Bard's more frenetic comedies, but in general, whenever a movie aims for theatrical verisimilitude, the results are almost always phony.
For a while, you stick with the new-to-DVD-and-video release Stage Beauty because it promises a more warts-and-all view of the theatre than we often get, and because it tackles an era of theatre history we aren't often exposed to. Set during the reign of Charles II, the film centers on English actor Ned Kynaston (Billy Crudup), his era's leading player of female roles, whose livelihood is threatened when the king orders that only women are to play female characters henceforth; Ned, who doesn't know how to act as a man, finds his career hijacked by his wardrobe assistant (Claire Danes), who, of course, is in love with the actor. (The film is All About Eve meets La Cage.) Crudup has a few fine moments when Ned's sexual confusion is palpable, but the majority of Stage Beauty is as fraudulent as Ned's onstage performance as Desdemona; when the film isn't being overly reverential about the art of theatah, it's top-heavy with cheap, gross comedy, slack staging by director Richard Eyre, dialogue that lands with a thud - Jeffrey Hatcher, adapting his 1999 play, is, at best, a Tom Stoppard wannabe - and a thunderously oppressive musical score. And except for Crudup and the indefatigable Tom Wilkinson, even the movie's tony cast doesn't help matters; Danes, with her ever-quivering lower lip, comes off as a petulant debutante, and Rupert Everett, in the Judi Dench role, is just plain embarrassing. Stage Beauty might sporadically entertain the PBS junkie, but anyone who knows or cares about theatre might find the movie too ludicrous to be believed.
ROBOTS
Has any computer-animated feature film ever sounded as vocally uninspired as Robots? Chris Wedge, who also directed the vastly superior Ice Age, has assembled a shiny steel toy of a movie, and some of its visuals are terrifically clever; there's a sequence involving the heroic 'bots being engulfed by a sea of falling dominoes that's quite arresting, and the super-highways that cascade through the film's main locale, Robot City, are the most intricately detailed, thrillingly complicated thoroughfares you've ever seen onscreen. (They resemble a city-sized game of Mousetrap.) Robots looks great, features some smart throwaway gags, and is preceded by a witty short featuring Ice Age's beloved Scrat the squirrel, still attempting to outwit that damned acorn. The movie isn't bad, yet about halfway through I noticed that the kiddie audience was beginning to lose patience with it - there was more running through the aisles than usual - and by the closing credits, I'm betting that most of the auditorium's adults, at least, were glad to see it end. This isn't due, however, to the movie's predictably saccharine sentimentality or banal plotting, or even the generically awful music that makes you want to shove cotton in your ears. It's just that, with the exception of a very funny Paul Giamatti and a borderline funny Jim Broadbent (who, until I eventually recognized his accent, I thought was The Little Mermaid's Sea Witch, Pat Carroll), there's no one in Robots worth listening to. Ewan McGregor sounds stripped of his natural warmth and charm, Halle Berry would have to up her energy level a notch to begin sounding bored, and actors such as Greg Kinnear, Jennifer Coolidge, Drew Carey, Dianne Wiest, and Stanley Tucci have no diverting characters and, in turn, do nothing diverting with them. As for Robin Williams, performing one of his achingly tired "manic" numbers so soon after his achingly tired Academy Awards appearance, he might have officially crossed over from Not Funny to Will Never Be Funny Again. Robots might be moderately amusing, but it'll play even better if you don't understand a word of English.