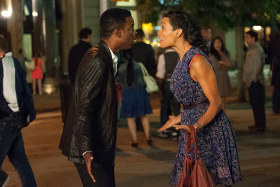 TOP FIVE
Chris Rock is on-record as being a fan of Woody Allen movies and Richard Linklater's Before Sunrise/Sunset/Midnight trilogy, and the comedian's funny and thoughtful Top Five - Rock's first film as a writer/director since 2007's I Think I Love My Wife - is like a 100-minute blend of those influences. Then again, Allen, and certainly Linklater, would be much less likely to cap a scene with the image of a naked man getting a Tabasco-soaked tampon shoved up his ass.
This is not a put-down. That scene and its wince-inducing punchline are hilarious, as is the beyond-filthy flashback involving Rock, two hookers, and Cedric the Entertainer, and Jerry Seinfeld's high-pitched apoplexy after realizing exactly where a thong-clad stripper has stashed his wallet. Yet for all of its comic subversion and relentless droppings of the F-bomb, Top Five is also, by a wide margin, the sweetest and most touching romantic comedy of the year, as well as an unexpectedly moving meditation on addiction and the unending recovery process. Following its premiere at the Toronto Film Festival, Rock's independent feature was optioned by Paramount for a newsworthy $12.5 million, and it turns out to be worth every penny.
Rock plays Andre Allen, an A-list screen star famous for playing the gun-toting grizzly bear Hammy in a series of witless action comedies ("It's Hammy time!") who's now striving for legitimacy with an unfortunate Haitian-slave drama titled Uprize! Rosario Dawson plays Chelsea Brown, a New York Times entertainment reporter assigned to interview him. And over the course of roughly 18 hours, Andrea and Chelsea playfully chat and spar while attending press junkets, visiting Andre's extended family, and walking the streets of New York, at one point discovering that they're both in AA and have the chips to prove it. This walk-and-talk structure is, of course, the backbone of Linklater's Before movies, and a signature of some of Allen's more inspired works, primarily the ones with Diane Keaton. But happily, also like those films, Top Five is about obviously well-matched individuals who truly and deeply like each other; riffing and laughing and bitching, and plainly admiring of one another's humor and smarts, Rock and Dawson make a dream of a rom-com pairing.
All dreams, though, inevitably lead to a wake-up moment, and this one has several potential biggies, including Andre's impending marriage to a reality-TV star (Gabrielle Union, whose character is treated with surprising dignity), Chelsea's mostly unseen boyfriend, and the insistent pressure on Andre to be funny when, as he says, "I don't feel like doing funny movies anymore." (That sentiment is expressed almost verbatim by Woody Allen's frustrated director in 1980's Stardust Memories.) And thankfully, Rock doesn't shy away from Top Five's frequent serious-mindedness, allowing scenes, as they should, to be filled with melancholy and disappointment and even genuine anxiety; in two separate sequences, Andre and Chelsea both make uncomfortably long perusals in stores' liquor sections. The movie does have some substantial flaws: nothing about Chelsea's Times job, or any reference to the Times, is remotely believable (would those Hammy flicks, from which we see a painful clip, really be critically acclaimed?), and Rock's cinematic debts, particularly to Annie Hall, are sometimes far too pronounced. (Like Annie, Chelsea also dabbles around in photography.) But Rock's assuredness with his film's dramatic leanings aren't among those flaws, and neither are his, or his cast's, explosive comedic gifts.
Hoo boy are they explosive. (In Cedric the Entertainer's case, probably more literally than you're anticipating.) In addition to Rock and the bewitching Dawson, who's blessedly allowed to keep up with her co-star beat for riotous beat, the movie boasts a whole slew of incendiary talents delivering cackle-worthy turns. There's J.B. Smoove as Andre's brusque bodyguard, and Kevin Hart as (surprise!) his excitable agent, and Ben Vereen as a grizzled elder who can't stop razzing Andre for his Hollywood success. (For reason, we learn.) There's Andre's Brooklyn clan with Sherri Shepherd as his ex-wife, and Leslie Jones, Michael Che, and Tracy Morgan trading cracks in the living room. There are Whoopi Goldberg and Taraji P. Henson and Gabourey Sidibe, all playing themselves and scoring laughs. Hell, even Adam Sandler shows up, also as himself, and makes you wonder where this subtle guy hides out when the other one is busy shooting Grown Ups 2 and Blended. Top Five is a blast. And while it doesn't make my own personal top five for 2014, considering the 170-or-so releases under my belt and the awfully strong competition, top 20 is a damned impressive place to be.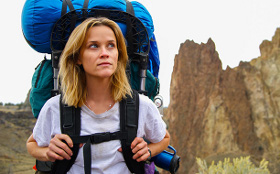 WILD
Reese Witherspoon has never been less likable than she is in director Jean-Marc Vallée's Wild, and I mean that as the highest possible compliment. In her role as recovering heroin and sex addict Cheryl Strayed, whose 2012 memoir the film is based on, Witherspoon shucks nearly all of her natural empathy and girl-next-door friendliness to play a decidedly difficult individual, one embarking on a months-long hike through 1,000-plus miles of the Pacific Crest Trail. The hike itself, with Cheryl seeking a kind of spiritual cleansing of grief (following the death of her mother) and guilt (following the demise of her marriage), could easily be seen as a symbolic expression of self-pity. But as with the wonderful movie she's starring in, there's no forced pathos in Witherspoon's portrayal. Clear-eyed and clear-headed about the mistakes of Cheryl's past, and facing the present with an intensity of purpose that can make her seem curt and abrasive, the performer is utterly spectacular here, with her occasional glimmers of radiant joy underscoring, and never overwhelming, Witherspoon's deceptive simplicity and ferocious honesty. You may not "like" Cheryl, but by the closing credits, you may find it hard not to love her.
Though this gorgeously photographed (by Yves Bélanger) film is, in essence, one long hike, Dallas Buyers Club director Vallée and screenwriter Nick Hornby keep the proceedings from ever feeling lethargic. The movie is populated with alternately helpful and threatening passers-by on Cheryl's trek, and much of its borderline-queasy suspense lies in how supremely difficult and terrifying it can be, and how long it can take, for a woman hiking alone, to tell the difference. (Every man Cheryl encounters initially appears branded with his own warning sign.) But there are also numerous moments of kindness and generosity and grace on the trail, some of them courtesy of Cheryl's fellow travelers (one of them a four-legged one), and many more courtesy of frequent flashbacks involving her late, free-spirited mother, played by Laura Dern. As much as I adore her in general and appreciate her here, I kind of wish the performer - with her beatific presence and room-lighting smile - wasn't directed to be quite this conveniently saintly and ethereal; it might be the Laura Dern-iest Laura Dern performance I've ever seen. But this lovely, engaging, overall marvelous experience has wonder and fascination (and despite the tenor of this review, humor) to spare, plus a Reese Witherspoon who's more exceptional than she's been in ages. I'm pretty Wild for it.
NIGHT AT THE MUSEUM: SECRET OF THE TOMB
Did your grade-school children make you take them to Night at the Museum: Secret of the Tomb over the weekend? If so, did you immediately resent them for it? As you're no doubt made of better stuff than I, probably not. But that didn't stop me from feeling for all the parents at my packed Friday screening whose laughter was conspicuously absent while the kids in the house roared at the sights of a feisty capuchin urinating all over Ben Stiller, Steve Coogan, and Owen Wilson - a reasonably accurate metaphor for the experience as a whole. As the plot for this third and final (yeah, whatever) effects-driven Shawn Levy comedy couldn't possibly matter less, let me just say that I was depressed to no end by the bum jokes, lazy sentiment, and mostly stagnant staging, with the incessant closeups preventing the comedians from ever developing a satisfying rhythm with one another. (Stiller appears particularly stranded, as though before every shot, Levy instructed him, "Just look mildly annoyed ... we'll add the reason why later.") Meanwhile, I think my heart literally bled for several actors. Robin Williams absolutely deserved better for his final film appearance, and going from an Egyptian slave in Exodus: Gods & Kings to an Egyptian pharaoh here - over two successive weekends, no less! - is not the career trajectory one should wish for the non-Egyptian Sir Ben Kingsley. But hey, the Night at the Museum franchise has wrapped (y'know, maybe), and there's a visually impressive bit in which characters fall into an Escher painting, and Rebel Wilson at least seems impervious to bad material. And while I'll admit to loving Dick Van Dyke's dance moves and chuckling at the Hugh Jackman cameo, I also laughed out loud several times at the spirited Dan Stevens, particularly whenever his newly ambulatory Lancelot delivered a pitch-perfect Ben Stiller impression, mumbling deadpan and all. Given his surroundings, I can't fathom why the former Downton Abbey heartthrob is so cheerful here, but of the movie's entire cast, Stevens is the only one treating his role as an opportunity rather than an obligation.