EASTERN PROMISES
As I generally try to, I held off on reading reviews of David Cronenberg's Eastern Promises until I'd actually viewed the movie. (Admittedly, I occasionally fail at this task.) I was well aware of its hype - the film received the top prize at the recent Toronto International Film Festival - but also leery of it, as Cronenberg is a critics' darling whom I admire but whose works I usually don't. (Despite titles such as A History of Violence, eXistenZ, and Naked Lunch, the last movie of his I genuinely adored was 1988's Dead Ringers.)
Plus, the film's previews - which seemed to accompany every release I'd seen over the past three months - made this Russian mafia tale look austere, tedious, and all too generic; Eastern Promises' muted browns and grays, combined with low-key performers speaking in vaguely sinister tones, were putting me to sleep before I had the chance to be bored by it.
After finally seeing Cronenberg's film, I caught up with several critics' assessments of it, and what a surprise to find that the (mostly) fawning reviewers have been underselling; they're dead-on regarding Eastern Promises' directorial panache and the power of its execution, but why is no one writing about how much fun this movie is?
Even though Cronenberg is supremely gifted at escalating tension and maintaining an atmosphere of dread, you'd have to go back to the 1986 remake of The Fly to find a film of his in which these qualities were actually enjoyable. Yet beginning with Eastern Promises' first scene, involving a vengeful act in a barber's chair, Cronenberg's intentionally static compositions are buoyed by giggly, anticipatory excitement; you shiver at the continual threat of violence, but don't recoil from it. And working from a rich, potent script by Steve Knight, Cronenberg and his actors make Eastern Promises a more human entertainment than the director's oeuvre would lead you to expect. The film runs 100 minutes, and doesn't feature even one dull scene.
Set in present-day London, the movie finds midwife Anna (Naomi Watts in a good, strong performance) seeking the family of an unidentified 14-year-old who gave birth at her hospital and subsequently died. The girl's diary leads Anna to an upscale restaurant in the city's Russian district, at which point her pursuit becomes the business of three members of the Russian mafia: the soft-spoken, ostensibly charming Semyon (Armin Mueller-Stahl); his volatile, alcoholic son Kirill (Vincent Cassel); and the men's attentive chauffeur, and unofficial "undertaker," Nikolai (Viggo Mortensen). As the film's previews are remarkably circumspect regarding its plotting, I will be, too, but suffice it to say that none of the mafioso are quite what they seem (though you will quickly, correctly guess that Mueller-Stahl's "grandfatherly" whisper hints at a lifetime of unspeakable evil), and that Anna's quest will involve her in an underground community rife with warring mobsters, familial resentments, and extraordinarily detailed tattoos.
Every modern gangster saga - even The Sopranos' 86-hour saga - owes a debt to The Godfather, and Eastern Promises is no exception, with Semyon as its quietly imposing Don Corleone, Nikolai as its hushed, haunted Michael, and Kirill as the weak, deluded Fredo. Yet while Cronenberg's work is like a pulpier, less grandiose take on Francis Ford Coppola's masterpiece, it casts its own evocative spell. Its chaotic (and surprisingly infrequent) bursts of ultra-violent ferocity are thrillingly staged; the film's Turkish bath sequence, in which a naked Nikolai defends himself against two knife-wielding assassins, already feels like the stuff of cinematic legend. But there's also a wholly unexpected tenderness on display, in Nikolai's concern for Anna, and Semyon's grooming of Nikolai, and Kirill's pathetic frailty. (Cassel's most memorable scene finds him chatting with a little girl while blowing up balloons for a centenarian's birthday party.)
And through it all, Mortensen - playing Russian with effortless believability - gives a fascinatingly introverted performance, privately amused at the monstrousness surrounding him, and even more privately anguished by it. (Our last, wonderfully open-ended image of him both underlines and expands on everything he's brought to the character.) I entered Eastern Promises thinking I'd probably seen it all before. I left thinking I'd never seen anything quite like it.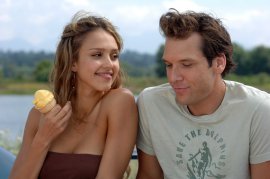 GOOD LUCK CHUCK
Early on in the simple-minded and - sorry - flaccid sex comedy Good Luck Chuck, Dane Cook refuses to respond in kind to his girlfriend's "I love you," and subsequently asks his buddy, "How can a person say something he doesn't mean?" Interesting, as Cook's lazy and disengaged acting here finds him spending 95 minutes saying things he obviously doesn't mean. Seen in context, though, his emotionally vacant and comedically challenged portrayal is almost welcome. In a film in which even penguins come off as crude (one bites Cook in the crotch and another is seen eating its own excrement), Dan Fogler, as Cook's breast-obsessed best pal, is hideously unappealing; he screams his puerile punchlines at top volume - as if sheer aggression might perhaps make them amusing - and, at one point, is seen energetically violating a grapefruit. At least Good Luck Chuck's audience isn't alone in getting screwed.