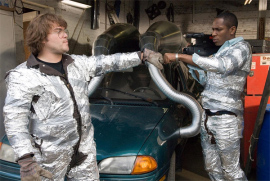 BE KIND REWIND
It's easy to enjoy writer/director Michel Gondry's Be Kind Rewind, but it's not the sort of enjoyment that lasts longer than your drive home from the cineplex, and the disappointment of the movie is that you really want it to be.
For more than half the film's length, everything about this proudly slapdash lark feels exactly right. Gondry's work finds a literally magnetized Jack Black accidentally erasing the inventory of a Passaic, New Jersey, video store, and - alongside co-conspirator Mos Def - forced to re-shoot the movies using whatever low-rent supplies can be found, and the premise is so goofily inconceivable, and charmingly retro, that it's just about irresistible. So, too, is the film's quirky, make-believe universe in which customers are eager to rent the handmade homages (this Passaic is just a tenement or two removed from utter fantasy), and the energetic byplay of its stars, who appear jazzed at the prospect of making it up as they go along.
If only the movie remained so inconsequential. Unfortunately, as Be Kind Rewind progresses, its throwaway quality begins to feel forced and sentimentalized - you can feel Gondry aiming for a bigger emotional payoff than the material can provide - and what started as a fiercely clever, independent-minded riff on cheesy pop-culture kitsch turns into cheesy pop-culture kitsch. Like Jim Carrey's past in the Gondry-directed Eternal Sunshine of the Spotless Mind, the movie evaporates from memory sooner than you may be ready for, but it's still worth a look for its inspired cinematic re-creations of 2001: A Space Odyssey, Rush Hour 2, and my personal favorite, the Muhammad Ali/George Foreman documentary When We Were Kings, which, as costumed here, is indistinguishable from Nacho Libre. Now that's memorable.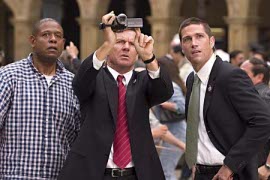 VANTAGE POINT
One of Be Kind Rewind's best in-jokes finds an elderly black mechanic playing the Sigourney Weaver role in a faux Ghostbusters; late in the movie, Sigourney Weaver herself shows up. The actress also shows up in Vantage Point, but under far less felicitous circumstances. She plays a TV news producer covering a war-on-terror summit, and if you've seen the trailers, you know this action-thriller's hook and then some: Our commander-in-chief is shot, and the event, its prelude, and its aftermath are shown from the perspectives of six different eyewitnesses. (This is the film that should have been titled Be Kind Rewind.)
The previews' unforgivable "and then some" is that the president is fine, as a look-alike actually took the bullets, and if you can get past this central idiocy - the movie suggests Oliver Stone's take on Ivan Reitman's Dave - you'll likely have no trouble with the rest of Vantage Point's ridiculously convoluted contrivances, though the film is also hindered by flat, stoic dialogue and a rash of overwrought performances. (Only William Hurt remains impervious to the apparent "Emote or die!" directive.) To his credit, helmer Pete Travis keeps the action moving along swiftly, and the film is much funnier than you'd expect; its humor, however, isn't in any way intentional, as every time a character's story arc rewound and the film's ticking clock reset itself, the audience responded with deservedly derisive laughter. More laughter, in truth, than I heard in the whole of ...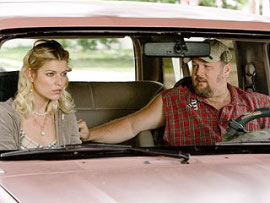 WITLESS PROTECTION
I didn't think it was possible, but with the new Larry the Cable Guy vehicle, Witless Protection, it appears that the Blue Collar comedian and writer/director Charles Robert Carner have seriously overestimated their audience. Nearly every other line in this lowbrow farce features a pun or malapropism of some kind, yet sitting among some 30 others at a Saturday-afternoon screening, I was keenly aware of a sound I never expected to hear at one of Larry's cinematic ventures: deafening silence. Sure, there was the occasionally courtesy chuckle, but long minutes routinely passed without a peep from the crowd, although they did collectively (and happily) groan when a bad guy fell face first into a pile of horse excrement, and when Larry suffered through a body-cavity search, and when he retrieved a swallowed key by fishing around in his own vomit.
Not that the audience should have been laughing, as Witless Protection is about as desperately unfunny as movies ever get. Yet as much as I hated it, I must admit to a twinge of sympathy for Larry's latest, because at least it's occasionally trying to be something more than the hayseed Fear Factor that was 2006's Larry the Cable Guy: Health Inspector - one of the semi-literate gags here even employs the word "malapropism" - and its viewers couldn't have cared less. Of course, it's probably better for all concerned that the movie is quickly forgotten. One scene, I kid you not, features the collective talents of Joe Mantegna, Yaphet Kotto, Peter Stormare, and Eric Roberts, all of whom have seen far, far better days. God help us if the Larry movies are turning into this decade's equivalent of The Love Boat.