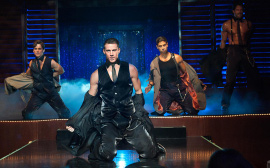 MAGIC MIKE
Walking into the auditorium for a nearly sold-out, mid-afternoon screening of Magic Mike - "nearly sold-out" and "mid-afternoon" being phrases that rarely go together at the cineplex - I gauged the audience of obviously ecstatic patrons and said to my friend, "This is gonna be fun." Man, we had no idea.
As the crowd's delighted shrieks (and occasional applause) suggested, those hoping to get an eyeful from director Steven Soderbergh's male-stripper comedy/drama won't leave disappointed; Channing Tatum, Alex Pettyfer, and their dancers' Florida-based colleagues provide all the sculpted abs, drooping thongs, and bare cheeks anyone could reasonably ask for. (Cheek is also what the guys' sexy, hysterically impudent stage routines have in spades.) The shock of this sensationally entertaining movie, however, lies in just how incredibly smart it is - how sensitive to character and situation, and to the chaotic, messy contradictions that separate what we need to do, both professionally and personally, from what we want to do. Reid Carolin's script may follow a rather traditional narrative arc, with Pettyfer's newbie very willingly recruited into the stripping business by Tatum's veteran in search of a more fulfilling life. But the dialogue and details are insightful and telling, and the men's backstage dealings are frequently side-splitting (be on the lookout - not that you need to be - for the priceless visual involving fluffing), and Tatum comes through, yet again, with a naturalistic and emotionally direct portrayal that should (but inevitably won't) silence his many critics. Magic Mike is an absolutely spectacular time, and I haven't even mentioned that Matthew McConaughey's fearless, exhilarating performance as the gents' ostensibly supportive, quietly shady manager should net the man an Oscar. That's not just magic. That's damned near miraculous.
MOONRISE KINGDOM
As a major fan of Wes Anderson's charmingly unclassifiable comedies, I was really looking forward to Moonrise Kingdom, Anderson's and co-writer Roman Coppola's gentle, eccentric fable about two young teens (Jared Gilman's Sam and Kara Hayward's Suzy) whose romance - as these things tend to - exasperates the girl's parents and upends the ritualistic activities of the boy's scouting troop. I'm now looking forward to seeing it again one day, if only because I'm hoping to like it more than I currently do. Within the film's first few seconds, the pastel-laden color schemes and camera pans and deader-than-deadpan expressions place you squarely in Anderson-ville, and the movie is top-loaded with wonderfully odd visual quirks and dialogue in which its wit almost masks its profundity. ("Was he a good dog?" asks Suzy of a deceased pet, to which Sam replies, "Who's to say?") But I found the pleasures here to be merely surface pleasures, and never really felt anything, for anyone, at any time; the performances of the young leads and their comically nimble adult co-stars - Bruce Willis, Edward Norton, Bill Murray, Frances McDormand, Tilda Swinton, Bob Balaban - may be amusing, but they're dryly inscrutable to the point of vacuity. With its central romance more of a conceit than a given, and the grown-ups' responses to the kids' relationship dispiritingly vague, little seems to be at stake here, and even at fewer than 90 minutes, I was actually grateful when the movie ended. Like Anderson's The Life Aquatic with Steve Zissou, Moonrise Kingdom is an unfortunate answer to the question "When is Wes Anderson too much Wes Anderson?"
PEOPLE LIKE US
It's better not to dwell on the formulaic, glib, incredibly fraudulent experience that is People Like Us, director Alex Kurtzman's sudsy drama in which a financially strapped hotshot (Chris Pine) discovers he has a half-sister (Elizabeth Banks), and then spends the whole movie inserting himself into her life but not telling her they're related. (As in the equally maudlin The Lucky One from a few months back, the grade-schooler reply "I didn't know how!" is this doofus' only reasoning for not sharing his vital information.) The movie spells out its points with maximum obviousness and humiliates Pine and Banks by making them oversell lines and character traits these gifted actors would normally undersell, and if you can get through the picture without wanting to throttle Banks' wisecrack-spewing, sitcom-ready kid (name withheld to protect the newly pubescent), you're made of tougher stuff than I. But then, amidst this dreck, there's Michelle Pfeiffer, whose presence as Pine's mom reminds you of everything People Like Us is generally lacking: honesty, complexity, and genuine emotion. (In one scene here, Pfeiffer's former party girl describes her fleeting shot at fame as a singer, and for the briefest of moments, you see the star as Susie Diamond, and the film as a sort-of sequel to The Fabulous Baker Boys.) She's not reason enough to see the movie, but as the past 10 years have been a depressingly fallow time for us lifelong Pfeiffer fans, I'm at least happy that she's being seen somewhere.
TED
Considering how hard I laughed during much of director/co-writer Seth MacFarlane's Ted - the sweetly dirty-minded tale of a man, a woman, and the man's sex-obsessed, expletive-spewing, pot-smoking teddy bear - it seems ungrateful to complain that the movie isn't nearly riotous enough. Sadly, though, the film's second half peters out with unconvincing sentiment and an even more unconvincing kidnapping subplot, and as he has oftentimes proved on TV's Family Guy, MacFarlane's show-biz attacks and celebrations are more effective in speedy bursts than long tirades. (The film's swipes at Justin Bieber, Katy Perry, and Sandler's Jack & Jill? Hilarious. The endless Flash Gordon references and a shot-by-shot re-creation of a familiar Airplane! routine? Not so hilarious.) I wound up looking at my watch more times than I would've hoped, yet Ted is still totally worth a look for Mark Wahlberg's endearingly soft-headed man-child, and for Mila Kunis playing The Long-Suffering Girlfriend with such alertness and fire, and, best of all, for MacFarlane, whose grouchy, joyously filthy readings would be fall-down funny if you were watching the movie standing up. I really enjoyed the bear's physical gags - dry-humping a grocery-store register, beating the crap out of Wahlberg in a motel room - but it was Ted's withering asides and blithely dismissive insults, some of them self-directed, that were things of true comic beauty. Dressed up in a suit for his first job interview, MacFarlane's furry plaything takes stock of his wardrobe and sighs, "I look like Snuggle's accountant." I'd tell you what his next few lines were, but I was cackling too loudly to hear them.