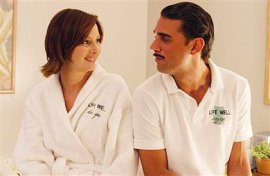 HAPPY ENDINGS
This summer, I was fortunate enough to catch a special screening of writer/director Don Roos' Happy Endings at the University of Iowa, but decided to hold off on a review until the film made it to our area.
It never did. But Roos' comedy/drama just arrived on video and DVD, giving me the opportunity to finally write: Happy Endings is one of 2005's few, true great movies. An ensemble-driven endeavor reminiscent of Short Cuts, Magnolia, and Crash, Happy Endings focuses on the relationships that develop among a dozen Los Angelinos, all of whom are, by varying degrees, only looking out for themselves; over the course of the film's two hours, they learn, ever so haltingly, how to look out for others, as well. I know plenty of people who are driven mad by works of this sort - "It's about everything" is never a satisfactory answer to people wanting to know "But what's it about?" - but if, like me, you ache for strong characters and strong conversation from movies, Happy Endings is an absolute knockout.
Roos, whose credits include the similarly biting The Opposite of Sex and the sadly drippy Bounce, is a wizard at playfully sarcastic dialogue, and he's almost nakedly honest about how sex and sexuality affect our decision-making processes. In Happy Endings, sex - for Roos' straight and gay characters alike - is both the characters' damnation and eventual salvation, yet his splendid dialogue, coupled with the film's astonishing-across-the-board performances, shows it's not sex his creations are after but connection; Happy Endings isn't melodramatic or sentimental, but the movie is so truthful about human experience, and so touching about human limitations, that it still makes you want to cry (when, that is, it isn't making you laugh out loud).
As a director, Roos weaves his interlocking stories with marvelous dexterity, and coaxes sensational performances out of Bobby Cannavale, Jesse Bradford, Laura Dern, Jason Ritter, and a revelatory Tom Arnold. But Happy Endings, in the end, belongs to Lisa Kudrow and Maggie Gyllenhaal. It's rare to encounter a film performance that's both emotionally raw and hilarious, yet this movie has two. Kudrow, playing an abortion-clinic counselor whose sexual history comes back to haunt her, is heartbreakingly good. Kudrow's performance style, with her anxious energy and pinched expressions barely containing worlds of emotion, matches Roos' style exquisitely, and she delivers his bitchy, throwaway wisecracks with panache; Roos has declared Kudrow (who was similiarly inspired in The Opposite of Sex) to be his cinematic muse, and watching Happy Endings, it's easy to understand why.
And Maggie Gyllenhaal is, quite simply, stunning. As Jude, a mediocre, frighteningly self-obsessed karaoke chanteuse whose search for The Better Life leads to the (momentary) ruination of several lives, Gyllenhaal seduces the audience as much as her on-screen paramours; Jude is hateful and petty, yet an underlying sadness permeates her whole character, even though a wickedly mischievous grin rarely leaves her face. (Jude's closing rendition of Billy Joel's "Just the Way You Are," which Gyllenhaal sings with throaty simplicity, is a stirring reminder of the power of pop ballads.) Gyllenhaal gives a magnificently textured performance, and together, she and Roos create one of the year's most unforgettable figures in one of the year's most unforgettable movies. Happy Endings, sadly, didn't make much of a splash when it appeared (elsewhere) this past summer, but giving the DVD some deserved attention would - for many film fans - make for a happy ending indeed.
Meanwhile, what's at the cineplex ... ?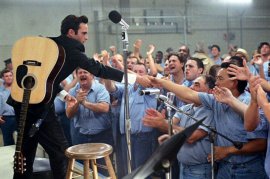 WALK THE LINE
Joaquin Phoenix, with soulful brown eyes and exquisite sincerity, has never held the screen as forcefully as he does in James Mangold's Johnny Cash bio-pic Walk the Line. The movie itself, though, feels a little underdeveloped and generic, as it skims over much of Cash's creative accomplishments and focuses on the drug problems that accompanied his hesitant courtship of June Carter (Reese Witherspoon); it's like a well-made film version of a VH1 Behind the Music episode. Walk the Line gives us biographical highlights instead of insight, and never quite succeeds in explaining what about Cash inspired his fanatical following; the Cash we see is a strong, energetic performer, but based on this presentation, it's unclear just why - beyond that fanatical following - his life story merits an entire movie.
However, it's worth catching for Phoenix's beautifully lived-in performance, and for Witherspoon, who overcomes a sketchily written character - June only exists to keep Johnny on the straight and narrow - with dynamic life force and perfectly cadenced perkiness. The singing of the two leads - both doing their own vocals - is also praise-worthy; they're an argument for the creation of more cinematic musicals pronto. Walk the Line might not have much to offer beyond its leads, but watching the joy with which Phoenix and Witherspoon perform gives you little reason to care.
HARRY POTTER & THE GOBLET OF FIRE
The Harry Potter film series reached a magical high point with Alfonso Cuaron's wondrous ... Prisoner of Azkaban last summer, but any hopes that the series might continue to branch off in bold, innovative directions are, unfortunately, dashed with Mike Newell's Harry Potter & the Goblet of Fire. Not that the movie's bad, by any means. The two and a half hours move by relatively briskly, and Newell allows numerous cast members - including new recruits Brendan Gleeson and the voracious Miranda Richardson - to be light and funny; Daniel Radcliffe's Harry, too, has become a subtle, genial comedian.
But it's a very literal-minded, and therefore deeply unsurprising, adaptation, "magical" in subject matter but not in execution, and the cinematography has a glum, dour inexpressiveness; the film isn't Chris Columbus-mediocre, but it comes awfully close. For the devoted, ... Goblet of Fire may well be heavenly. For the rest of us, it's ... fine.
KISS KISS BANG BANG
You've probably seen movies like Kiss Kiss Bang Bang before, yet you've still never seen anything quite like this. Both a parody of hard-boiled, Raymond Chandler-esque crime thrillers and the genuine article itself, writer/director Shane Black's scummy-underworld-of-L.A. comic thriller is about as convoluted and messy as movies get. Plot strands are introduced and immediately dropped, and characters' loyalties switch with little rhyme or reason; the film often resembles an improv exercise gone haywire. Yet, giving its true-crime clichés a hysterically lurid spin, Kiss Kiss Bang Bang is a terrifically energetic and inventive entertainment. Michelle Monaghan dazzles as an adventurous, inscrutable femme fatale, and the marvelous Val Kilmer, playing a gay private detective, seems to create a whole new genre archetype: the Macho Bitch. But the film belongs to Robert Downey Jr., as the electronics thief who suddenly finds himself an in-demand actor and amateur shamus. Comedically wired yet oddly moving, and with his hyper-kinetic brain synapses appearing to be visible directly through his forehead, Downey finds the perfect outlet for his maniacal (yet huggable) charms; despite the corpses that pile up around him, Downey makes the aimless, but wildly original, Kiss Kiss Bang Bang feel truly alive.