THE GUILT TRIP
Aside from her appearances as Ben Stiller's hippie mom in those increasingly labored Meet the Parents sequels, Barbra Steisand hasn't been seen in a film since her 1996 directorial effort The Mirror Has Two Faces, and considering what an ego-fueled embarrassment that picture was, some of us have been grateful for the break. It's worth remembering, though, that when her material doesn't let her down (and she's not directing her own star vehicles), Streisand can still be a fantastically smart and inventive comedienne - which, happily, she's allowed to be in nearly every scene of The Guilt Trip.
From its first minutes to its last, director Anne Fletcher's cross-country comedy - in which Streisand's eccentric Joyce Brewster character embarks on an eight-day road trip with her frequently mortified son, played by Seth Rogen - is pure formula. Given the predictability of the movie's narrative and music cues, and the general blandness of the staging, it's sometimes close to baby formula. Yet as long as you're not one of those people who finds the performer unbearable under any circumstances, you can have an enormous amount of fun watching Streisand here, quipping and kvetching and doting with such naturalistic wit and superb timing that it's almost as though she invented the stereotype of the Overly Solicitous Jewish Mama. To be sure, her character is saddled with too many adorable eccentricities, among them her oft-referenced obsessions with peanut M&M's, Jeffrey Eugenides' Middlesex, and shopping at the Gap. (Thank you, product placement.) But Streisand is also looser and funnier in The Guilt Trip than she's been since perhaps 1972's What's Up, Doc? - she has a knack for making even obviously scripted dialogue sound off-the-cuff - and it must be said that at age 70, she looks utterly spectacular; a joke in which a hotel check-in clerk mistakes Streisand for Rogen's lover actually doesn't generate a laugh because the woman looks 15 years older than him max. A warm, gentle comedy that, in Dan Fogelman's script, touches on the complexity of mother-son relationships without indulging in cheap laughs or unearned pathos, the movie finds Rogen nearly matching his co-star in speed and confidence, and welcome performers such as Adam Scott, Ari Graynor, Kathy Najimy, Dale Dickey, and Nora Dunn keep popping up to add comic texture. The Guilt Trip, however, is still Streisand's show, and it allows her to prove, once again, that she's a true show-stopper. Hel-lo, gorgeous!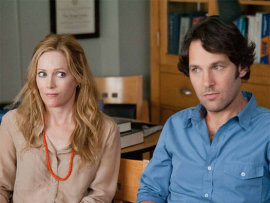 THIS IS 40
Billed as the "sort-of sequel" to Knocked Up, and featuring that film's supporting performers Paul Rudd and Leslie Mann as this new film's leads, writer/director Judd Apatow's comedy This Is 40 runs an overlong two hours and 10 minutes, and it's pretty easy to see which scenes could have been excised in the editing room: any of them. A series of vignettes involving Rudd's Pete and Mann's Debbie - affluent Californians forced to face a series of professional, familial, and marital crises - the film doesn't really boast a plot so much as the potential makings for a plot; you get the sense that any of its individual segments or narrative threads could have been cut with no noticeable loss. (Personally, I'd have gotten rid of the entire Megan Fox storyline, even though the much-mocked starlet gives what might be her least offensive screen performance here.) And considering that so much is made of Pete's and Debbie's financial problems while the entitled pair is seen enjoying a luxurious spa-weekend vacation and hosting a lavish birthday bash and taking long drives in their BMW and Lexus, it's hard to feel much sympathy or empathy for the couple; these, you're aching to tell the characters, are the problems you want to have.
Thankfully, though, This Is 40 is so routinely riotous that even when I was lamenting its length and somewhat condescending presentation, I had a mostly terrific time. Rudd and Mann, as they did in Knocked Up, share a marvelous screen kinship and rapport even when, as is oftentimes shown, their characters can't stand one another, and Apatow's screenplay - a treasure trove of sparkling one-liners - gives them plenty of opportunities to stretch their comic muscles. (Rudd is especially alert and fearless, as proven during his comedic contortions while trying to get a close look - a really close look - at an irritating hemorrhoid.) Generous auteur that he is, Apatow has also written sharp roles for John Lithgow, Melissa McCarthy, Chris O'Dowd, Jason Segel, Lena Dunham, Graham Parker (playing himself), and the incomparable Albert Brooks, and a sunny geniality permeates the film even when it dabbles in darkness. The movie may be rambling and shapeless and messy, but it's also spirited and canny and charming, and, in the end, an enormously touching love letter to Apatow's own family, with real-life wife Mann and daughters (and co-stars) Maude and Iris Apatow viewed here as unfailingly intelligent, lovely, and funny. Is anyone else thinking, with the release of This Is 40, that Judd Apatow has just secured himself breakfast in bed for weeks?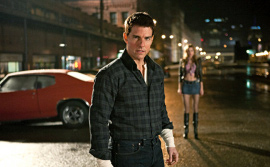 JACK REACHER
As I haven't read the literary series (17 books and counting) featuring author Lee Child's nomadic ass-kicker Jack Reacher, I had no major gripe with the titular casting of Tom Cruise in writer/director Christopher McQuarrie's Jack Reacher movie, even though the character is supposed to be blond, 6-foot-5, and close to 250 pounds, and Cruise ... you know ... so isn't. What I do have a gripe with is that this planned franchise-starter, an adaptation of Child's novel One Shot, is so forgettable and relentlessly mediocre that even Alexander Skarsgård - who would seem a perfect physical fit for the role - would likely seem as drab, bored, and uncommitted as Cruise is here, though that's tough to imagine. There are a few cool chase scenes, and a rather excellent five-minute opener, in this tiresome game of "Who's the secret assassin?", but they instantly vanish from memory when recalling the film's laughably lame dialogue and silly fight sequences and hackneyed character types, to say nothing of the incredible waste of supporting performers Rosamund Pike, Robert Duvall, David Oyelowo, Werner Herzog (!), and Richard Jenkins. (Watching Jenkins struggle with his unspeakable lines is depressing in the extreme.) And as one of Jack Reacher's producers, Cruise really should have resisted the temptation to have nearly every woman onscreen - from pre- to post-menopausal - stare at the star with eyes agog and naughty, come-hither grins. Tom Cruise vanity projects are nothing new, of course, but the vanity shots interrupt and impede the action so nakedly, and so embarrassingly, here that Jack Reacher could almost be described as Cruise's attempt at going The Full Streisand ... and not in a good way.