TYLER PERRY'S THE SINGLE MOMS CLUB
In Tyler Perry's new movie, a quintet of women with seemingly nothing in common beyond their single-parent status decide to ... .
I'm sorry. Can we stop for a moment? Tyler Perry has another new movie?! Is the yuletide corpse of A Madea Christmas even cold yet?
Prefacing his review of 2000's Small Time Crooks, the New Yorker's Anthony Lane wrote, "You can always tell when a new Woody Allen film is due, because the milk that you bought when the last Woody Allen film came out is starting to go sour in the fridge." In the case of current cinema's even-more-prolific auteur, there seems to be a new Tyler Perry film in release even before you get the milk home from the store. Producer/writer/director/actor Perry is one of our country's most astoundingly successful entrepreneurs who's already juggling full-time careers in television and the theatre: Where oh where does this guy find the time for movies? I can barely summon the wherewithal to do laundry twice a month, and somehow his latest - Tyler Perry's The Single Moms Club - is Perry's third release in less than a year, and the 13th I'll have reviewed since 2006. (And that's having skipped 2007's Daddy's Little Girls, 2010's Why Did I Get Married Too?, and maybe a few others.)
If they worked with Perry's frequency, there are directors whose productivity would no doubt bother me more; if I had to endure twice-a-year releases by, say, Dennis Dugan or M. Night Shymalan, I'd have switched careers long ago. But while Perry's outings can occasionally be fun - and, in the case of 2010's For Colored Girls, even exceptional - it's hard to think of a major American filmmaker with less apparent interest in honing and sharpening his craft, particularly in his seemingly endless stream of laughter-through-tears dramedies. Heaven knows Perry has landed on a formula that works, and the audience with whom I saw The Single Moms Club - unsurprisingly, nearly all of them women - appeared to have a ball laughing with (and at) our leads and sniffling at their heartbreak and vocally chiding the movie's idiotic male blowhards with their ugly, anti-female resentments and ugly, mismatched shirts and jackets. Yet as with nearly any Tyler Perry title, the staging is flat to the point of utter disregard, and character motivation changes willy-nilly from scene to scene, and we're continually pelted with obvious, sentimental homilies such as "I guess we all need to talk to our kids" ... . After nearly a decade, isn't the sameness of it all a tad wearying? Does the man's considerable fan base really not mind that, by now, whatever words follow "Tyler Perry's" in his movie titles are all but superfluous?
In any event, The Single Moms Club casts Wendi McLendon-Covey, Amy Smart, Zulay Henao, Cocoa Brown, and Nia Long as five struggling-in-their-own-ways parents of private-school kids whose class and racial differences are overcome via wine and a pledge that, on a regular basis, one of them will babysit all their kids while the other four enjoy a night on the town. That's pretty much the extent of the drama, unless you include the ladies' tentative romances with - in respective order of attachment - Sean Carrigan, Ryan Eggold, William Levy, Terry Crews, and Perry himself. (By the finale, and this can't possibly be a spoiler, all five of our strong, capable, independent-minded heroines find themselves fulfilled by landing sweet, sensitive, hunky boyfriends. So much for girl power.) In general, the adult actors - especially the bluntly funny Brown, the sad-eyed Smart, and the unexpectedly winning Crews - perform their clichéd shtick with aplomb, and, as a director, Perry elicits some fine work from his pre-teen cast members, particularly DeVion Harris, who suggests Cedric the Entertainer in the body of a 10-year-old. But while the devotees may adore it, nothing happens in The Single Moms Club that doesn't happen with equal or greater vigor in any of Tyler Perry's other offerings, and the only time my attention was truly captured was when we discovered the last name of McLendon-Covey's publisher character, Jan. This usually inspired comedienne seems uncomfortable during much of her on-screen improvising here, but then again, it's probably not easy being Jan Malkovich.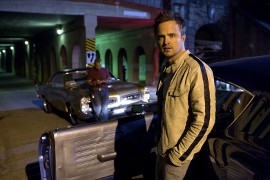 NEED FOR SPEED
If you told a roomful of 12-year-olds that you needed a script based on the video game Need for Speed and threw them a box of crayons, they would likely come up with a fresher, more engaging storyline than the dreary, driving-for-vengeance silliness we're stuck with in director Scott Waugh's less-Fast-and-less-Furious time-waster. (Unlike Need for Speed's white screenwriter George Gatins, they also, hopefully, wouldn't have had the film's one black character say "homie" and "Word!" in his first two minutes on-screen.) The scenes of high-speed racing are kind of entertaining, especially when star Aaron Paul - speaking with Eastwood-esque lowness and slowness - takes on a tight curve and his face suggests a particularly painful bowel movement. The rest of this criminally generic endeavor, though, is a dull bummer, and only comes to occasional life in the avid flirtations of Imogen Poots, who also, recently, almost singlehandedly made the lamentable bro-fest That Awkward Moment borderline-watchable. I previously suggested that Poots desrved an Oscar for her efforts. If not that, is an MVP citation at least a possibility?