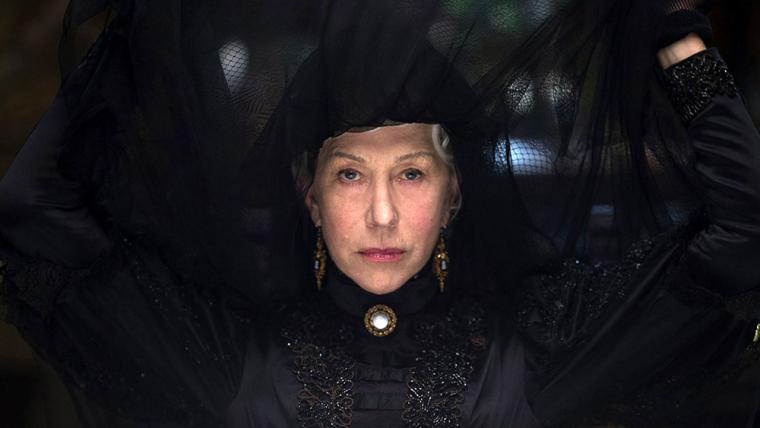 WINCHESTER
There aren't many to choose from. Yet if pressed for my favorite moment in the haunted-mansion chiller Winchester, I'd have to cite the brief exchange between Jason Clarke's investigative doctor Eric Price and this particular haunted mansion's unnamed butler:
"Why do the bells here chime at midnight?"
"It's midnight, sir."
"Yes, but why?"
Pause.
"It's midnight, sir."
Although he isn't a significant character, I actually quite felt for that incredulous servant. I mean, come on – hasn't Price ever seen a horror movie? We, however, have, and unfortunately, this creepy/funny encounter is one of only a few instances in directors Michael and Peter Spierig's scare flick in which we're treated to anything beyond generic genre effects and routine genre disappointments. The presences of Clarke and top-billed Helen Mirren, and the film's 1906 setting, may give the proceedings a veneer of class. But Winchester is otherwise standard to its core, complete with the requisite boom!s and bang!s on the soundtrack, the adorable, easily possessed moppet, and the employment of a familiar old-timey tune that attempts, and fails, to give us the heebie-jeebies. ("Beautiful Dreamer" is the song here, and if its usage reminds you of the echoed "Tiptoe Through the Tulips" in Insidious, so will the arrival of that series' Angus Sampson, cast as an ill-fated contractor with mutton chops.)
That's too bad, because Winchester's setup, one rooted in real-world events, is rather promising. Mirren plays Sarah Winchester, widow of millionaire firearm magnate William, whose grief following her husband's and their child's deaths has led to erratic behavior – specifically, Sarah's insistence on the construction of an enormous, labyrinthine domicile described by one character as "a seven-story structure with no master plan." (Kind of like the movie itself.) With nearly 100 rooms built and no stop-date in sight, the grieving, opium-addicted psychiatrist Price is recruited to determine Sarah's mental state. He begins questioning his own, though, after he arrives at the mansion and starts seeing what Sarah does: the many ghosts of those killed by Winchester rifles, who've taken up residence for purposes unknown.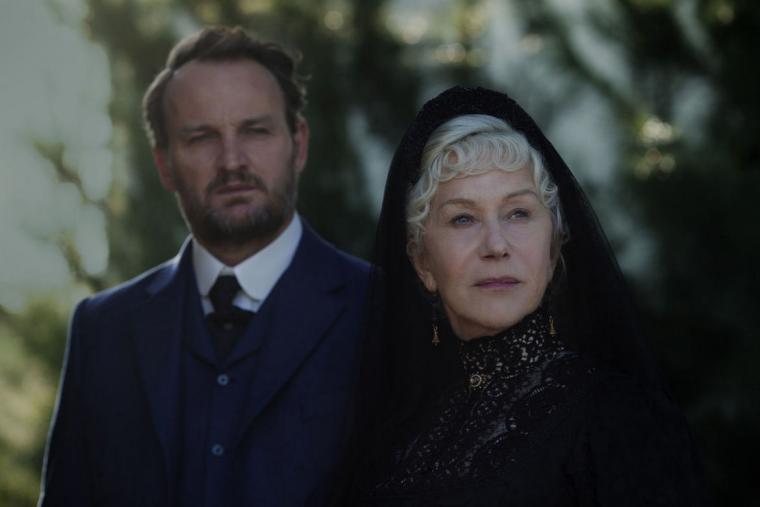 Granted, that's bound to happen when a drug addict is hired to check out a haunted house. But Clarke plays his damaged, grieving doctor with appropriate earnestness and anguish, and in the early scenes, Winchester suggests that it might indeed rise above the cookie-cutter norm. There's an elegant, spooky prelude in which Finn Scicluna-O'Prey's Henry, the obligatory possessed tyke, stands motionless with a burlap sack over his head, plus some fine, tense work by Sarah Snook as Henry's mother and Sarah's devoted niece. The Spierig brothers stage a few nervy segments involving Henry's sleepwalking and the courtliness of presumed servant Benjamin Block. (That the role is portrayed by Eamon Farren, the malevolent child killer from Twin Peaks: The Return, signifies that Block may not be quite as courtly as he appears.) And in overhead and establishing shots, at least, Sarah's mansion is certainly something to see. The real-life "Winchester Mystery House" is now a popular tourist attraction in San Jose, California. But as a piece of horror-flick real estate, it's mighty attractive here, too, its Byzantine architecture suggesting an entire house modeled after The Shining's hedge maze.
Yet the Spierigs, for perhaps budgetary reasons, rarely take advantage of the mansion's impossible layout in terms of its interiors; for all of the ghostly promise regarding what might lie in those 100-ish rooms, we only seem to spend time in five or six of them. While the plot mechanics hold together reasonably well, it still doesn't make sense – even given a frequently senseless genre – when the chief evil spirit and Winchester-gun victim roars at Sarah, "You took everything from me!!!", considering Sarah herself didn't manufacture the weaponry, and merely married the person who did. (Why isn't the film instead taking place in the afterlife, where the pissed-off spirits could berate the ghost of William Winchester to their hearts' content?)
And while she strides through the silly, mostly formulaic goings-on with her typical performance dignity and natural imperiousness, there's still far too little for Mirren to do in Winchester beyond stare at Clarke with disdain and look ravishing in her lace-collared Woman in Black-wear. Considering that Sarah is the main focus of the ghosts' torment, it was also mildly unsettling, and more than mildly surprising, to see that she had such control over her supposedly uncontrollable circumstances, because when she chided her unseen house guests with a forceful "Go back to your rooms," they actually obeyed. Plunk Helen Mirren into those well-meaning-clairvoyant roles in Poltergeist and Insidious and those movies would've been over in 10 minutes flat.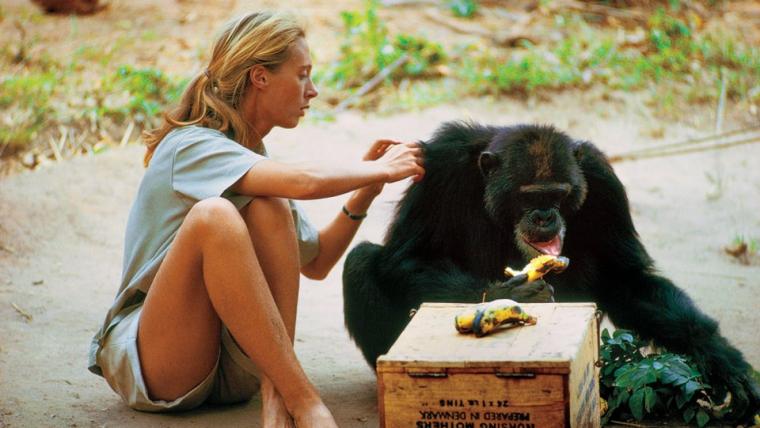 JANE
Largely culled from more than 100 hours of film previously thought lost, writer/director Brett Morgen's documentary Jane finds legendary primatologist Dame Jane Goodall, in the 1960s, studying the chimpanzees of Gombe in her traditional jungle-work attire of a short-sleeve button-down shirt and tan shorts. By the movie's end, this outfit will come to look as heroically iconic as Wonder Woman's breastplate or Frances McDormand's Three Billboards Outside Ebbing, Montana jumpsuit.
Now playing at the Putnam Museum, Jane is marvelous for many reasons, not least of which is the astounding footage of Goodall – frequently accompanied by filmmaker and former husband Hugo van Lawick and their infant child "Grub" – interacting with chimps and demolishing the popular notions that only humans could make tools and only men could survive in the wild. ("Comely Miss Spends Her Time Eying Apes" reads the hilariously condescending headline of a '60s newspaper article.) Yet while the primates are fascinating and endless fun to watch, it's Jane herself who's the undisputed star of Jane, in both the film's archival material and Morgen's on-screen interview with the present-day Goodall, still resplendently smart, sensible, and beautiful in her early 80s.
My biggest complaint about the film is actually a compliment, because when the end credits rolled after 90 minutes, I was wholly prepared, and eager, to sit through a whole 'nother hour of this thing. (Jane focuses almost solely on the missing Goodall footage rediscovered in 2014, and her life from roughly 1970 on – basically the movie's last five minutes – is detailed merely in a few film-clip montages and glancing references when being interviewed.) My other, less complimentary complaint lies with the accompanying score by composer Philip Glass, which is expectedly passionate and propulsive and hypnotic, but also typically Philip Glass – meaning he sometimes needs to just give it a rest already. (Goodall speaks to us; Glass shouts at us.) Otherwise, I've got nothing but raves for Morgen's remarkable achievement.
Raves, for instance, for the early shots of Goodall during her first months in Gombe, staring at faraway chimps with an expression of utter peace yet a visible desire for closer contact. For the images of a chimpanzee using a digging tool to get at some yummy termites inside a muddy hill. For the joyous sight, more than five months into Goodall's studies, of a chimp finally taking a bunch of bananas directly from her hand. For the tentative yet inevitable romance between Jane and Hugo, which leads to a telegram request to make rom-com addicts – and the rest of us, too – weep with happiness. For the amazing, utterly precious footage of Flo teaching and playing with her newborn Flint – and for the wrenching outcome after the jungle denizens are exposed to polio. For the scary chimp attacks on Goodall's campsite. For the delightful home movies with baby Grub. For the zebra … even if nature-doc hounds know that zebras, in these films, exist only to be eaten. (Where's their starring feature, National Geographic?!) And for the consistent thrill of Jane – a cannily edited, enthralling, fiercely moving treat that's about as strong a family-audience introduction to Jane Goodall's historic accomplishments as could be conceived. It's Dame good.