12 YEARS A SLAVE
It's impossible to imagine any viewer of director Steve McQueen's 12 Years a Slave not haunted for hours, if not days or weeks, by its potent, frequently horrific imagery. Be it the protracted sight of protagonist Solomon Northrup hanging from a tree, his wiggling toes barely touching the dirt, or the early shot of Northrup caged in a Washington, D.C., prison with the camera slowly tilting upward to implicate Capitol Hill in his (and all slaves') ordeal, McQueen continually delivers wrenching visual representations to match this already-wrenching tale. Yet if pressed for the one image that I find lingering above all others in this magnificent, devastating film, it would simply be the face of Chiwetel Ejiofor, who, in one unbroken take near the finale, almost seems to encapsulate hundreds of years of injustice in one anguished stare.
Unless, for some strange reason, you've heard that the movie is bad, probably everything you've heard about 12 Years a Slave is true. This factual tale of Solomon Northrup - a prosperous Northern violinist (played by Ejiofor) who, in 1841, was kidnapped, sold into slavery, and made to endure a dozen hellish years toiling on a series of Southern plantations - is oftentimes painful to watch, featuring brutal depictions of the loathsome conditions, and loathsome people, Solomon and countless others were forced to suffer under. McQueen's and screenwriter John Ridley's considerable artistry, however, makes the film, if not an easy sit, at least a consistently gripping one, and one could hardly find fault with the exemplary production design or near-ceaseless parade of outstanding performances. (Only the overly laid-back readings of Brad Pitt, who shows up toward the end as a sympathetic Canadian and virtual deus ex machina, seem somewhat anachronistic.)
Time and again in 12 Years a Slave, McQueen and his on- and off-screen collaborators offer sights, sounds, and actions that you feel might be burnished in your memory forever. An inebriated and confused Solomon, after a happy night drinking with presumed patrons of the arts, waking to find his wrists and ankles shackled. The sadistic, alcoholic plantation owner Epps (Michael Fassbender, transfixing and terrifying) walking Solomon into the night, his lantern creating an incongruously warm glow beneath the man's nightmarish, whispered threats. Epps' monstrous wife Mary (a rigid, superb Sarah Paulson) casually lifting a heavy glass decanter and bouncing it off the forehead of her husband's favored slave Patsey (the luminous and heartbreaking Lupita Nyong'o). And as he also demonstrated in his previous films Hunger and Shame, McQueen has a true genius for sustained shots, some lasting for minutes on end, that draw you in with a staggering, hypnotic pull. In one sequence here, Epps forces Solomon to whip Patsey for her insubordination, and it isn't until this aching, bloody spectacle is nearly over that you realize why (beyond the obvious) it's so particularly harrowing. As operated by the marvelous cinematographer Sean Bobbitt, McQueen's circling camera never flinches from the pain; the shot demands that we take in Solomon's mortification and self-loathing, and Patsey's broken body and spirit, without edits providing any desperately wanted yet inaccessible emotional distancing. "You think watching this is tough?" McQueen may as well be asking. "Imagine living it."
And yet, for all of the movie's memorable images and dramatic urgency and sterling portrayals (I haven't even mentioned the pitch-perfect character work provided by Paul Giamatti, Benedict Cumberbatch, Paul Dano, Garret Dillahunt, and the beyond-sublime Alfre Woodard), I can't stop thinking about the face of Chiwetel Ejiofor. For much of the movie, the actor is asked to convey unspeakable outrage and anger literally without speaking, and the burning ferocity in Ejiofor's eyes makes even Ridley's smart, beautifully literate dialogue borderline-irrelevant. After, however, Solomon surreptitiously tells the story of his capture and enslavement to Pitt's plantation visitor Bass, with the latter stating that he'll "do what he can" to get word of Solomon's plight to his family, McQueen gives us a scene - a single shot, actually - in which Solomon stares toward the camera for a full minute while quiet thunder rumbles ominously in the background. It's a moment that could be easily mistaken for a throwaway; narratively speaking, it doesn't look like anything is really happening in it. But as the shot continues, with Ejiofor's eyes slowly brimming with tears, we gradually realize that it's not that nothing is happening; it's that Solomon is listening for something, and not necessarily for the storm's arrival.
Could it be the help that Bass vowed to provide? Could it be Epps learning of Solomon's treachery? Could it be God, answering an unspoken prayer? These and numerous other options are seen in the tender, ravaged landscape of Solomon's face, and without making any kind of showy deal of the moment, Ejiofor suggests all of them with a nearly unblinking expression of torment suffused with an unmistakable measure of hope; it's a staggering brief scene, and perhaps the richest piece of acting within Ejiofor's almost impossibly great performance. (At present, only Cate Blanchett's Blue Jasmine turn would rival it for the title of 2013's finest.) It might appear to be one of those movies you go to more out of duty (or, possibly, guilt) than genuine desire, but I urge you not to miss 12 Years a Slave. There will no doubt be times you find yourself not wanting to be there. You need to be there. And afterward, you may even find yourself wanting/needing to be there again.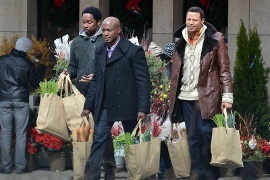 THE BEST MAN HOLIDAY
The Year of the Completely Unrequested Sequel continues with Malcolm D. Lee's The Best Man Holiday, a follow-up to the writer/director's modestly entertaining 1999 debut The Best Man, in which a gaggle of friends share stories, antics, and lovers in the days leading to one pair's nuptials. That's pretty much the itinerary here, too, albeit with less romantic swapping and more fatal disease. But while I can hardly say that I was clamoring for this "14 years later" update with characters I barely remembered upon walking into the auditorium, I'm not going to pretend I didn't enjoy myself. In truth, so long as viewers don't spend an inordinate amount of time considering the film's stale plot threads and completely predictable trajectory, it's hard to imagine who wouldn't enjoy themselves. Lee's script may err on the side of soap-opera banality, but he also writes fantastic verbal (and visual) slugfests in which you cackle and wince in the same breath; Nia Long and Melissa De Sousa have a particularly funny/nasty one here in front of the Christmas tree. And while The Best Man Holiday's returning performers may be playing ambulatory clichés - stalwart hubby, inveterate weed-smoker, working gal with no time for love, that sort of thing - these ace comedians (and -iennes) also perform with such startlingly legitimate emotion and openness that, against all expectation and common sense, I found myself totally falling for the movie. So thank you Long, De Sousa, Taye Diggs, Morris Chestnut, Regina Hall, Monica Calhoun, Sanaa Lathan, Harold Perrineau, and Terrence Howard for making my weekend's seeing-it-out-of-duty screening such a delight. I hate you for making me blubber like a baby on a half-dozen occasions, but thank you nonetheless.
Follow Mike on Twitter at Twitter.com/MikeSchulzNow.