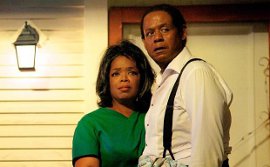 LEE DANIELS' THE BUTLER
While raving to him about Lee Daniels' The Butler - the glorious, heart-rending, hugely entertaining Civil Rights saga that may showcase the finest performance yet by star Forest Whitaker - a friend asked if it was the sort of movie that needed to be seen at the movies, or if it was something that could wait until home video. I replied that, as much as I think great films should always be seen first in as grandly scaled a format as possible, it was probably a work that wouldn't lose much in the transition from big to smaller screen. Although director Daniels' effort covers some 75 years of American history, with Whitaker portraying an eight-term White House servant over more than 50 of them, it's still a rather intimate epic boasting a mostly understated visual style, and will no doubt play just fine in home-theater settings. (Actually, after the film's "For Your Consideration" screeners are eventually sent out, I think it's going to play awfully fine in the home-theater settings of Oscar voters. My first thought on the drive home was that even though it's only August, this year's Best Picture, Director, and Actor races were already all sewn up.)
But Lord how I hope my buddy instead chooses to catch the movie as soon as possible, because everyone should be able to enjoy the same experience with Daniels' film that I did: surrounded by a large, attentive crowd who laughed and gasped and applauded the finale together with a collective appreciation that you all too rarely feel at the cineplex. Lee Daniels' The Butler (its awkward title the result of one of the seemingly stupider legal hassles of recent years) is, I believe, a magnificent achievement - an impassioned, angry, funny, and at times wildly theatrical exploration of a subject more frequently approached by Hollywood, when it's approached at all, with stoical seriousness and bland "good" taste. And thanks to Daniels', screenwriter Danny Strong's, and the actors' combined willingness to take their material to risky extremes - gambits especially apparent in the narrative's Forrest Gump-like pileup of coincidences and the borderline-lunatic casting of several U.S. presidents - it never threatens to sedate the audience with obvious sanctimony or lofty idealism. The movie, for a goodly percentage of its length, is as much lowbrow comedy as high-minded drama, and the joy felt in my auditorium as we all gradually realized that was the sort I've only occasionally experienced over more than 40 years of movie-going.
Though inspired by the real-life career of White House butler Eugene Allen, whose Washington, DC, tenure began with the Truman administration, The Butler follows Whitaker's Cecil Gaynes from the presidencies of Eisenhower (Robin Williams!) through Reagan (Alan Rickman!), balancing his professional life of quiet, dignified service with his personal life of complex, occasionally wrenching chaos. The son of two cotton-plantation workers who, following his parents' grim fates, becomes trained as a "house n------" for a wealthy Georgia family, Cecil knows firsthand the horrors of racism and disenfranchisement, and that knowledge is forever seen in the beautiful, pained face of Forest Whitaker, who serves with a smile even when his employers casually toss off racist invective in his presence. (L.B.J. and Nixon, as one might imagine, are especially guilty of this, even while enacting history-making civil-rights legislation.) But in the home he shares with his loving yet alcoholic wife (Oprah Winfrey, whose own potential Oscar win may also be a done deal), the Cecil we see is a far more visibly complex figure. Gregarious, friendly, and opinionated, Cecil is also staunchly against the ever-growing radicalism of his son Louis (the sensational David Oyelowo), whose personal search for justice leads him to ride an ill-fated Freedom Riders bus, associate himself with the Black Panthers, and join others for a motel-room meeting with Martin Luther King Jr. (Nelsan Ellis) ... on the day of the man's assassination, no less.
This employment of Louis as a somewhat improbable, Zelig-like figure sojourning through 20th Century race relations in America, however, actually aids, rather than harms, Daniels' and Strong's presentation, which is less interested in literalism than a kind of hyper-realism. A kaleidoscopic view of American history seen through the prism of Cecil's experiences, the movie is like a cinematic adaptation of America itself - wondrous and inspiring and frustrating and more than a little crazy - and the blood in its veins pulses with searching, vibrant life whether it's engaging in the sublime (such as its climax, featuring the ending that Spielberg's Lincoln should have given to us) or the ridiculous (such as John Cusack's appearances as Nixon, who, here, looks and sounds uncannily like John Cusack). Beautifully paced, spectacularly well edited, and with the staggeringly fine Whitaker leading a tremendous cast that includes Terrence Howard, Cuba Gooding Jr., Lenny Kravitz, Vanessa Redgrave, Liev Schreiber, and Jane Fonda (and who would've thought we'd ever see the day that the famed liberal would enact Nancy Reagan both believably and wholly free of irony?), Lee Daniels' The Butler is an unmissable experience that you can, if you want, wait for to hit home video. But I think you'll be grateful if you don't.
JOBS
At the end of the day, I guess director Joshua Michael Sterns' Jobs is about as good as we could expect from any Steve Jobs bio-pic starring Ashton Kutcher in the title role; biographically incomplete though it is (and was inevitably going to be), the movie is earnest, well-meaning, and inoffensive. It's also almost criminally dull, offering little insight into the man that extends beyond his (and Kutcher's) crooked half-grin, and so narratively unsurprising that you could correctly forecast every up and down in Jobs' life as presented here with no prior knowledge of the man's professional or personal histories. It's a TV movie - or rather, an impressive-looking, emotionally empty TV movie from the late-'80s - to its core, and is due to be forgotten about in just a few weeks' time. (Not-bad though they are here, the presences of Dermot Mulroney and Matthew Modine in significant supporting roles should tell you everything you need to know about how memorable this experience will be.) I do hope, however, that some casting directors at least see the movie and immediately scoot Josh Gad to the top of their lists of reliable young character actors worth calling on; the Book of Mormon star's performance as the affable and eventually disenchanted Apple associate Steve Wozniak is funny, touching, and deeply empathetic. I didn't much care for Jobs, but I sure hope that, as a result of the movie's release, Gad gets a lot more of them.
KICK-ASS 2
On two separate occasions in Kick-Ass 2, director Jeff Wadlow's sequel to 2010's ultra-violent action comedy based on a popular graphic novel, characters are told at moments of intense crisis, "This isn't a comic book." That sentiment is correct both times, because comic books can actually be a lot of fun. Alternately mind-numbingly stupid and mind-numbingly boring - its storyline consists of almost nothing more than the formation of a team of costumed super-villains (led by the Christopher Mintz-Plasse whiner unimaginatively nicknamed "The Motherf---er") to fight a team of costumed heroes (led, at least initially, by an unrecognizable Jim Carrey) - the movie is an ugly, unfunny, ungainly mess from moment one. In its dismal waste of Chloë Grace Moretz's considerable talents, it's also a pathetically insulting film, one that saddles the young performer with a mini-ninja role whose true character is left insultingly unexplored and whose narrative arc makes no sense at all. (Why does Moretz's Mindy Macready - a.k.a. Hit Girl - become the school pariah immediately following what must count as a legendarily excellent dance-team audition?) With Wadlow's comedic and blockbuster-minded timing distractingly off throughout the picture, and the action scenes incoherently staged at best - the densely populated slugfest of the finale suggests every reason you've never wanted to attend Comic-Con - Kick-Ass 2, at least for those who don't take comic books wa-a-ay too seriously, is a dismal chore to sit through. For Mortez fans who've already sat through her participation in another 2013 travesty, a horrific little screen "entertainment" called Movie 43, it's a bit closer to hell. The holidays are only four months away. This year, let's hope Moretz gets the gift of a new agent.