THE SCHOOL OF ROCK
I've seen Sidney Poitier do it. I've seen Robin Williams do it. I've seen Kevin Kline, Michelle Pfeiffer, Edward James Olmos ... hell, I've seen Dame Maggie Smith do it. But I have never seen an actor playing The Inspirational Teacher connect with his students as believably, and oddly beautifully, as Jack Black does in The School of Rock.

The movie's storyline sounds like the plot of the worst Adam Sandler movie ever: Through a contrived series of circumstances, a lazy, grouchy, wannabe rocker becomes a substitute teacher at an elite prep school, and turns his young charges into a prepubescent rock group in an attempt to win $20,000 in a Battle of the Bands. This scenario alone should make any sane moviegoer run screaming for the exits, which is all the more reason The School of Rock stands as the happiest surprise of 2003. Directed and written by independent stalwarts Richard Linklater and Mike White, the film is a joyous, hysterical celebration of '70s-era rock, but even better than that, it's a celebration of individuality; the kids in the movie, all around age 10, are allowed to discover abilities they didn't know they possessed, and the revelation of their talents is as touching as it is deeply funny. (It helps immeasurably that the film's child actors are so good; there's not a trace of Hollywood cuteness about them.) The School of Rock is a big-studio release with an indie spirit - even the requisite uptight principal (the marvelously flaky Joan Cusack) is a more nuanced character than you'd usually encounter - yet the film could've easily crumbled without the wondrously resourceful Jack Black in the lead. All of his human-whirligig exuberance is on display, yet it's tempered by an almost shocking depth of feeling - watching Black teach his charges, or engage in one-on-ones with them, you understand that they bond so well because Black is, at heart, a 10-year-old himself; the rapport he shares with the kids is completely unforced, and all the more beguiling for being so. Probably the best we could have hoped from The School of Rock was that it didn't insult us; instead, it ranks as one of the most hilarious and moving works of the year. Go figure.
NEVER GET OUTTA THE BOAT
Anyone with even a passing interest in alternative filmmaking should be highly anticipating the MidCoast Film & Arts Festival, the first of its kind in the area, which will present a series of independent features, documentaries, and shorts at various Quad Cities venues from October 23 through 26. (Full details on films, locations, and prices are available at http://www.midcoast.org.) Among the festival's titles is the award-winning Never Get Outta the Boat, an often harsh ensemble drama - co-produced by John Cusack - concerning a group of men attempting to control their drug and alcohol addictions while living together in an L.A. halfway house. Though not a seamless work - its themes tend to be spelled out too obviously, and, as in many independents of its type, you begin to long for scenes in which characters don't continually scream obscenities - director Paul Quinn reveals an enormous amount of skill. The opening montage of the house's eventual inhabitants hitting rock bottom is smartly, terrifyingly designed, the editing is always sharp, and the film is peppered with beautiful, quiet scenes of reflection and empathy; among a fine cast, special props go to Thomas Jefferson Byrd, Harry J. Lennix, Shawnee Smith, and screenwriter Nick Gillie, quite moving in a substantial role. Like all fine festival selections, Never Get Outta the Boat gives audiences exactly what we should want from modern movies - imagination, dedication, and talent, and all without benefit of a huge budget. Boat, and numerous other samplings in the MidCoast Film & Arts Festival, celebrates promise; among true independents, what criterion could matter more?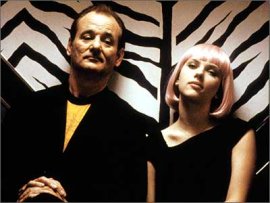 LOST IN TRANSLATION
Audiences who crave a strong narrative might find Sofia Coppola's Lost in Translation hellish, yet there's so much going on in Bill Murray's and Scarlett Johansson's portrayals, and in Ms. Coppola's assured, fluid direction, that the film emerges as a devastating work, strong and funny and stunningly detailed. Playing two lost souls who bond while trapped in Japan, Murray and Johansson make sadness and confusion palpable, making their eventual alliance all the more satisfying; the film details people lost in their lives and their world - the setting makes for exquisite fish-out-of-water comedy that never demeans the Japanese - who almost magically find one another, and it packs a bigger emotional wallop than you might be prepared for. Lost in Translation is occasionally meandering and perhaps a bit too slight for its length, but it allows Coppola to emerge as a top-tier filmmaker (after The Virgin Suicides established her obvious directorial gifts), and, in Murray and Johansson, it presents audiences with the most endearing, riveting Odd Couple of the year.
UNDER THE TUSCAN SUN
Under the Tuscan Sun is one of those sunny, huggy movies that's inevitably called "charming," but to me, it just showed how oppressive charm can be. Adapted from Frances Mayes' novel, Audrey Wells' tale of a divorcée who makes a new life for herself in Italy is predictable and phony throughout, so pleased with its folksy humor and rustic delights - it even features A Big Fat Italian Wedding - that I was nearly cowering from it. In the lead role, Diane Lane is initially endearing, but she's turned into such a twinkling cartoon, facing crises with such world-weary acceptance, that she becomes tiresome - her charm is shoved down our throats. With its obvious plot signposts and scene after scene of postcard banality, you ache for more scenes with Sandra Oh as Lane's pregnant pal (her lines aren't funnier than anyone else's, but at least her delivery is), and gradually realize that all moments of dry wit were used up in an early scene when Lane encounters an Italian couple vying for the house she'll inevitably buy:
"You Americans," one of them says, "you think you're entitled to everything."
To which Lane replies: "Some of us feel really badly about that."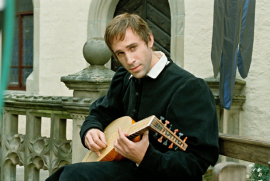 LUTHER
It barely matters that Luther isn't any good, because the film is one of those sad, sickly bio-pics that people see dutifully, like it was an act of penance. To anyone wondering how you can screw up the life story of Martin Luther, which is filled with such drama and inspiration, here's the recipe. Cast sullen Joseph Fiennes in the lead. Make the passage of time incoherent. Keep the dialogue anachronistic. ("Keep your big mouth shut!") Introduce and drop major characters at will. Overload on keening peasants with artful smudge on their cheeks. Attach an overbearing, lachrymose score. And, by all means, follow the triumph-of-the-underdog blueprint so slavishly that the movie laughably resembles any number of Rocky sequels. Serve to the devoted.