SWEENEY TODD: THE DEMON BARBER OF FLEET STREET
As the title character in Sweeney Todd: The Demon Barber of Fleet Street, Johnny Depp gives a controlled, admirable one-note performance in a role that calls for many more notes. This isn't a knock - well, not a huge knock - on his singing of this legendary Stephen Sondheim musical; Depp may not have the vocal power or range to do full justice to Sondheim's and book-writer Hugh Wheeler's masterful creation, but he gives it a good shot, and his morose speak-singing fits director Tim Burton's interpretation of the work. It's the interpretation that's the problem.
Burton's Sweeney Todd, set in a diseased and decaying Victorian London, is a visually arresting achievement, with a palpable air of rot and suitably snaky performances. It's impressive, in its way, but what it isn't is musical, and assigning a Sondheim adaptation to a director with (based on the evidence here) almost no eye or ear for musical staging seems borderline perverse.
The director appears to have undertaken Sweeney Todd with a severe case of tunnel-vision: He latches onto the horror-flick aspects - having way too much fun with the cartoonish geysers of blood - and ignores nearly everything joyful and ironic in the material. Burton's disinterest in Sondheim's humor is apparent in his rhythmless cutting and stagnant composition of the musical numbers, and in the singers' poor enunciation (with her mush-mouthed delivery, you'd never realize how hilarious Helena Bonham Carter's lyrics actually are); a morbid, relentlessly dark Sweeney Todd is certainly a valid take on the piece, but it badly cheapens its origins. The movie still works - even trimmed, that score is still staggering - yet it's easy to imagine audiences unfamiliar with the stage version asking why Burton's Sweeney Todd is a musical at all, and even those of us familiar with the stage version might not have an answer.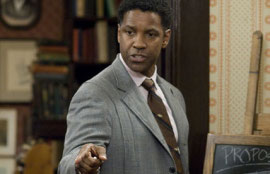 THE GREAT DEBATERS
There isn't a moment in The Great Debaters - literally not one moment - that doesn't follow the tired, contrived triumph-of-the-underdog blueprint, even when the on-screen happenings demand a tougher, less homogenized presentation than the one we're given. Luckily for director/star Denzel Washington's period drama, though, good intentions count for a lot, and so do good performances.
The film tells of the debate team from Marshall, Texas' all-black Wiley College that achieved national recognition in 1935, and if there's an inspirational-teacher-slash-sports-movie cliché missed by screenwriter Robert Eisele, it's not for lack of trying; every success and setback along the road to victory, every recrimination and reconciliation and tasteful lump in the throat, arrive exactly on cue. Yet you can't begrudge the film's sincerity or its earnest espousal of higher education - with its celebration of rational discourse, it's an ideal movie for mature middle-schoolers - and the actors (even the too-predictably cast John Heard as yet another piggy authority figure) play their stereotypes with conviction.
Washington is far more inventive here than he was in American Gangster, and he and Forest Whitaker refuse to coast through their timeworn roles, hitting much-needed notes of flinty authority and experience. (If only we were treated to more than one scene between them.) And the students' liberal homilies are delivered with passion by some promising young performers, among them a teen who already displays the same naturalism - combined with an ingratiating, obvious love of acting - shared by The Great Debaters' Oscar-winning leading men. His name? Denzel Whitaker. Honest to God.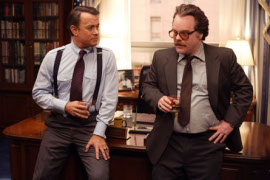 CHARLIE WILSON'S WAR
It's difficult to imagine a release with a more intimidating pedigree: A Mike Nichols film with a script by The West Wing's Aaron Sorkin, starring Oscar winners Tom Hanks, Julia Roberts, and Philip Seymour Hoffman. Yet as engaging and professionally assembled as Charlie Wilson's War is, there's not much to say about it - and, I'm afraid, it appears as though that's the movie's goal.
Detailing the (mostly) true story of how a womanizing, Scotch-swilling, Texan congressman helped end the protracted battle between Afghanistan and the Soviets in the 1980s, the movie uses politics as the springboard for ethical debate fused with wisecracks; a sticky mix but, in Nichols' and Sorkin's hands, never a dull one. The film is speedy, lucid, likably performed by the leads, and, as is customary for the director, filled with memorable secondary figures. (Amy Adams does one of her always-welcome sweetheart turns, and for a few minutes, Emily Blunt - staring down the camera in an unbuttoned button-down shirt - is so electrifying that she threatens to sashay off with the picture.)
Yet despite a couple of scenes in which Hanks' Wilson travels abroad and visits with the suffering masses, the Afghanis' struggle remains naggingly abstract - it's a theoretically political movie that, based on the evidence, isn't much interested in politics - and it's tough not to recognize something a little unseemly about Nichols and company forging what is essentially just a glib, light-hearted comedy out of a decade's worth of political strife and murder. In the end, Charlie Wilson's War is a perfectly pleasant way to kill 100 minutes. The question remains as to whether or not it should be.