STRAIGHT OUTTA COMPTON
In the N.W.A. bio-pic Straight Outta Compton, long after the professional and personal flame-outs between Eazy-E (Jason Mitchell) and Ice Cube (O'Shea Jackson Jr., playing his real-life father), the two rappers run into each other at a club, and Eazy, seeking reconciliation, tells Cube he saw him in Boyz n the Hood. Cube reminds his former friend that Eazy publicly called the movie "an after-school special," and Eazy, knowing he's caught, simply grins and says, "Man, you know I like after-school specials." (As it must, this initially tense encounter ends in a hug.) Given the film's expectedly harsh language, constant threats of violence, and poolisde and hotel-room debaucheries that only platinum-selling albums can buy, I was amazed to find its own resemblence to an after-school special the most surprising thing about director F. Gary Gray's musical drama. But whatever - I, too, like after-school specials.
Not all of Straight Outta Compton feels watered-down. (Hell, its very first scene finds a battering ram tearing a neighborhood domicile to shreds.) The early N.W.A. concerts, with crowds incited into fist-pumping release, are breathtakingly alive and make the late '80s look far more exciting than they retrospectively feel. And there are strong, scary scenes throughout, including every single one of the musicians' run-ins with law enforcement; one particularly ugly, horrifying encounter finds three police officers forcing the musicians, at gunpoint, to lie face-down on the sidewalk for the heinous crime of eating their lunches outside their recording studio. (This complexly infuriating sequence, with the chief offender among the cops a black man, is all the argument the film needs for the origin of N.W.A.'s controversial anthem "F--- tha Police.") Yet while the movie is engaging and effective, it's hard not to notice its presentation following the genre's traditional rags-to-riches formula too neatly. The humble beginnings, the lucky break, the meteoric rise, the corrupted-power downfalls, the redemption, the hopeful finale, and all of the associated accoutrements - shady business deals, drugs, arrests, illness, death - are accounted for, as are the unfortunate elisions. I of course anticipated the film focusing primarily on Eazy, Cube, and Dr. Dre (Corey Hawkins) but didn't really think N.W.A.'s two other original members - DJ Yella (Neil Brown Jr.) and MC Ren (Aldis Hodge) - would emerge as such afterthoughts.
Still, I may just be feeling spoiled because the last three months have already delivered three musical biographies - Love & Mercy and the documentaries Amy and What Happened, Miss Simone? - more formally adventurous and less TV-sentimental than Gray's movie. And there is a lot to enjoy in this epically scaled (145-minute) achievement, from the marvelous Mitchell's early, atonal attempts at rapping to the insinuating malevolence of R. Marcos Taylor's Suge Knight to the eerily accurate re-creations of the 1992 Los Angeles riots. So chalk up another 2015 genre winner in Straight Outta Compton. But as the furiously excellent Paul Giamatti plays N.W.A.'s untrustworthy manager so soon after playing Brian Wilson's untrustworthy physician in Love & Mercy, a word of warning to other musicians: If you see Giamatti coming, walk quickly in the other direction.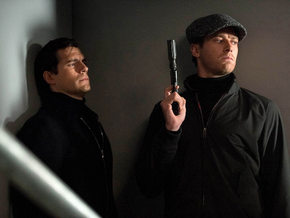 THE MAN FROM U.N.C.L.E.
Had you asked me the plot of director Guy Ritchie's action comedy The Man from U.N.C.L.E. five minutes after I watched it - even while I was watching it - I wouldn't have been able to help you. But I'm not sure that Ritchie's and Lionel Wigram's script, based on TV's 1964-8 spy series, is at all to blame, considering I had so many questions beyond "What's going on here?" rattling around my brain. Such as "When, exactly, did Henry Cavill grow a funny bone?" And "How, exactly, did Alicia Vikander go from unknown to invaluable so quickly?" And "Where, exactly, is the line drawn between a god-awful Russian accent and a brilliant one?"
It landed just under the wire, but I'm delighted to report that Ritchie's proudly inconsequential and carefree diversion - like an Austin Powers movie played (mostly) straight - may be the happiest cinematic surprise of the summer. No film that casts the British Cavill as an American, the Swedish Vikander as a German, the American Armie Hammer as a Russian, and the Australian Elizabeth Debicki as a ... not-Australian can be accused of undue seriousness, and the joy of The Man from U.N.C.L.E. lies in the glorious insouciance. This is a movie that finds international terrorists planning to detonate a stolen nuclear warhead, and at their most anxious, characters treat this scenario as an annoying inconvenience that threatens to disrupt cocktail hour - which I mean as the hugest of compliments. The repartee is as speedy, clever, and pointless as the chase sequences, and you can feel the well-dressed cast's collective relief at having precisely zero responsibilities beyond being cheerfully blithe and ridiculously good-looking. Ex Machina's Vikander has already proven she can be much more than that, so the movie's casualness looks best on Cavill, whose clipped, stylized stodginess is hilarious, and Hammer, whose exaggerated Russian deliveries are pricelessly moose-and-squirrel. I promise if Hollywood ever gets around to Lone Ranger V. Superman: Faster Than a Silver Bullet, the results won't be nearly this much fun.