Like a squirrel gathering nuts before winter, I made a conscious effort to catch all five of this past weekend's debuting releases before our area was hit by the blizzard from Hell. (An oxymoronic expression, but whatever.) And because, with the exception of the museum's feature, even the really good one will likely be gone before the snowy onslaught begins to melt, let's take care of 'em quickly. In descending order of preference ... .
A Most Violent Year: Now batting an impressive three-for-three, writer/director J.C. Chandor follows his Margin Call debut and All Is Lost follow-up with another fascinating tale of incipient, if more figurative, drowning, telling of a heating-oil magnate (the subtly electrifying Oscar Isaac) desperate to run a mostly corruption-free business in the wildly corrupt New York of 1981. It's kind of like a two-hour expansion of Pacino's early scenes in The Godfather - the ones in which Michael insists he'll never join the Mafia ... until his dad gets shot - and nearly as thrillingly plotted, and fraught with lurking danger, as that cinematic icon. A few narrative developments feel truncated, and Bradford Young's otherwise sterling cinematography overreaches for Gordon Willis-style shadowy menace. But A Most Violent Year remains an incredibly solid exploration of gradually eroding ethics, one made somewhat less cerebral by its killer set pieces. (Chandor's staging of an attempted highway-overpass truck-jacking is especially exciting.) And with Jessica Chastain in supple and sinister Lady Macbeth mode, the cast provides loads of down-and-dirty enjoyment, with sensational character turns by Alessandro Nivola, Jerry Adler, and particularly Albert Brooks as Isaac's menschy lawyer. Both Brooks and Isaac were also in Nicolas Winding Refn's exhilarating Drive. Here's hoping they go three-for-three, too.
Journey to Space 3D: The Putnam Museum's latest edu-tainment, written and directed by Mark Krenzien, concerns NASA's advances in deep-space exploration in the wake of 2012's end of the shuttle program. And like many such docs, it attempts to cover too many bases in 45 minutes, even if most of them - such as the elegiac reminiscence of the doomed Challenger and Columbia flights - are covered with touching, unfussy sincerity. But there are captivating factoids on current preparations for treks to Mars and awesome Hubble shots of distant galaxies (they resemble watercolors painted by God Himself), and kids, especially, should dig the giddy images of space travelers cavorting in zero gravity, playfully tossing one another from compartment to compartment and shaving with their razors conveniently dangling mid-air. Says narrator Patrick Stewart of the genial scientists on-screen, "It's all about getting the job done and having a little fun" - an apt description for Journey to Space 3D itself.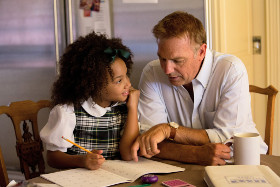 Black or White: Its previews promised/threatened a sentimental dramedy in which a drunken, racist Kevin Costner and a sassy, sassier Octavia Spencer engage in a verbal-slapstick fight for custody of their bi-racial granddaughter (the lovely, just-naturalistic-enough Jillian Estell). Thankfully, the trailers are as bad as writer/director Mike Binder's effort gets - although considering those trailers are excruciating, that's not saying much. I actually really liked both stars here, with Costner doing his most moving work in ages, and really enjoyed the fact that, misleading ads aside, Costner's perpetually angry lawyer wasn't racist; happily, the film isn't the sitcommy debacle its marketing and simplistic title suggest. Yet it all still feels incoherently assembled, boasting such strange, random inconsistencies in plotting and character that every third scene appears to have gone missing. And whenever the movie threatens to get into truly trenchant examinations of its themes, it chickens out with a lame punchline, or goofy reaction shot, or baldly contrived narrative twist that nullifies whatever (moderate) goodwill you have for it. Black or White? Try yellow.
The Loft: You know that horrible feeling you get when you and your buddies collectively share an upscale apartment for secret rendezvous with women who aren't your wives and then one day - bam! - there's a dead naked lady in the bed? I'm praying not, because that would mean you've been through an experience as contrived, convoluted, and icky as director Erik Van Looy's mystery/thriller, which might've supplied some Agatha Christie-esque pleasure if Christie wrote only about interchangeably douchey dudes with eternal five-o'clock shadows. There are some juicy twists once the guys' wives start acting as suspicious as their cheating hubbies, and a few forceful performers - Matthias Schoenaerts, Kristin Lehman, Margarita Leviera - do their best to cut through The Loft's crap. But if I may ask: When casting the role of the sleazebag who growls, "I'll kick your ass at your own f---ing wedding!", exactly who decided that Modern Family's Eric Stonestreet was the ideal man for the job? Listening to TV's sweetly swishy Cameron utter this and other alpha-bro sentiments would've been the height of unintentional comedy if I weren't feeling too embarrassed for Stonestreet to laugh.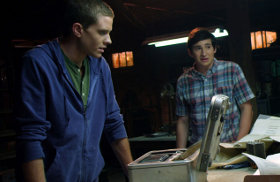 Project Almanac: In director Dean Israelite's mind-numbingly stupid adventure, one inevitably and ludicrously shot in "found footage" format, five teen dipsticks spend roughly 48 percent of the movie making a time machine, 48 percent using it to win the lottery and mack on their crushes and attend Lollapalooza, and maybe 4 percent wondering if this was all such a good idea. When I invent my time machine, I'm going back to this past weekend, and making arrangements to save Project Almanac for after the blizzard hits, when I can't get my car out of the driveway.