[Author's note: In the 11 days since this article was first published, a number of generally reliable pre-Oscar-nomination indicators have seen the light, including the nominees for several guild awards and the British Academy of Film & Television Awards (BAFTA), and the overall mood of the rooms during the Critics Choice Awards and Golden Globes ceremonies. Consequently, with less than 40 hours to go before the Academy Awards nominations are announced, I've changed my official predictions in a number of categories. Let's see if I turn out to be smarter or stupider in the wake of my last-minute changes! My new picks, along with some commentary, will follow the originally published predictions.]
No novelty with a newly expanded field of 10 nominees for the big prize. No ex-spouses dueling for the Best Director trophy. No nutty, left-field Best Picture contenders along the lines of Star Trek and Fantastic Mr. Fox and The Hangover. Where's the fun in reading predictions about this year's field of Oscar nominees?
Why, in the possibility of Mike falling flat on his precognostic face, that's where!
The following are my best guesses - subject to immediate change, I'm sure - for this year's Academy Awards nominations, which will be announced January 25. (The ceremony will be held on February 27.)
BEST PICTURE
Black Swan
The Fighter
Inception
The Kids Are All Right
The King's Speech
127 Hours
The Social Network
The Town
Toy Story 3
True Grit
What a difference a year makes! At this point in 2010, it was widely presumed that five films were assured of Best Picture recognition (Avatar, The Hurt Locker, Inglourious Basterds, Precious, and Up in the Air, all of which did get recognized), while the category's remaining slots would be filled by five out of roughly a dozen reasonable options. (And the eventual inclusion of The Blind Side was still a surprise.) This year, however, not only are there really only 11 conceivable Best Picture contenders, but it's nearly impossible to guess which one is going to be left hanging.
To be sure, The Social Network and The King's Speech are completely safe, and the Directors' Guild of America (DGA) acknowledgment of Black Swan's, The Fighter's, and Inception's helmers pretty much guarantees the inclusion of those three titles. Despite it being totally ignored by the Golden Globes, the acclaim and rather staggering box office for True Grit make that one a done deal, while Toy Story 3 will have no trouble filling the quickly-becoming-annual Pixar slot. The Critics' Choice Awards (CCA) left The Kids Are All Right off its Best Picture short list, but recognition by the Screen Actors Guild (SAG) and Producers Guild of America (PGA), plus its inevitable Best Picture (Comedy or Musical) victory at this Sunday's Golden Globes ceremony, should ensure placement here.
Which leaves us with two slots open for three possibilities: 127 Hours, The Town, and Winter's Bone. If you presume that the PGA lineup will match the Academy's lineup 10 for 10, the one that gets the shaft is the low-grossing, if critically adored, indie Winter's Bone, and that's what I'm predicting will happen. But while it's assured of a James Franco nomination, will 127 Hours prove to be too tough a sit for the majority of voters? (All those reports of people fainting during screenings can't sit well with more squeamish Academy members.) And while it seems assured of a Jeremy Renner nomination, will The Town be considered a little too good-but-not-great to make this year's Best Picture roster? (Autumn's genre hit would've been a shoo-in last year, when the category boasted several good-but-not-great films.) Expect a photo finish. And if any title beyond the aforementioned 11 makes the cut - specifically Another Year, Blue Valentine, or Shutter Island - expect Oscar bloggers to go absolutely insane.
(Update: I'm sticking with my 10, with a caveat - nothing will be nominated beyond the 11 front-runners. If any other picture does sneak in, I'll officially be one of those Oscar bloggers who'll go absolutely insane.)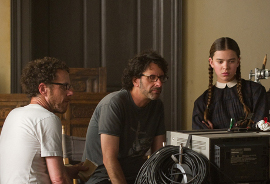 BEST DIRECTOR
Darren Aronofsky, Black Swan
Joel Coen and Ethan Coen, True Grit
David Fincher, The Social Network
Tom Hooper, The King's Speech
Christopher Nolan, Inception
Man, until the January 10 announcement of the Directors' Guild nominees, I was feeling so confident about this category. But while the widely expected Aronofsky, Fincher, Hooper, and Nolan nominations did indeed come to pass, the fifth - David O. Russell for The Fighter - was more than a little unexpected; like many, I just presumed that Russell's reputation would have preceded him all the way to a DGA dissing. (Surely you've seen the YouTube clips?) My prediction, and the one I'm sticking with for the Oscars' Best Director category, was the sibling team from True Grit, a movie that may have simply popped up on the collective DGA radar too late to usurp Russell's - or anyone else's - slot.
Still, there's no denying that The Fighter's director has a more secure shot at an Oscar nod now than he did before Monday. And besides, as it stands, this category seems almost tailor-made for a surprise or two; Fincher may be a lock, but you can't exactly say the same for anyone else. Hooper's film could be easily (and correctly) perceived as more of an actors' showcase than a director's, while Aronofsky's movie, hearty hit though it is, could still prove a tad alienating. (I doubt it, though: The Academy's directors' branch, after all, was responsible for the only nominations received by David Lynch's Blue Velvet and Mulholland Dr.) As for Nolan, it's worth remembering that while he's been recognized by the DGA twice prior to Inception, Best Director Oscar nominations for Memento and The Dark Knight didn't follow. What do voters have against this guy?
So while these six (well, with the Coens, seven) Best Director possibilities are your best bets, don't discount the chances of six others, all of whom, for added cred, also either wrote or co-wrote their films: Ben Affleck for The Town, Danny Boyle for 127 Hours, Lisa Cholodenko for The Kids Are All Right, Debra Granik for Winter's Bone, Mike Leigh for Another Year, and Roman Polanski for The Ghost Writer. Don't scoff. The Academy loves previous Best Director winner Polanski, even if the judicial system doesn't.
(Update: As with the DGA, the Coens were ignored by BAFTA, despite True Grit receiving a Best Picture nomination. There just doesn't seem to be much heat behind the siblings in this category. So I'm switching my Coen-brothers guess in favor of one for Russell, even though it would be incredibly strange for the DGA lineup to match the Academy's two years in a row ... . I haven't followed the pattern through the decades, but I don't think that's ever happened before.)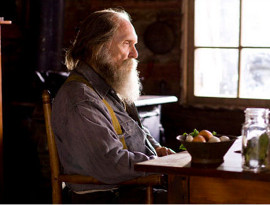 BEST ACTOR
Jeff Bridges, True Grit
Robert Duvall, Get Low
Jesse Eisenberg, The Social Network
Colin Firth, The King's Speech
James Franco, 127 Hours
In my opinion, the acting categories are fascinating this year, because I'd argue that each one of them features three performers who are certain nominees, one who's an almost-sure thing, and one who's gonna squeak by with a nod over two or three equally likely contenders. Given their recognition by the CCA, SAG, and Golden Globes, I'd venture that Eisenberg, Firth, and Franco have nominations in the bag, while Oscar engravers have probably already carved Firth's name on the Best Actor statuette. Like everything else about his film, Bridges was strangely shunned by the Globes, but True Grit's popularity - to say nothing of his SAG and CCA nominations and the Dude's own popularity - makes him a tough choice to deny.
And for slot number five? Well, Ryan Gosling (Blue Valentine) and Mark Wahlberg (The Fighter) both received Globe nominations - with Gosling also a CCA nominee - and are both definite threats. Yet I'm thinking the former's film might be too indie-scrappy and too sad (and the recipient of too many middling reviews from major critics), while the latter's performance, though wonderfully low-key, is largely forgettable in a movie that finds so much Acting! going on around him. Javier Bardem's foreign-language portrayal in Biutiful has passionate support - including a Best Actor win at the Cannes Film Festival and public endorsement by Sean Penn and Julia Roberts - but he's been completely shunned by the precursors, and those who don't like the film seem to re-e-e-eally not like the film. Consequently, I'm going with Duvall, a SAG nominee whose Get Low turn kind of has career-capper written all over it. Happy 80th birthday, Bob!
(Update: No BAFTA nod for Duvall, yet enthusiastic audience recognition for Wahlberg at the Golden Globes. Plus Christian Bale's rightful acknowledgment, during his acceptance speech, that you can't give a performance as loud as his without a quiet center to bounce it off, and Wahlberg's excellent performance was nothing if not a quiet center. I'm going with Wahlberg over Duvall, although you should watch out for Bardem, who was nominated at BAFTA.)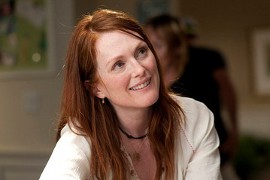 BEST ACTRESS
Annette Bening, The Kids Are All Right
Nicole Kidman, Rabbit Hole
Jennifer Lawrence, Winter's Bone
Julianne Moore, The Kids Are All Right
Natalie Portman, Black Swan
Best Actress is perhaps the performance category with the strongest number of potential nominees ... and how refreshing it is to be able to make that claim! In other, weaker years, a case could've easily be made for the inclusion of numerous women who I don't even consider among the top eight contenders in 2011: Halle Berry for Frankie & Alice, Anne Hathaway for Love & Other Drugs, Diane Lane for Secretariat, Noomi Rapace for The Girl with the Dragon Tattoo, and Naomi Watts for Fair Game. (And I'm no doubt missing a few.) Still, amidst exceedingly tough competition, expect sure-thing nods for Bening, Lawrence, and Portman, and an almost-sure-thing nod for Kidman, all of whom were short-listed by the CCA, SAG, and Globes; only the thus-far-miserable box office for Rabbit Hole makes Kidman's inclusion even somewhat questionable.
Regarding the fifth slot, I'd say that Blue Valentine's Michelle Williams (a CCA and Globe nominee) has a good shot; SAG nominee Hilary Swank, for Conviction, has a slightly lesser one; and Another Year's Lesley Manville was considered an inevitability before she was ignored by damn near every Oscar precursor under the sun. Instead, I'm going with Moore, who many assumed wouldn't make the roster because she'd split the Kids vote and subsequently derail presumed front-runner Bening's chances. But now that it's clearly Portman's Oscar to lose, what's the harm in including her? Aside from the performers I've listed, the only other remote possibility I can see is someone who, like Moore herself, could be considered for either Best Actress or Best Supporting Actress this year ...
(Update: Considering the rousing ovation she received after her acknowledgment by Golden Globe winner Bening - plus her BAFTA Best Actress nod - I'm feeling very confident about Moore's chances here. And after being cited as a Best Actress contender by BAFTA, just as Kate Winslet was for The Reader after reams of previous Supporting Actress citations, I'm thinking young Hailee Steinfeld will find her True Grit recognition in this category instead of Best Supporting Actress. Whose name does she usurp? I'm thinking Nicole Kidman's, whose movie might just be too marginal for recognition this year.)
BEST SUPPORTING ACTRESS
Amy Adams, The Fighter
Helena Bonham Carter, The King's Speech
Barbara Hershey, Black Swan
Melissa Leo, The Fighter
Hailee Steinfeld, True Grit
... and that would be Hailee Steinfeld. Much has been made recently about whether the 14-year-old's CCA- and SAG-nominated True Grit portrayal should actually be considered in the Best Actress field; her character does, after all, narrate the movie, and appears in nearly every scene. Could Steinfeld find her excellent chances for a nod nixed solely because of category confusion? It's definitely possible, but I'm thinking/hoping voters consider hers a secondary role like those played by previous, male Supporting nominees Ethan Hawke for Training Day and Jamie Foxx for Collateral - Steinfeld, too, is her film's quiet conscience in support of a flashier, more obviously starry Star Turn.
Three other contenders, though, are just about certain of recognition here, with Carter and The Fighter ladies all nominees in the CCA/SAG/Globe trifecta. And while there's actually a fourth name to add to that lauded trio - Black Swan's Mila Kunis - I'm going out on a major limb and predicting that the former That '70s Show co-star will be unfortunately ignored here ... partially because she's a former That '70s Show co-star. Unbelievably awesome though Kunis is, I'm guessing that older voters - and jealous younger ones - still want her to pay more dues. Ah, but we Black Swan fans needn't fret too much; à la last year's Maggie Gyllenhaal, I'm thinking Hershey's going to be that almost-annual nominee who sneaks in with almost nothing in the way of precursor recognition. (See also 2008's Michael Shannon, 2007's Tommy Lee Jones, 2005's William Hurt, 2004's Alan Alda ... .) Other possibilities in this category include Globe nominee Jacki Weaver for Animal Kingdom, and ... . Well, that's about it.
(Update: Since I'm now predicting Steinfeld for the leading-actress race, I should probably go with Kunis here, but I'm still unconvinced that she'll be cited. Instead, let's give Hailee's spot to Weaver, an actress who's been repeatedly called a living legend in her native Australia, and whose Animal Kingdom role was reportedly written specifically for her. I also finally got to see Animal Kingdom this past weekend, and damn, but Weaver's awfully good in it. Before, I was a little worried that the CCA- and Globe-nominated actress would steal a nomination from one of my favorites in this field. Now, I'll be pissed if she isn't nominated.)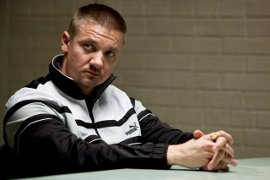 BEST SUPPORTING ACTOR
Christian Bale, The Fighter
Andrew Garfield, The Social Network
Jeremy Renner, The Town
Mark Ruffalo, The Kids Are All Right
Geoffrey Rush, The King's Speech
As with Colin Firth, anyone who winds up on the roster with Christian Bale should just feel lucky to have been invited to the party; the Fighter co-star's eventual victory is as done a deal as Christoph Waltz's was last year, and Heath Ledger's the year before that, and Javier Bardem's the year before that. (Am I sensing a trend in the Best Supporting Actor category?) If anyone could possibly topple the once and future Batman, it'd be Rush; it won't happen, but you know ... . And since, like those two contenders, Renner has CCA, SAG, and Globe nominations on his side, last year's nominee for The Hurt Locker looks to be the one who'll carry the Town torch for the whole expert ensemble. Ruffalo was denied a Globe nod, but did get recognized by the CCA and SAG, and won this prize from the New York Film Critics - one of the few critical assemblages that seem to carry any weight with the Academy whatsoever - so I like his chances a lot. (Besides, it's Ruffalo, who's never before been nominated. Isn't it about damned time?)
It's that fifth Supporting Actor slot that makes me itchy. I'm going with CCA and Globe nominee Garfield, though his dissing by SAG gives me pause, as does the actor's title-character gig in the forthcoming Spider-Man reboot; like Kunis, is he ascending to mega-fame a little faster than some think is merited? Winter's Bone's John Hawkes took Garfield's slot on the SAG list, but I'd feel more comfortable about predicting him if the movie were a bigger hit, and if he weren't still considered primarily a TV actor. Michael Douglas scored a Globe nomination for reprising his Oscar-winning Gordon Gekko for Wall Street: Money Never Sleeps, but Douglas is a smart man - even he has to recognize that his nod likely has very little to do with either the movie or his performance. And the only other choice that seems reasonable is True Grit's Matt Damon, though considering his rather blah Invictus turn took up a spot that should've gone to far superior options just last year, I'm thinking it won't happen. I love Damon, and I love his True Grit performance, but hey... . Payback's a bitch, baby!
(Update: I'm sticking with this lineup, but if one of my predicted quintet doesn't make the final five, I don't think it'll be Ruffalo who's dissed, or even Garfield - it'll be Renner, whose BAFTA recognition was ignored in favor of the actor's deceased The Town co-star, Pete Postlethwaite. I don't see the late actor sneaking it at Renner's expense, but I also don't necessarily see the also-rans I've mentioned in the final cut. Who would the surprise be then? Maybe The King's Speech's Guy Pearce, especially in light of the movie's unexpected win at the Producers' Guild Awards?)
BEST ORIGINAL SCREENPLAY
Lisa Cholodenko, Stuart Blumberg, The Kids Are All Right
Mark Heyman, Andres Heinz, John J. McLaughlin, Black Swan
Christopher Nolan, Inception
David Seidler, The King's Speech
Scott Silver, Paul Tamasy, Eric Johnson, Keith Dorrington, The Fighter
It's probably unwise to not predict Mike Leigh for his well-reviewed Another Year, considering the British auteur has been nominated in this category four times in the past 14 years. (And for each of his films widely released in the states.) But which of the above do you leave out, not even considering the possibilities of The Company Men's John Wells and Blue Valentine's Derek Cianfrance, Joey Curtis, and Cami Delavigne?
(Update: My guesses mirrored BAFTA's lineup, and that's with Mike Leigh being as British as British can be, so I'm staying put on my guesses. Then again, BAFTA has always been rather iffy about Leigh, so ... .)
BEST SCREENPLAY ADAPTATION
Michael Arndt, Toy Story 3
Danny Boyle, Simon Beaufoy, 127 Hours
Joel Coen, Ethan Coen, True Grit
Debra Granik, Anne Rosellini, Winter's Bone
Aaron Sorkin, The Social Network
I am in no way dismissing the quite-good chances of Ben Affleck (plus co-screenwriters Peter Craig and Aaron Stockard) for The Town, and it would be slightly eyebrow-raising if the film, as I'm predicting, only gets nominated for Best Picture and Best Supporting Actor. But I'd argue that The Town's script was the weakest thing about the movie, leaving an opening here for Best Picture also-ran Winter's Bone. Also waiting in the wings: David Lindsay-Abaire for his Rabbit Hole adaptation, and The Ghost Writer duo of Polanski and Robert Harris.
(Update: Instead of Winter's Bone, BAFTA went with The Girl with the Dragon Tattoo, whose lead actress contender Noomi Rapace was also cited - and at the expense of Winter's Bone's Jennifer Lawrence. I'm sticking with my Screenplay Adaptation predictions, though; the Academy will have plenty of chances to reward Stieg Larsson's work when David Fincher's American adaptation hits later this year.)
BEST ANIMATED FEATURE
How to Train Your Dragon
The Illusionist
Toy Story 3
Guessing this category's nominees would be so simple if, like last year, the roster was going to include a full five nominees - you could just add Despicable Me and Tangled to the above predictions. (A paucity of eligible 2010 contenders has the category winnowed down to just three.) In the end, Toy Story 3 is my only guess that I'm 100-percent confident about ... for the nomination and the win.
(Update: In place of The Illusionist, BAFTA went with Despicable Me. What does it say when the European Academy dismisses the European entry in favor of a goofy-ass American outing? I'm still predicting that The Illusionist's snob factor will win out here ... while secretly hoping that the Minions are awarded miniature, CGI seats at the ceremony.)
BEST ORIGINAL SONG
"Coming Home," Country Strong
"I See the Light," Tangled
"If I Rise," 127 Hours
"We Belong Together," Toy Story 3
"You Haven't Seen the Last of Me," Burlesque
Can the Academy please re-think last year's decision to not stage production numbers from the Best Original Song nominees? Isn't anyone else dying to see what Cher would wear - or, you know, not - if she were allowed to perform that Burlesque number?
(Update: I wasn't the biggest fan, but apparently, people positively loathe Country Strong. What say we put the Waiting for "Superman" number "Shine" in its place?)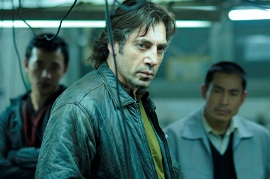 And the other categories ...
BEST FOREIGN-LANGUAGE FILM
Biutiful (Mexico)
In a Better World (Denmark)
Incendies (Canada)
Of Gods & Men (France)
Son of Babylon (Iraq)
(Update: On January 19, the Academy released its short list of the nine titles vying for the Foreign-Language Film Oscar, and Of Gods & Men and Son of Babylon didn't make the cut. In their place, I'll predict Algeria's Outside the Law and South Africa's Life, Above All ... and will likely pooch on those guesses, too.)
BEST DOCUMENTARY FEATURE
Exit Through the Gift Shop
Inside Job
Restrepo
The Tillman Story
Waiting for "Superman"
(Update: The more I think about it, the more I think Exit Through the Gift Shop won't have the weight that voters seem to prefer in this category; the movie might just be too fun for recognition. In its place, let's go with Gasland, an exploration of natural-gas drilling and hydraulic fracturing. Which might be fun, too, but you know ... .)
BEST ORIGINAL SCORE
How to Train Your Dragon
Inception
The King's Speech
Never Let Me Go
The Social Network
(Update: No changes. Expect at least three incorrect predictions here!)
BEST CINEMATOGRAPHY
Black Swan
Inception
127 Hours
The Social Network
True Grit
(Update: I found the cinematography for The King's Speech incredibly distracting and mostly ugly, but the cinematographers' guild disagreed, nominating the film instead of 127 Hours. BAFTA agreed, although the British film's nod came at the expense of The Social Network's camerawork. Either way - sigh - it looks like The King's Speech is in.  I'm guessing it'll take the place of Danny Boyle's Aron Ralston drama. Enjoy that photo of James Franco, as I probably won't be re-using it when Tuesday's nominees are revealed.)
BEST FILM EDITING
Black Swan
Inception
The King's Speech
127 Hours
The Social Network
(Update: Somehow, I managed to forget that boxing dramas always get nominated in this field. Expect another gain for The Fighter, and another miss for 127 Hours.)
BEST ART DIRECTION
Alice in Wonderland
Inception
The King's Speech
Shutter Island
True Grit
(Update: The art directors' guild actually nominates 15 nominees - broken down into "period," "fantasy," and "contemporary" categories - in this field, so they're little help. I'm sticking with my guesses, even though BAFTA chose Black Swan over Shutter Island here ... a lineup that wouldn't at all surprise me on Tuesday morning.)
BEST COSTUME DESIGN
Alice in Wonderland
Black Swan
The King's Speech
The Tempest
True Grit
(Update: Leave 'em be.)
BEST SOUND EDITING
Inception
127 Hours
The Social Network
Toy Story 3
Tron: Legacy
(Update: As with the art directors, the sound guild recognizes more than a dozen movies among their annual citations ... and again, I'm feeling less love for 127 Hours than seems merited. Let's go with Black Swan over Boyle's pic, and for good measure, let's go with True Grit over Toy Story 3, as the Coen-brothers Western received two Motion Picture Sound Editors guild nominations over the Pixar flick's one.)
BEST SOUND MIXING
Black Swan
Inception
The Social Network
Toy Story 3
Tron: Legacy
(Update: This was exactly the same roster as the one chosen by the Cinema Audio Society's guild. Except for Shutter Island in the place of Toy Story 3. And True Grit in place of Tron: Legacy. I'm now going with the professionals. Hey, what do I know from sound? I'm in my forties ... I'm just happy when I can hear the damned movies ... .
BEST VISUAL EFFECTS
Alice in Wonderland
Inception
Iron Man 2
Scott Pilgrim Vs. the World
Tron: Legacy
(Update: The Visual Effects Society guild went with Harry Potter & the Deathly Hallows: Part I over Scott Pilgrim. The latest Potter was also recognized in this category by BAFTA. Of course, so was Toy Story 3. I'm hanging tight with Scott Pilgrim. I love that freakin' movie.
BEST MAKEUP
Alice in Wonderland
True Grit
The Wolfman
(Update: This category annually delivers one "Where the hell did that come from?!?" nomination, so I'm changing my prediction to go with recent Golden Globe winner Barney's Version over True Grit, and The Fighter, and the other short-list-ed contenders Jonah Hex and The Way Back. And if Barney's Version does get nominated, is there a chance we might get it at one of our area's cineplexes? Hint, hint, area bookers?)