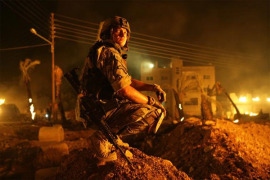 A Best Picture slate for the Oscars with twice as many titles as usual? A female front-runner for the Best Director trophy? Not one, not two, but three science-fiction films potentially up for the big prize? What the hell is going on this year?!?
We'll know more when the nominees for the 82nd Annual Academy Awards are revealed on Tuesday, February 2. In the meantime, there's no harm -- although there is the possibility of an eventual loss of dignity -- in my making a few predictions... .
BEST PICTURE
Avatar
Crazy Heart
District 9
An Education
The Hurt Locker
Inglourious Basterds
Precious: Based on the Novel Push by Sapphire
Star Trek
Up
Up in the Air
Man, if this were one of those boring ol' years with only five Best Picture contenders, predicting this category would be so easy: Avatar, The Hurt Locker, Inglourious Basterds, Precious, and Up in the Air. But no-o-o-o... !
In a process that's far too labyrinthine to even try to get into, the Oscars' Best Picture slate will, this year, be determined through a preferential ballot -- meaning that movies with a lot of really passionate admirers can, theoretically, slide in easier than movies with more votes but less enthusiastic support. (If I'm understanding the process correctly. And I'm not at all certain that I am. Here's the rundown from someone much wiser than me.) This same voting method was employed for the selection of this year's Producers Guild nominees, which led to the 10 titles listed above, albeit with Invictus in place of Crazy Heart. But with Oscar voters having an extra month to check out Crazy Heart and realize that Invictus was a sure-fire contender until it actually opened, I'm thinking the Jeff Bridges vehicle -- for which he's the shoo-in for Best Actor (huzzah!) -- will have the leg up.
But if you asked me just how secure I felt about half of my Best Picture guesses, I'd say: not very secure at all, thank you. I'm guessing that An Education's inclusion among the Screen Actors Guild's (SAG's) Best Ensemble nominees bodes well for the film (even if the much-derided Nine was also cited), and it seems like exactly the sort of small-scale, critically-acclaimed indie that would most benefit from the expansion of the Best Picture roster. Let's be honest, though: The category's number of nominees wasn't doubled for small-scale, critically acclaimed indies. It was doubled for money-making Hollywood hits that the public loves -- a post facto apology for last year's slighting of The Dark Knight and (maybe) WALL•E.
Consequently, I'm feeling moderately comfortable about predicting District 9 and Star Trek, even though that would mean a full three science-fiction offerings in the Best Picture category. (Would the Academy survive?!) I'm also agreeing -- grudgingly -- with the consensus that Up will become the second animated film to be nominated here, even though I think it's less deserving than a good half-dozen previous Pixar pictures, and I'm praying that Fantastic Mr. Fox proves more to the Academy's animated liking.
And in addition to the aforementioned titles, don't discount the possibility of A Serious Man, Where the Wild Things Are, (500) Days of Summer, The Blind Side, The Messenger, A Single Man, or even (gulp!) The Hangover making its way onto the Best Picture roster. Remember, this is an experimental year; given the new tabulation process, anything can happen in this category.
BEST DIRECTOR
Kathryn Bigelow, The Hurt Locker
James Cameron, Avatar
Lee Daniels, Precious: Based on the Novel Push by Sapphire
Jason Reitman, Up in the Air
Quentin Tarantino, Inglourious Basterds
It's probably not very smart of me to predict this lineup, as it's the exact same set of helmers lauded by the Directors' Guild of America, and the Academy generally bypasses one (and sometimes even two) of the DGA nominees in favor of some wild-card choice(s). But with those five films the titles most likely to make the Best Picture roster even if its number of nominees were halved, I'm thinking it's a safe way to go. (Also, all things considered, a pretty cool one; Bigelow would be only the fourth woman nominated in this category, and Daniels would be only the second African American. It's time to play catch-up, Academy.)
Either way, Bigelow (the prohibitive favorite and most deserving choice), Cameron, and Tarantino appear locked-in tight for nominations, and Reitman, who also joined them as a Golden Globe contender, is probably set to receive his second Best Director nod in three years. Daniels was replaced by Invictus' Clint Eastwood at the Golden Globe Awards -- an Oscar citation would mark Clint's fourth Best Director nomination in seven years -- but would even that movie's five or six rabid fans argue that his direction of it was all that impressive? I'm still thinking that Daniels is vulnerable, but not because of Eastwood; instead, if Precious' director is ignored, expect Where the Wild Things Are's Spike Jonze, District 9's Neil Blomkamp, An Education's Lone Scherfig, or A Serious Man's Joel and Ethan Coen to usurp his spot. And expect Oprah Winfrey to be really pissed.
BEST ACTOR
Jeff Bridges, Crazy Heart
George Clooney, Up in the Air
Colin Firth, A Single Man
Morgan Freeman, Invictus
Jeremy Renner, The Hurt Locker
As close to completely locked as the major categories get this year. In truth, if any of these actors is going to get left out, I don't think it's Renner, even though he was the only one of the five not nominated for Best Actor (Drama) at the Golden Globes. (Instead, the Hollywood Foreign Press Association went with Tobey Maguire. For Brothers. Seriously.) But while this might just be my anti-Invictus bias rearing its ugly head, I can't help but feel that Freeman is the one who might be in for an unhappy surprise come nomination morning; not only has the Invictus buzz waned, but his performance as Nelson Mendela, to my eyes and ears at least, seemed competent yet little more. (In truth, this may have something to do with unreasonable expectations, as the idea of Freeman playing Mandela seemed so outrageously perfect that anything less than The Greatest Performance of All Time was bound to disappoint.)
Still, as he's been nominated for every precursor award under the sun, I don't see a Freeman dissing happening. If they wanted to, however, the Academy wouldn't have to look hard for a possible replacement, and if there is going to be a shocker appearance among the Best Actor finalists, be on the lookout for The Informant!'s Matt Damon, The Messenger's Ben Foster, or The Road's Viggo Mortensen. Or Tobey Maguire. I guess.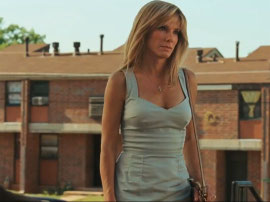 BEST ACTRESS
Sandra Bullock, The Blind Side
Helen Mirren, The Last Station
Carey Mulligan, An Education
Gabourey Sidibe, Precious: Based on the Novel Push by Sapphire
Meryl Streep, Julie & Julia
As with Best Actor, the Best Actress lineup is pretty much a done deal... and who would have ever guessed that Sandra Bullock would wind up as perhaps the category's done-est deal of all? Following her back-to-back-to-back victories at the Critics' Choice Awards, Golden Globes, and SAG, the Blind Side star is looking like the one to beat for this year's Best Actress trophy, much to the dismay of those of us who can't believe that Meryl Streep might go 0 for 12 on her last 12 nominations. (Bullock gives lovely, funny, self-deprecating acceptance speeches, and I'd be perfectly content with her winning the Oscar. But still.)
Newcomers Mulligan and Sidibe will no doubt join the veteran performers among this year's Best Actress nominees, and the only real question is which British actress will grab the fifth spot: Mirren, or The Young Victoria's Emily Blunt? Because she grabbed a SAG nomination along with her Golden Globe nod, I'm going with Mirren, but the Academy's penchant for young, beautiful up-and-comers in this category probably shouldn't be so quickly disregarded; a Blunt citation would be, at most, a mild surprise. A huge surprise would be a more-than-deserving nomination for Julia's Tilda Swinton, or Mélanie Laurent for Inglourious Basterds... though I'm thinking the Academy just might find a way to reward her elsewhere... .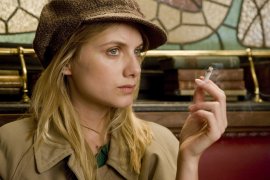 BEST SUPPORTING ACTRESS
Vera Farmiga, Up in the Air
Anna Kendrick, Up in the Air
Mélanie Laurent, Inglourious Basterds
Mo'Nique, Precious: Based on the Novel Push by Sapphire
Julianne Moore, A Single Man
There are three sure-things here, all of them nominated for Golden Globe, SAG, and Critics' Choice Awards: Farmiga, Kendrick, and Mo'Nique (the latter of whom won all three, and whose eventual Oscar victory has been a fait accompli, and a justified one, for months now). It's after that trio, though, that things get murky, and a decent case could actually be made for at least seven contenders for the two remaining Supporting Actress spots.
Penélope Cruz received SAG and Golden Globe nominations for Nine, and Marion Cotillard received Critics' Choice and (in the Lead Actress [Comedy or Musical] category) Golden Globe nominations for Nine. But seriously, does anyone give a damn about Nine? (Beyond, possibly, technicians and the music branch?) I'm thinking the movie's dismal box-office -- and the fact that most people who see it just don't like it -- will kill both actresses' chances here. Samantha Morton got some Critics' Choice love for The Messenger, but like the film itself, she's otherwise been all but completely ignored. Maggie Gyllenhaal, for Crazy Heart, is a possibility, as is Diane Kruger, who received a nod (and shared the Best Ensemble Cast win) from SAG. But I'm actually going with her Inglourious Basterds co-star, whose lack of Golden Globe and SAG recognition may be solely due to Laurent's performance being submitted for consideration in lead rather than supporting categories. (Oscar voters are allowed to nominate performers in whichever category they choose.) And while I haven't seen A Single Man yet, and understand that she's only in it for about 10 minutes, I'm guessing that Moore will make the roster, as 10 minutes of Julianne Moore is better than two hours with most anyone else.
BEST SUPPORTING ACTOR
Woody Harrelson, The Messenger
Christian McKay, Me & Orson Welles
Christopher Plummer, The Last Station
Stanley Tucci, Julie & Julia
Christoph Waltz, Ingloruious Basterds
Golden Globe, SAG, and Critics' Choice winner Waltz will have to commit some sort of (off-screen) felony to be denied the Oscar, and Harrelson seems assured of a nod. Invictus' Matt Damon and The Lovely Bones' Tucci, like Harrelson, were also short-listed for all three precursor awards, yet I'm not at all confident about their Oscar chances; both Damon's role and, frankly, his performance were kind of blah, and Tucci, God love him, is flat-out terrible in The Lovely Bones, a (mostly) critically lambasted movie that I'm guessing the Academy might prefer to ignore.
A-ha! But Tucci doesn't have to be forgotten completely, and I'm predicting that those who'll want to reward the veteran character actor without endorsing Peter Jackson's mess will remember that he was actually much better in Julie & Julia, and give him a nomination for the much-better movie. Since he's 80 and has been overlooked in the past (especially for his turn as Mike Wallace in The Insider), I'm thinking that Golden Globe and SAG nominee Plummer will finally make the lineup for his portrayal of Leo Tolstoy. And while a nomination for Alfred Molina (An Education) wouldn't shock me, and one for Anthony Mackie (The Hurt Locker) would please me to no end, I'm thinking the fifth Supporting Actor spot will go to the performance that would deserve the Oscar win in a Waltz-less year: McKay's stunningly confident and grandly entertaining Orson Welles. If voters in the Academy's acting branch saw the movie, there's no way they could deny McKay a nod for his pitch-perfect channeling. The question is: Did they see the movie?
BEST ORIGINAL SCREENPLAY
Mark Boal, The Hurt Locker
Joel Coen, Ethan Coen, A Serious Man
Pete Docter, Bob Peterson, Thomas McCarthy, Up
Scott Neustadter, Michael H. Weber, (500) Days of Summer
Quentin Tarantino, Inglourious Basterds
From that line-up, the only title I'm even remotely hesitant about predicting is (500) Days of Summer, not because it isn't great, but because I have a really, really strong hunch that Jon Lucas' and Scott Moore's script for The Hangover is going to sneak in here instead. (Which, I'll be the first to admit, would be kick-ass... though I wish it would sneak in at the expense of Up.) Alessandro Camon and Oren Moverman would seem to have an outside chance for The Messenger, along with Michael Hanecke for The White Ribbon. But James Cameron for Avatar? Fuggedaboutit.
BEST SCREENPLAY ADAPTATION
Wes Anderson, Noah Baumbach, Fantastic Mr. Fox
Neill Blomkamp, Terri Tatchell, District 9
Geoffrey Fletcher, Precious: Based on the Novel Push by Sapphire
Nick Hornby, An Education
Jason Reitman, Sheldon Turner, Up in the Air
For me, this entire category could be labeled Up in the Air, as that's really the only prediction I'm 100-percent secure on. An Education and Precious are probably safe guesses, if not sure things, but I'd feel more comfortable about District 9 if it wasn't sci-fi and Fantastic Mr. Fox if it wasn't an animated feature by a studio other than Pixar; over the years, voters in this category have demonstrated a notable bias against movies that are, you know, fun. Still, them's my guesses and I'm stickin' with 'em... though I wouldn't be at all surprised by the Oscar-morning announcement of Where the Wild Things Are, or In the Loop, or Crazy Heart, or Julie & Julia, or Star Trek, or A Single Man, or... .
BEST ANIMATED FEATURE
Coraline
Fantastic Mr. Fox
Ponyo
The Princess & the Frog
Up
I am just a tad heartbroken to leave off the hysterical Cloudy with a Chance of Meatballs, but the only other choice I can see voters excluding would be Ponyo, and I sure as hell wouldn't want to diss Hayao Miyazaki.
BEST ORIGINAL SONG
"All Is Love," Where the Wild Things Are
"Almost There," The Princess & the Frog
"I See You," Avatar
"Take It All," Nine
"The Weary Kind," Crazy Heart
Two of those songs are kinda great. Two are so-so. One is absolutely wretched. Sounds about right for this category.
And the other categories ...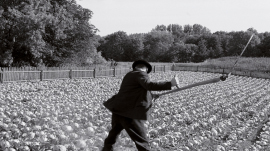 BEST FOREIGN-LANGUAGE FILM
The Milk of Sorrow, Peru
Un Prophète, France
Samson & Delilah, Australia
El Secreto de Sus Ojos, Argentina
The White Ribbon, Germany
BEST DOCUMENTARY FEATURE
The Beaches of Agnès
The Cove
Food, Inc.
Garbage Dreams
Which Way Home
BEST ORIGINAL SCORE
Avatar
Fantastic Mr. Fox
The Informant!
Sherlock Holmes
Up
BEST CINEMATOGRAPHY
Avatar
Bright Star
The Hurt Locker
Inglourious Basterds
Nine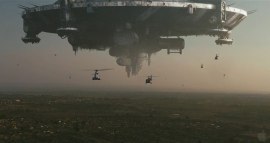 BEST FILM EDITING
Avatar
District 9
The Hurt Locker
Inglourious Basterds
Up in the Air
BEST ART DIRECTION
Avatar
District 9
Inglourious Basterds
Public Enemies
Sherlock Holmes
BEST COSTUME DESIGN
Bright Star
Inglourious Basterds
Nine
Where the Wild Things Are
The Young Victoria
BEST SOUND EDITING
Avatar
District 9
The Hurt Locker
Star Trek
Up
BEST SOUND MIXING
Avatar
District 9
The Hurt Locker
Nine
Star Trek
BEST VISUAL EFFECTS
Avatar
District 9
Star Trek
BEST MAKEUP
District 9
The Imaginarium of Dr. Parnassus
Star Trek