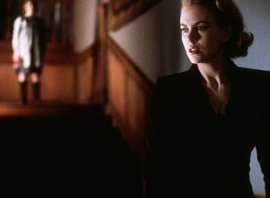 THE OTHERS
Alejandro Amenabar's ghostly The Others feels like the film version of some beautifully chilling short story by Lovecraft or Shirley Jackson, where "Boo!"-style thrills take a back seat to dread and psychological complexity; it's a savvy, entertaining piece.
It also feels a little redundant, as many adaptations of short stories do, and slightly padded; the movie tends to repeat its effects, and it offers a late-in-the-film subplot that comes out of nowhere and, appropriately enough, returns there. Having said that, you shouldn't deny yourself the treat of seeing The Others, a creepy work that would be welcome at any time of year but feels like a minor miracle at the tail end of this ultra-loud cinematic summer.
Set in the waning days of World War II, an Englishwoman named Grace (Nicole Kidman) is ostensibly trapped in a gloomy mansion with her two young children (Alakina Mann and James Bentley), both of whom suffer from a rare malady: Their exposure to sunlight will cause weakness, sores, and eventual death. Enter three mysterious servants (led by the marvelous Fionnula Flanagan), whose arrival coincides with Grace's gradual awareness that they're all sharing their home with some increasingly troublesome spirits. Much of the movie's enjoyment derives from knowing as little as possible about the plot, so I'll stop with the synopsis, but let it be said that writer-director Amenabar shows a true gift for his film's genre trappings; his exquisite use of silence could teach M. Night Shymalan a thing or two, and he gets his desired effects without cheating - no black cats suddenly popping in the frame for a quick jolt. And his direction of the children is astonishing. Both Mann and Bentley are focused and alert; they're pre-teens with middle-aged faces, and Amenabar is cagey enough to use them sympathetically and rather ambiguously. They're not-quite-innocent innocents.
Despite being a bit overextended, The Others is a terrific little tale, shot in lovely, moody grays and blacks, and it culminates in a truly satisfying wrap-up that makes you re-think everything you've seen; it's a fun movie to contemplate on the drive home. Best of all, the film provides a truly hypnotic Nicole Kidman performance - strict, startled, empathetic, and just a bit bonkers. With her appearances here and in the brilliant Moulin Rouge, doesn't this actress deserve some sort of award for making the summer of 2001 cinematically bearable?
AMERICAN PIE 2
The audiences who are flocking to American Pie 2 are going to get exactly what they apparently want: crude humor, and plenty of it. They'll get Stifler (Seann William Scott) swallowing something he shouldn't. Jim (Jason Biggs) enduring public humiliation. Finch (Eddie Kaye Thomas) acting as self-appointed sexual guru. And they'll get variations on these themes over and over. Here's what they won't get: worthy business for Tara Reid, Mena Suvari (who literally phones in her performance), Natasha Lyonne, Chris Klein, Thomas Ian Nicholas, and the great Eugene Levy. In other words, if the antics of the excruciating Scott, Biggs, and Thomas were your favorite memories from the original Pie, you'll be thrilled with the follow-up. If, however, you were more impressed with the others' subtler work, you'll be pretty disappointed; they're not around nearly enough. J.B. Rogers' sequel is easy to sit through - even the film's more annoying characters are harmless - but it features exactly one worthwhile subplot, with loser Jim falling for band-camp geek Michelle (Alyson Hannigan). It's the film's only true sign of cleverness, and it also inspires its best line, where Jim realizes what we've long suspected: "I am a band geek. I just never joined the band."
RAT RACE
Sure, I liked it at first, too, but can we please declare a moratorium on the use of Smash Mouth's "All Star" in motion pictures? This zippy pop ditty has been so overplayed over the past three years, and not just on Top 40 radio, that the anthem now produces an audible groan from listeners; its use in movies is a sign that the filmmakers aren't nearly as hip and clever as they think they are. (When it played over the opening credits of Shrek, I felt an instant foreboding.) At the finale of Rat Race, a de facto remake of It's a Mad, Mad, Mad, Mad World, the cast gathers for one of those "spontaneous" group sing-a-longs, and while scenes of this sort generally make you want to hide your face in shame, the choosing of "All Star" makes you want to shove cotton in your ears as well.
Thankfully, that's as low as the film sinks. For the 100 minutes before that, Rat Race is innocuous enough, a middling and mindless trifle that's at least a step above the gruesome state of most of the year's comedies. Because Jerry Zucker's direction is aimless and visually slack, it's up to the cast to inject whatever life the film has - and only a few of them try too hard (one of whom is Cuba Gooding Jr., although it's a relief to see him out of Noble Sufferer mode for a while). You get a few laughs courtesy of Rowan Atkinson, whose Bean-ing is a lot more fun in small doses than it was in his 1997 star vehicle, and performers like Jon Lovitz, Kathy Najimy, Vince Vieluf, and the ever-welcome Breckin Meyer add some wit to the overly rambunctious proceedings. It's not a good movie but it's diverting enough, more so if you leave five minutes before the end.
OSMOSIS JONES
For the life of me I can't understand why Osmosis Jones wasn't released on December 31, because it would make the perfect capper to a year overflowing with divestive humor. This one, at least, is completely up-front about its gross-out goals; half the movie, a mixture of live-action and animation, takes place inside the body of an utter slob (Bill Murray) as a nasty virus (voiced by Laurence Fishburne) threatens to destroy him from within. There's a fair degree of smart punning in this animated world, and if the filmmakers (including directors Peter and Bobby Farrelly and writer Marc Hyman) had stayed within Murray's body after the initial, live-action set-up, Osmosis Jones might have worked. But there's simply too much humorless "ick" factor in the real-world segments. Murray is used merely as a punching bag for the movie's parade of humiliations - eating gunk off the floor, belching, developing a monster zit - and matters aren't helped by the equally vile Chris Elliott in a pointless supporting role; these guys are Gross and Grosser. Blessedly, Molly Shannon makes a few appearances; her inspired flakiness, oddly enough, makes her seem utterly rational, despite not being given enough to do. Osmosis Jones might be the (PG-rated) pinnacle of The Year in Nausea, but it's the waste of normally great comics that can really make you sick.