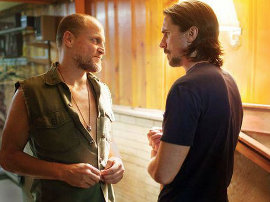 OUT OF THE FURNACE, THE BOOK THIEF, and PHILOMENA
When it comes to films vying for Academy Awards attention, there are several themes and subjects generally guaranteed to pique voters' interest: post-war trauma; post-incarceration estrangement; the Holocaust; Judi Dench. Yet while a trio of recently released titles collectively addresses these and other Oscar-bait-y topics, I can't help feeling that the talents behind all three might wind up disappointed come nominations-announcement morning. Well, except for Judi Dench. There's just no stopping that Dame.
For a while while watching it, Out of the Furnace seemed like a legitimate contender, and if Academy members can overlook the movie's second half, I suppose it could still be one. This intensely serious drama by director/co-writer Scott Cooper - his first film since shepherding Jeff Bridges' Oscar win for 2009's Crazy Heart - features Christian Bale as a struggling mill worker just released from prison, Casey Affleck as his ne'er-do-well brother back from his fourth tour in Iraq, and Woody Harrelson as a murderous Appalachian drug dealer and bare-knuckle-fight organizer. It's set in blue-collar Pennsylvania during 2008's economic downturn, and it concerns family obligation, romantic disillusionment, masculine ideals, and the gradual but unmistakable evaporation of the American dream. In short, Oscar bait all over the place, and while nothing during the film's first hour feels especially novel, the cast's fierce emotional commitment makes familiar encounters feel startlingly fresh: Bale exiting prison into his brother's embrace, his unbridled physical joy preventing him from getting in the car; Bale reacting to ex-lover Zoë Saldana's pregnancy with a trying-for-cheerful "You're gonna be a mom!" exclaimed through brokenhearted tears.
With its fearless, lived-in portrayals by the leads and lovely, understated work by Saldana, Sam Shepard, Willem Dafoe, and Tom Bower, Out of the Furnace's actors do much to scrape the fractured-America clichés off Cooper's and Brad Ingelsby's script, and Bale and Affleck, in particular, appear incapable of falseness. (Only Forest Whitaker, as Saldana's kindly police-officer beau, feels wrong, due mostly to his odd character voice, which sounds like Louis Armstrong's without the musicality.) Yet halfway through the movie, beginning with the depressing contrivance of an accidentally dropped cell phone that accidentally dials exactly the right number, what began as a seemingly truthful account of the rural underprivileged begins to grow falser and falser, with Harrelson's grinning lunatic morphing into a stereotypical (and stereotypically unkillable) demonic heavy, and Bale's complexly rendered character undone by plot devices that turn him into a simplistic, stone-faced avenger. Cooper's offering peters out just when it needs to accelerate, and I left the film thinking that Bale, especially, was getting the short shrift by its eventual, unfortunate lack of nerve. Ah, well. American Hustle is right around the corner.
The Book Thief, meanwhile, is like Out of the Furnace's polar opposite: a movie that becomes somewhat touching after an opening hour that's almost hopelessly phony. Like The Boy in the Striped Pajamas, but far less affecting, director Brian Percival's drama - based on the popular young-adult novel by Markus Zusak - takes a child's eye view of the Holocaust, telling of a young German (Sophie Nélisse) who discovers the perils of fascism when her adoptive parents shelter a runaway Jew (the excellent Ben Shnetzer). If I were feeling especially grouchy, I could compose a lengthy list of elements that drove me bat-crap crazy about the experience, including but not restricted to the insufferably twee, condescending narration by Death himself (Roger Allam), the forced-tableaux staging, the offensive whitewashing of historical atrocities (you've never before seen such pristine corpses), and John Williams' alternately oppressively twinkly and oppressively solemn score. (Just watch the man receive his 49th Oscar nod for his underwhelming efforts here.) But after initially shaky starts, Geoffrey Rush and Emily Watson lend some much-needed humanity to the labored proceedings, and by The Book Thief's last half, several scenes - particularly Schnetzer's staring at the stars during a momentary escape from hiding - pack some of the emotional punch that its subject demands. The movie's a flop, but not, thankfully, a fiasco.
Nor is director Stephen Frears' Philomena, even though, to my mind, it's frequently just as fraudulent. The film casts Judi Dench as the title character seeking the child she was forced to give up for adoption 50 years prior, a toddler who was sold to an American couple by the strict, unforgiving nuns of the Irish convent where she was shipped as a teen. With Steve Coogan playing the disgruntled journalist who, for initially selfish reasons, joins Philomena on her quest, the movie, like The Book Thief, concerns a real-life horror. "Real-life," though, is one of the last adjectives I'd employ regarding Philomena. In Fears' typically well-produced but uncharacteristically hollow and obvious endeavor, the nuns are either saintly or monstrous, and screenwriters Coogan and Jeff Pope routinely score easy, unearned sitcom points by making us laugh at poor, dotty Philomena ("Look at her giggling at Big Momma's House!" "Look at her calling croutons 'little pieces of toast!'") only to immediately judge us for our laughter ("But look at Judi cry!"). Although based on a true story, everything here from the journalist's cynicism to Philomena's enlightened - and, for her age and upbringing, wildly unlikely - attitude toward gays plays as contrived ... not that that'll stop its star from receiving her seventh career nomination. Getting Oscar-fêted is what Judi Dench does.