DAWN OF THE PLANET OF THE APES
Following a brief, artful prelude introducing us to the film's post-viral, post-apocalyptic setting, Dawn of the Planet of the Apes opens with an extreme closeup on the eyes of Caesar, the highly evolved chimpanzee memorably portrayed (with CGI enhancement) by Andy Serkis in 2011's Rise of the Planet of the Apes. An extreme closeup on Caesar's eyes will also be the final image in director Matt Reeves' sequel, yet the differences between these cinematic bookends are as wide and varied as the differences between Rise, a half-great, half-clumsy hit, and Dawn, which is, hands down, the most exciting, resonant, and humane Hollywood blockbuster of the summer, if not the millennium.
In Reeves' establishing shot, Caesar stares at the camera - actually, at on off-screen herd of forest animals ripe for the picking - with an intensity of purpose that could easily be mistaken for murderous rage. Even as the camera pulls back to reveal additional apes joining him on the hunt, you can't take your eyes off Caesar's ferociously focused glare, partly because of the unmistakable intelligence behind it; what we're watching, you realize, is the astonishing sight of an animal not only staring, but actively thinking. Without giving away the finale's particulars, Dawn's climactic shot finds Caesar equally deep in thought, but this time, the eyes barely seem to belong to the same chimp whose watchful gaze opened the film. These are now the eyes of a creature who has, over the course of the movie, witnessed a miraculous birth and many horrific deaths, who has experienced unexpected compassion and hideous betrayal, and who doesn't quite know what's in store for him - or his comrades, or his family, or his planet - next. It's an expression of loss mixed with steadfast determination and wary hope, and regardless of Andy Serkis' computer-generated assistance, it's thus far 2014's absolute finest bit of screen acting.
It seems that every time Serkis delivers one of his peerless motion-capture portrayals - be it as Caesar, Gollum, or King Kong - a public argument transpires over whether the man's efforts can, and should, be nominated for an acting Oscar. Yet if no such nod will be forthcoming for Dawn, either (and I don't expect that one will), is it too much to hope that the motion-picture academy at least, finally, awards Serkis an honorary statuette, considering he's maybe given more superb yet grossly unrewarded performances than any other actor of his generation? Dawn of the Planet of the Apes would be a damned fine achievement under any circumstances; its fantastically speedy 130 minutes are thrilling, unnerving, jam-packed with gripping incidents and jaw-dropping visuals, and, even with only two or three perceptible jokes, mordantly funny. But it's Serkis - and, to an only somewhat lesser extent, his fellow motion-capture performers - who makes Reeves' follow-up a truly stirring and stunning success. You'll likely have just as much fun at the film as you'd hope, but you also might find yourself brushing away far more tears than you ever intended.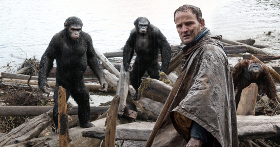 Dawn's fine, simple narrative - with its screenplay credited to Mark Bomback, Rick Jaffa, and Amanda Silver - begins 10 years after the events of the first movie, and concerns an impending war between Earth's super-smart simians and a few hundred quarantined San Franciscans. Led by Gary Oldman's militant overseer Dreyfus, this group is among the few to survive the worldwide, population-decimating virus hinted at in Rise, and needs to repair a neighboring hydroelectric dam to restore their electric power. That dam, however, happens to be located in the heart of the apes' sprawling community in the Muir Woods, a place so removed from urban civilization - with the intriguing exception of a nearby, nonfunctional Phillips 76 gas station - that no humans have been seen in more than two years. (Most of the primates' conversations in the movie are delivered via sign language and subtitles, although Caesar is hardly the only ape to have learned how to speak and write English.) Needless to say, humans eventually do arrive. Equally needless to say, the apes get understandably pissed. And what consequently results from this human/simian mash-up is a sensation-minded epic boasting power struggles and gained and lost trust; ceremonies of détente and surreptitious attacks; surprisingly thoughtful meditations on family and friendship; and the unbelievably kick-ass sight of an ape manning a tank's turret and causing extraordinary havoc in an unbroken, 360-degree take.
This particular shot, incredible though it is, should be no real shock coming from the director of all that hand-held Cloverfield demolition, and the horrifying POV account of a car's tumble in 2010's wildly underrated vampire flick Let Me in. Yet from scene to scene here, Reeves' visual imagination is on spectacular display, from the spellbinding geometry of the apes' woodland architecture to the awe-inspiring sight of chimps on horseback cascading through walls of flames with machine guns blazing. He also proves, as he did in his blood-sucker saga, a wonderful director of actors; in addition to Oldman, whose stock heavy is redeemed by one extraordinary scene of wrenching grief, Reeves elicits tough, tender performances by Jason Clarke, Keri Russell, and Kodi Smit-McPhee (who, in Let Me in, played the disturbed boy who fell for Chloë Grace Moretz's pre-teen vampire). But while Dawn isn't without its typical, and typically disappointing, genre conceits - its narrative really only works if the right humans or apes pop up at exactly the right time, which they always do - its Reeves' work with the apes, and those enacting the apes, that turns this exhilarating entertainment into an unmissable one.
As the movie's opening and closing shots express, it's really all in the eyes. Without question, the scenes of simians spying on humans from atop the Golden Gate Bridge and other vertigo-inducing locales have dizzying pizzazz, the monkeys' alternately fleet and hesitant movements are triumphs for the film's effects teams, and the apes' actions aren't without frequent shock appeal. (At one point, the primate Koba toys with an automatic rifle in front of two drunken human imbeciles, and at my screening, the scene's climax earned more than a few shrieks from the crowd.) Yet watch the haunted eyes of Caesar as he takes in the full measure of a compatriot's treachery. Watch the fear of the sweet, lumbering orangutan Maurice (Karin Konoval) as he looks to an endangered human and utters his only vocalized word in the film: "Run." Watch the building resentment of Koba (Toby Kebbell) as he outlines his hatred of humans on his body, one scar at a time. Watch, as his name suggests you should, the heartbreaking confusion of Caesar's son Blue Eyes (Nick Thurston), forced to follow a new, untrustworthy father figure. And watch the loving affection shared by Caesar and his wife Cornelia as they prepare for what might be their final moments together. (Cornelia, by the way, is portrayed by Judy Greer, who has graduated to chimp after previously playing Arrested Development's Kitty. All together now: "Her?") Dawn of the Planet of the Apes is a smashing visceral experience, but against all expectation, it also winds up a rather devastating emotional one. The eyes have it.