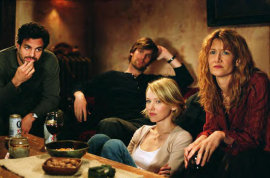 WE DON'T LIVE HERE ANYMORE
Anyone who recently went to see Closer and walked away feeling underwhelmed is encouraged to rent the new-to-DVD-and-video release We Don't Live Here Anymore immediately.
In doing so, you'll have the chance to see the same basic material written and performed with a zeal that makes it almost operatic in feeling; it's everything that Closer should have been but wasn't. Like Mike Nichols' film, We Don't Live Here - directed by John Curran, and with a screenplay by Larry Gross, based on two Andre Dubus short stories - follows two sets of adulterous couples who eventually engage in a bit of spouse-swapping. Jack (Mark Ruffalo) is married to Terry (Laura Dern), Hank (Peter Krause) to Edith (Naomi Watts); both men are college professors, both women are at home with their kids. And after Jack's and Edith's affair is discovered by Terry and Hank, the film turns into a searing, psychologically rich entertainment, no less theatrical than Closer but all too heartbreakingly real as well.
The characters in Curran's work know exactly which of the other characters' buttons they need to push to inflict maximum damage, and those buttons are often pushed. Yet doing so pains everyone equally, because those doing the hurting are by no means unscarred by the experience. The emotions in We Don't Live Here are palpable and a bit frightening, and the movie evinces a haunting atmosphere that, personally, I didn't feel in a movie like In the Bedroom (itself adapted from Dubus' work). We Don't Live Here Anymore is an almost fully satisfying piece - though the occasional voice-over narration is more confusing than anything - and it features three astonishing performances. (With apologies to Peter Krause, who's fine in a coasting-on-TV-charm way, but who isn't nearly in the same league as his co-stars.)
Laura Dern isn't just tall; in movies, she's larger than life. Her emotions, onscreen, are so epic - so grand and swelling - that it's easy to understand why many audience members (and more than a few critics) consider her a bad actress; when a character that Dern is playing doesn't require the amount of intensity she brings to it - in Jurassic Park or Focus, for instance - she can come off very poorly indeed. But when she gets hold of material that's as devastatingly emotional and outsized as she is, Laura Dern is remarkable. In movies such as Blue Velvet, Wild at Heart, Rambling Rose, and - still Dern's finest hour - Citizen Ruth, Dern's hunger leaps through the screen, and she does some of her finest work yet in We Don't Live Here Anymore. Berating her husband with cruel put-downs one moment, soliloquizing beautifully on the promise of love the next, Dern's portrayal has an electricity that's a thrill to behold; it easily ranks as one of the year's most unjustly ignored great performances.
Like Dern, Naomi Watts is, almost picture for picture, either sublime (Mulholland Dr., 21 Grams) or crummy (The Ring, Le Divorce), depending on whether the film matches the energy she'll bring to it. She really is the damnedest actress: Her well-scrubbed, wholesome good looks fool you into thinking she's empty-headed, and then she comes through with a ferocity that's truly startling. (Her Mulholland Dr. portrayal remains my favorite film performance of the decade.) For most of We Don't Live Here, Watts plays Edith with a cool reserve, but when alone, Edith lets loose with torrents of rage and grief; there's a very brief moment in which Edith contemplates a pair of scissors while Hank sleeps beside her, and for a moment you wonder if the film will delve into In the Bedroom-style bloodshed. Watts is that rare, marvelous thing - a dangerous performer - and she provides We Don't Live Here Anymore with much of its mystery and nuance.
Mark Ruffalo's gentleness always takes you by surprise. Even in movies such as Collateral, where he's basically playing Gruffly Sensitive Cop, there's a softness, a hesitancy, to Ruffalo's timbre and speech patterns that's enormously appealing; if your favorite childhood teddy bear started talking to you, he'd sound like Mark Ruffalo. You would think that Ruffalo's voice would limit him in the parts he could play - he sounds like he doesn't have a mean bone in his body - but just the opposite is true; I'm not sure what role he couldn't pull off. When Jack yells at Terry in We Don't Live Here, there's genuine anger in Ruffalo's delivery, yet it carries with it true pain; Jack is a man who doesn't like being cruel, yet who finds himself being cruel almost continuously, and the knowledge of that is eating him alive. Ruffalo has been terrific recently in works such as Collateral and In the Cut (and did as much as any human could with his token-boyfriend role in 13 Going on 30), but this most recent performance is the first to completely fulfill the promise of his spectacular You Can Count on Me debut.
Portrayals as fine as these would be reason enough to see We Don't Live Here Anymore, but John Curran's direction and Larry Gross' script are almost equally admirable. Curran creates some lovely visual motifs and is very subtle about showing the passage of time throughout simple establishing shots, and, of course, his work with the actors - even those playing the couples' young kids - is inspiring. And Gross - who wrote the Nick Nolte/Eddie Murphy cop flick 48 HRS. (!) - gives his adaptation impressive shape and momentum; everything about the screenplay - both its dialogue and its silences - fits with Curran's conception of the material. We Don't Live Here Anymore is a marvelous reminder - especially in light of the disappointment that is Closer - that the domestic drama, in the right hands, can be a genre as thrilling as the action pic, and far more emotionally engaging.
OCEAN'S TWELVE
Most of the people I know who didn't care for Closer were bummed with its lethargic presentation, but I imagine that a whole different segment of the public is leaving the film even more miserable - that segment being, of course, those looking forward to seeing A Julia Roberts Movie, because, despite her participation, it most certainly isn't one. That group of moviegoers will probably enjoy Ocean's Twelve, though, because in addition to being A Julia Roberts Movie, it's A George Clooney Movie, and A Brad Pitt Movie, et cetera, et cetera; Ocean's Twelve is like the screen adaptation of People magazine - it has no point beyond its star-studded line-up. Steven Soderbergh's sequel to his 2001 Ocean's Eleven remake is a slack and meaningless thing that doesn't care if we're invested in its crime-caper plot or not; it's a reunion party with the cast, with Soderbergh, film rolling, being gracious enough to let us mere mortals bask in the glow of such an ensemble. To be fair, the movie doesn't feel quite that cynical; Ocean's Twelve isn't Cannonball Run II or The Whole Ten Yards. Everyone involved seems to be having a legitimately good time, and no one seems in it for the paycheck. (Except for Bruce Willis, playing himself, who comes off more smarmy and unappealing than usual.) And Soderbergh's improvisational style is certainly well-sustained; I might not have liked it, but I certainly admired it. Yet, overall, Ocean's Twelve is a lazy and indifferent work, a photo spread calling itself celluloid.