HEAVEN IS FOR REAL
So far this year, audiences for faith-based films at the multiplex have been treated to Son of God, God's Not Dead, and Noah, and now there's director Randall Wallace's Heaven Is for Real to add to the mix. Have the Hollywood powers-that-be heard something about an imminent Rapture that the rest of us haven't? Should I now be feeling awkward and guilty about my raucous laughter at This Is the End?
Whatever the reason for this unusual conflux of titles, though, nonsecular features have proven, in 2014, to be money in the bank. And in the case of Heaven Is for Real, it's money deservedly in the bank; the movie is a triumph of marketing that also happens to be a significant triumph of sincerity. (In terms of box office this past weekend, Wallace's film earned almost twice as much as the also-debuting Johnny Depp thriller Transcendence - partly, perhaps, because Wallace's film is almost twice as good.) Even audiences who are understandably wary of the preachy, finger-wagging techniques employed in many faith-based efforts - perhaps especially such audiences - may want to give this one a look. The movie is not, as one of my more jaded friends imagined it to be, "bible-thumpy" so much as it's Field of Dreams without the baseball, and with Thomas Haden Church in place of James Earl Jones.
As with Field of Dreams (which, coincidentally, premiered exactly 25 years ago this month), there's certainly no shortage of corn, even though the setting is rural Kansas rather than rural Iowa. If you've read or even heard about the runaway bestseller the film is based on, you know the hook: A four-year-old boy awakens from a complicated appendectomy convinced that he went to Heaven and conversed with Jesus, and anecdotal evidence - primarily the child's newfound knowledge of events that occurred prior to his birth and while unconscious on the operating table - suggests that he just might be telling the truth. Yet whatever your take on the beliefs of young Colton Bumpo and his family, particularly his pastor father who co-wrote the book (and no doubt made a pretty penny for doing so), you can easily be forgiven for worrying that Heaven Is for Real would make for an unbearably schmaltzy film experience. Hollywood, after all, has a considerable track record for turning the lives of middle-class Midwesterners into sentimental, one-dimensional postcards for Honor and Morality and Strong Family Values. And you may feel a mild thudding in your temple, a foreboding, when the film's opening scenes reveal family patriarch Todd (Greg Kinnear) to not only be the town pastor but a dutiful husband (to Kelly Reilly's Sonja) and father, and a volunteer fireman, and a high-school wrestling coach, and a beloved champ on the softball field, and a local handyman who gladly accepts carpeting in lieu of cash. The movie isn't even five minutes old, and this guy's fundamental goodness and earnestness already feel unassailable to the point of parody.
Happily, however, it's Todd's apparent perfection that gives the movie its rooting interest and surprising bite: How does a man this irreproachably decent, a devout Christian who delivers weekly sermons on miracles, contend with his apprehension about the possibility of an actual miracle? One might imagine that Colton's otherworldly visitation would strengthen his father's faith. But in truth, the exact opposite happens; Todd's questioning of his son's experience leads directly to the questioning of his - of our - entire existence, and results in significant rifts among his parish, friends, and family. Though most assuredly a nonsecular work, Heaven Is for Real is actually the polar opposite of preachy. It raises thorny, unanswerable questions about the afterlife and our relation to it, and in Kinnear's unassumingly great and deeply emotional performance, it explores the inherent complexity of faith with a probing, empathetic forcefulness that feels entirely genuine. Some of its laugh lines and sentiment and music cues are resoundingly square, but Wallace's offering stays tough-minded almost throughout; even in the movie's most tear-jerking sequences, as when Colton tells his mother about meeting his "other" sister in Heaven (a child Sonja lost in the womb years before Colton's birth), elements of edgy, discomforting fear and desperation show up to nick at your insides.
Given access to what was clearly a higher budget than most faith-based entertainments (Noah obviously excepted) are allowed, Wallace's film, with its cinematography by Dances with Wolves Oscar winner Dean Semler, looks sensational. And I'm presuming the pricier budget also led not only to Kinnear's incredibly welcome involvement, but the participation of Reilly, Church, and the sublime Margo Martindale, all of whom grace their work with gravitas and humor and blessed truthfulness. But while Heaven Is for Real has much to recommend it, I'm not sure anyone deserves bigger huzzahs than six-year-old Colton Bumpo portrayer Connor Corrum, whose freshness and effortless believability make the movie nearly unthinkable without him. Giving what is easily the performance equivalent of Quvenzhané Wallis' fêted Beasts of the Southern Wild turn, Corrum is an effortless scene-stealer who never once seems to be play-acting for the camera, and even if you balk at Colton's reminiscences of the afterlife, this kid's natural talent and charisma might be enough to convince you of miracles.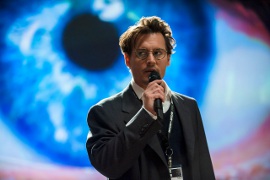 TRANSCENDENCE
Although the movie winds up a mostly shapeless and unsatisfying mess, there is some fun to be had in director Wally Pfister's Transcendence, beginning with the initial fun of seeing Johnny Depp play a recognizable human being for the first time in what feels like forever. (Fans of Outré Johnny needn't fear, however; he'll be turned into computerized bits and bytes soon enough.) And for close to half of its length, this sci-fi thriller about a scientist whose consciousness becomes literally embedded in the Internet - a two-hour metaphor for technology's rise at humanity's expense - has a gripping, paranoid kick, with the film's debuting director clearly utilizing lessons on pacing and composition learned at the side of Christopher Nolan. (Pfister, who won an Oscar for Inception, has long served as Nolan's go-to cinematographer, and also apparently borrowed his boss' little black book of casting options, with Transcendence's roster of support including Morgan Freeman, Cillian Murphy, and Lukas Haas.) But as Depp the man morphs into Depp the machine, and Depp the machine morphs into Depp the über-dangerous demi-god, the film's early, creepy solemnity grows sillier and more nonsensical, and after the midway point, with the introduction of the film's bizarre breed of Stepford Hicks, hardly a scene passes in which you don't find yourself muttering, "Wait, what?" (Depp's minions create an astonishing techno-world that garners the attention of a handful of YouTube surfers but no one in the national media? Kate Mara is able to lead a battalion of anti-tech terrorists using nothing more than heavy eyeliner and her patented House of Cards stare?) Transcendence starts strong and ends stultifying, and only Rebecca Hall - supremely touching as Depp's fanatically devoted wife who unwittingly causes society's downfall - seems impervious to the high-minded ludicrousness of it all. This gifted and beautiful British performer, as she has in the past, even pulls off a beauty of an American accent. Sounding alternately like a Brit, a Scot, and HAL the computer, I wish I could say the same for Depp.
BEARS
Disney's latest Earth Day release, distributed under its "Disneynature" banner, is the environmental documentary Bears, and I'm delighted to report that it's nowhere near as insipid as 2012's Chimpanzee. Directors Alastair Fothergill's and Keith Scholey's exploration of a year in the lives of an Alaskan grizzly and her two newborn cubs boasts exquisite photography, informative context, legitimately disturbing bear-on-bear attack sequences, and a plucky sense of humor that, at my screening, seemed to appeal to all demographics. (The kids especially enjoyed the slapstick involving a cub with a clam stuck on his claw. The grown-ups, meanwhile, chuckled at a bunch of offhand remarks by narrator John C. Reilly, perhaps because the actor already sounds so much like a bear - more specifically, a teddy bear.) But I continue to be irritated by the apparent studio directive that requires every Disney doc to emerge as a Disney cartoon. Like its Disneynature predecessors, Bears comes complete with a manufactured, imposed narrative involving plucky kids and a perilous quest and a nefarious adversary and a wacky supporting pal of a different species (with a tag-along raven filling that role here); you can be awed by the astonishing nature photography here and still feel like you're staring at nothing but animated pixels. All things considered, I'd hardly recommend that family-film hunters turn up their noses at Bears, but just once I'd like to see Disney explore wildlife without my expecting the on-screen animals to launch into a spirited rendition of "Hakuna Matata."
A HAUNTED HOUSE 2
In the horror-flick spoof A Haunted House 2, there's a moderately clever, staggeringly filthy montage involving Marlon Wayans having his way with a porcelain doll, and another in which he beats said doll within an inch of its "life" before sobbing and curling into a fetal position on her lap (right before having his way with her again). And now you're completely caught up on every borderline-amusing thing that happens in director Michael Tiddes' follow-up to last spring's A Haunted House - a sequel so astonishingly, relentlessly unfunny, and one featuring a Wayans performance so off-the-charts shrill and grating, that I watched it practically open-mouthed with shock. (I actually kind of liked the first Haunted House, but I've now completely forgotten why.) Nothing else needs to be said, except, perhaps, that one of Wayans' possibly ad-libbed lines here finds him screeching, "When are they gonna stop making Scary Movies without the Wayans?!? They f---ing suck!!!" Note to Marlon: Those who star in A Haunted House 2 should not throw stones.
Follow Mike on Twitter at Twitter.com/MikeSchulzNow.