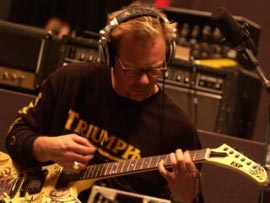 METALLICA: SOME KIND OF MONSTER
Metallica: Some Kind of Monster has the sort of title guaranteed to repel viewers who might love it the most. This warts-and-all documentary, chronicling the two-plus years devoted to creating Metallica's St. Anger CD, is like the best episode of Behind the Music ever made, offering an intimate look at the relationship between guitarist James Hetfield and drummer Lars Ulrich, and detailing the nightmare involved in getting the group recording again after a five-year hiatus. The movie will be Mecca for metal fans, yet its appeal isn't totally insular. Audiences who may be loath to sit through a doc on any heavy-metal group might not realize what directors Joe Berlinger and Bruce Sinofsky have fashioned here; Some Kind of Monster is one of the finest recordings of the collaborative artistic process ever committed to film, a hard-edged and endlessly fascinating look at the excruciating work that goes into the making of an album. And for those for whom documentaries are even less appealing than heavy metal, it must be said that the film is one of the funniest and most shockingly touching screen works of the year, This Is Spinal Tap with actual human beings at its core. It's a thrilling experience.
You might, however, have your defenses up when you first realize that - due to frequent in-fighting among the band members - Metallica not only agreed to regular group meetings with a therapist, but agreed to let Berlinger and Sinofsky film these sessions; it seems too cute a hook, an injection of Sopranos-like comedy incorporated to de-fang a group whose detractors consider them satanic. Yet these encounters, against all logic, become the heart of the movie, as they lead Hetfield to rehab - prompting a year-long delay for the album - and force Hetfield and company to re-evaluate everything that made Metallica what they are: Can these men, now in their 40s, continue creating metal music, and living a metal lifestyle, when it nearly led to their destruction? (Some Kind of Monster is currently playing at the Brew & View alongside the exquisite Before Sunset, and it's a more apt pairing than you might think: Both films are suffused with the fear of aging and desperate uncertainty about the future.) As the movie progresses, you begin seeing more of yourself in these performers than you'd ever have expected, and as the group starts to incorporate their therapist's lingo into their everyday dialogue - many of their conversations begin with therapeutic pronouncements like "I'm sensing that you're feeling ..." - something deeply funny and sweet emerges. But the directors are too shrewd to turn their film into a huggy group-therapy session. Amidst the human drama (and comedy), a CD still has to be made, and Berlinger and Sinofsky manage to draw connections between the group's efforts to connect on a human level and connect artistically, and the parallels they draw are almost stunningly well-conceived. Metallica: Some Kind of Monster is a staggeringly observant, beautifully paced work - I don't think there's a dull scene in the entire 140-minute picture - and it would be a shame if biases against heavy-metal, or biases against documentaries, kept smart audiences away.
SHARK TALE
I think I'm beginning to zero in on why Dreamworks' computer-animated releases have been, for me, so much less enjoyable than Pixar's: Pixar hires considerable vocal talent - Tom Hanks, Kevin Spacey, Albert Brooks, Ellen DeGeneres - and gives them great comedic characters to play; Dreamworks hires considerable vocal talent and assumes that the performers' mere participation is comedy enough. I find the Shrek movies annoying, in part, because Mike Myers and Eddie Murphy seem to be reprising their same, tired shtick in animated form; their outsized personalities leave no possibility for finding anything new or particularly entertaining in their characters. And in Dreamworks' Shark Tale, once you get the jokes behind the casting - Will Smith as a wannabe hip-hopper! Renee Zellweger and Angelina Jolie as the madonna and the whore! Robert De Niro, Michael Imperioli, and Vincent Pastore as gangsters! - you've pretty much gotten every joke the movie has to offer. (I laughed during Shark Tale exactly once, when a soon-to-be-devoured shrimp lets loose with a deliriously nutbrain sob story involving a quadriplegic relative. Trust me. It's hysterical.) The film has more visual zing than the Shrek movies, but even the backgrounds reveal Dreamworks' comic limitations: The sight of a deserted sushi bar is amusing enough, I guess, but must every example of faux product placement - and there are a lot of them - have some seafood-related pun attached to it? (Think of as many as you can - the film's screenwriters have come up with even more.) Shark Tale, like Dreamworks' computer-animated predecessors, is a big fat hit, but the studio is still too busy reveling in pop-culture fixtures to focus on simply being funny.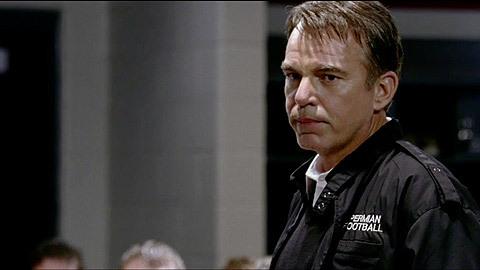 FRIDAY NIGHT LIGHTS
Amazingly, Friday Night Lights is a Hollywood sports movie with most of the Hollywood bullshit scraped off. If, like me, you love this genre but have hated the going-through-the-motions machinations of so many of its recent offerings - Miracle, Against the Ropes, the nauseating Radio - this is the movie for you; it might be the best cheer-and-cry movie of its type since Hoosiers. Based on H.G. Bissinger's beloved account of a high-school football team in Odessa, Texas - a town for whom football is their identity, their livelihood, and perhaps even their religion - Friday Night Lights is a tough, unsentimental offering, where even the clichés of the genre are treated with unflinching realism; there's genuine menace in the scenes involving a player whose father (a revelatory Tim McGraw) physically and verbally abuses him, and Lucas Black, as the team quarterback, is so thoroughly anguished at his dead-end prospects that his every appearance tears your heart out. With an astonishingly low-key and effective Billy Bob Thornton as the team coach, and first-rate direction by Peter Berg, Friday Night Lights is a tearjerker free of melodrama and histrionics; it revives a long-maligned - oftentimes deservedly maligned - genre with brains, skill, and real heart.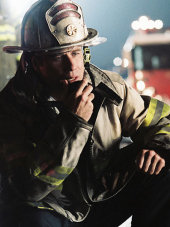 LADDER 49
By contrast, Ladder 49 is the most repellant Hollywood tearjerker since The Notebook, and for much the same reason: Just as The Notebook used Alzheimer's as a shameless plot device, Ladder 49 employs lingering grief over September 11 in an attempt to inflate its piddly little melodrama into something meaningful. God knows that firemen are brave beyond measure, but you'd think that even they would balk at this movie's contention that firemen aren't just our ideals, they're our betters; with their slo-mo, action-stud posturing accompanied by a maddeningly overbearing musical score, every scene in Ladder 49 is designed for maximum hero worship, which could be bearable if the movie wasn't so laughably one-dimensional, callow, and, as a result, deeply insensitive. The movie aims for verisimilitude, yet it's by the director of Tuck Everlasting and My Dog Skip. The prosecution rests.