MISS PETTIGREW LIVES FOR A DAY
Miss Pettigrew Lives for a Day, in which an unemployed British governess becomes the accidental social secretary to a ditzy American chanteuse, is the sort of movie that's likely to be (agreeably) written off as "lighthearted." But that description doesn't suggest just how exhilarating this "lighthearted" outing actually is, or just how remarkable Frances McDormand and Amy Adams are in it. I'm the type of person who instinctively rolls his eyes at the "you'll laugh, you'll cry" plaudit, but at director Bharat Nalluri's Miss Pettigrew, I laughed, I cried, and I don't think a minute passed in its hour-and-a-half running length in which I didn't grin from ear to ear.
Set in 1939 London, the film finds the reserved, timid Guinevere Pettigrew (McDormand) winding up in the employ of the vivacious wannabe starlet Delysia Lafosse (Adams), and quickly finding herself juggling engagements with three of Delysia's suitors: Phil (Tom Payne), the callow, wealthy son of a West End producer; Nick (Mark Strong), the gruff owner of the nightclub in which Delysia sings; and Michael (Lee Pace), the soulful and - unluckily for him - penniless accompanist who wants his musical partner to marry him.
From the start, of course, it's clear which one the flighty but well-meaning Delysia will end up with, just as the arrival of a kindly middle-aged entrepreneur (Ciarán Hinds) instantly seals Miss Pettigrew's romantic fate. Yet the joy of the film's plotting - and it's no minor joy - is that you can predict exactly where developments will lead and still have a sensational time. Based on the Winifred Watson novel, David Magee's and Simon Beaufoy's script offers the satisfactions of a tightly constructed farce but adds humanity and unexpected empathy; even the villainous Nick and the untrustworthy socialite Edythe (an excellent Shirley Henderson) are given their dignity. And while Nalluri's staging is sharp and his sense of the period feels unerring, it's the director's devotion to character - in particular, the characters fashioned by his leading ladies - that provides Miss Pettigrew with its surprising resonance.
I'm not sure what, as moviegoers, we've done to deserve Amy Adams, but if it's a karmic payback of some kind, it's a spectacular one. Adams is such a fizzy, effervescent comedienne that she doesn't have to do more than smile to put us firmly in her corner, but it's to an audience's great fortune that she does so much more. The actress delivers bubble-headed pronouncements here as if they were the most rational statements in the world, and when Denysia finally faces the consequences of her amorality, Adams' emotions ooze through every pore; there seems to be absolutely no artifice separating you from the character. (And her tearful rendition of "If I Didn't Care" is a heart-melter for the ages.)
McDormand's comedic style is less showy, but no less marvelous, and she gets thrilling mileage out of Miss Pettigrew's incredulity and wary glances - her desperation is always subtly, keenly felt. (The film features a stellar running gag in which the poor woman is constantly denied a meal.) Yet as with Adams, McDormand's character is far more than a one-joke construct; ever alert to the growing threat of war, the snippy Miss Pettigrew becomes a forceful and poignant presence.
Best of all, she and Adams - both as characters and as actors - develop a wonderfully touching rapport; by the finale, you may find yourself shocked, as they are, that all of the movie's events took place over one 24-hour period. Witty and moving and ceaselessly entertaining, Miss Pettigrew Lives for Day is, is its small-scale way, just about perfect. If it hadn't so recently been used for another Amy Adams vehicle, Enchanted would have been a completely appropriate substitute title.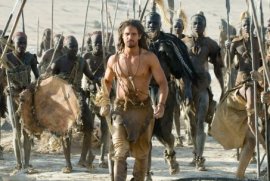 10,000 B.C.
In Roland Emmerich's (pre)historical action-adventure epic 10,000 B.C., there's a jaw-dropping sequence in which tens of thousands labor over the construction of the Egyptian pyramids, and it suggests what D.W. Griffith might have done if he'd had access to digital technology. The rest of the film suggests what D.W. Griffith might have done if he were a complete idiot. Though you could be fooled into thinking that the script was something Emmerich unearthed from the year of the film's title, it's actually an original collaboration between the director and Harold Kloser, and it would be nice to report that this hysterically stoic, deeply unimaginative compendium of clichés was the worst thing about 10,000 B.C. Unfortunately, that honor goes to the stereotypically insistent musical score, which is the aural equivalent of a woolly mammoth stepping on your head. Or maybe to insufferable lead Steven Strait, who makes one long for the ruggedness and depth of Casper Van Dien. Or maybe to the ludicrous climax, which brings to mind nothing so much as Dorothy's dispatching of the Wicked Witch of the West. I'll know for sure when I see the movie again several decades hence, when a new TV version of Mystery Science Theater 3000 will no doubt give this block-headed blockbuster the thrashing it so richly deserves.