LOVE & MERCY
Receiving a wide national release on the same weekend as Inside Out's debut, director Bill Pohlad's Love & Mercy is also an exploration of the brain - specifically, the brain of Beach Boys wunderkind Brian Wilson, alternately portrayed by Paul Dano (during the film's Pet Sounds-era 1960s sequences) and John Cusack (during Wilson's heavily-, and incorrectly-, medicated period in the late 1980s). And rather astonishingly for a work of its type, it boasts numerous scenes in which it really, truly feels like we're allowed to roam around in a legendary musician's head, feeling what he feels and, even more importantly, hearing what he hears.
Detailing the tentative courtship between a gaunt, haunted Wilson and his future wife Melinda (Elizabeth Banks) - a wary romance overseen by a monstrously controlling Dr. Feelgood played by Paul Giamatti - the 1980s sequences tend to blur the line between unbearably lovely and unbearably painful. Cusack and Banks share such delicate, magical chemistry, and appear so enamored of one another, that you can barely contain your fury whenever Giamatti's Eugene Landy shows up with his Satanic grin and highly questionable anti-psychotic meditations. (As Pohlad's film was made with the cooperation of the Wilsons, it's understandable that Landy comes off as thoroughly vile, and when he rages with the sorts of apoplectic fits he has here, there are few actors besides Giamatti who are quite as fun to hiss at.) But while Banks is utterly splendid in her unexpectedly layered role, and it's a delight seeing Cusack act - and act well - as someone not immediately recognizable as John Cusack, the heart of the film lies in the Paul Dano scenes.
Very little about Love & Mercy feels like a conventional bio-pic; its editing rhythms are refreshingly unpredictable and it isn't heavy with exposition - the film starts years after the Beach Boys have topped the charts - and we're spared that Imitation Game style of cinematic time travel in which the hero's memories lead to instant flashbacks. (The chronological toggling in this script, written by Oren Moverman and Michael Alan Lerner, is emotionally precise yet narratively random.) Nowhere, however, is the movie less like other works of its type than in its many marvelous scenes of Dano's Wilson in the recording studio, with long minutes devoted to the man trying his genial best to get others to play the music that's playing in his head.
If you're a fellow Beach Boys fan, listening to the studio musicians gradually solidify "God Only Knows" or "Good Vibrations," and watching Wilson's beaming joy as his tunes take shape, makes for a fantastically exciting experience that feels true - the witnessing of an on-screen creative birth. Dano is achingly affecting as a young Brian Wilson plagued by his verbally and physically abusive father (Bill Camp) and by the cacophony of inner noise that threatens to drown his compositional talents. (The film's exceptional score, with its deliberately off-putting sonic mash-ups, is by frequent David Fincher collaborator Atticus Ross.) But I never loved Dano more than during his buoyant, mesmerizing scenes of Wilson at work, which, you sense, is when the man was at his pre-Melinda happiest. The resonant, beautifully cast Love & Mercy is a wondrous surprise, and one in which the inevitable good vibrations aren't merely in song title only.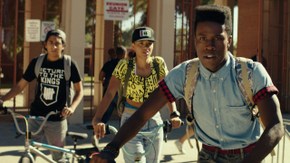 DOPE
Imagine Risky Business as directed by a She's Gotta Have It-era Spike Lee, or Boyz N the Hood re-designed as a sitcom, and you'll get a rough idea of Dope, writer/director Rick Famuyiwa's violent comedy about a teen dweeb turned drug pusher (Shameik Moore's Malcolm) whose book smarts and nascent criminal wiles just might get him into Harvard. To my eyes, the movie is a mess, with one set of stereotypes ricocheting against another with ever-diminishing comedic returns, and the abrupt changes in tone feeling less imaginative than desperate. (The film's operating principle seems to be that if the nerdy-virgin slapstick doesn't get 'em, the vicious-thug drama will - and if that doesn't work, let's throw in a topless hottie puking in Malcolm's mouth!) But as messes go, Dope is at least a spirited and enthusiastic one, with Famuyiwa demonstrating true filmmaking savvy and eliciting engaging, naturalistic-enough performances from his uniformly fine cast. I particularly enjoyed Quincy Brown as a filthy rich wannabe gangsta and The Grand Budapest Hotel's Tony Revolori as Malcolm's "14-percent African" best bud, and didn't realize until now how much I'd been missing Roger Guenveur Smith, who was an omnipresent fixture during Spike Lee's 1989-1999 heyday and plays a Harvard alum here with silky, whispering menace. (For his part, Moore is a subtly wonderful audience surrogate, sweet and funny and effortlessly empathetic.) Dope isn't, quite, but it's not bad, either.