Director Dustin Marcellino's The Identical is for anyone who ever wanted to see a fictionalized account of the birth of the Elvis-impersonator movement. Or anyone who'd enjoy Presley's songs more if their melodies weren't so complex and their lyrics weren't so depraved. Or anyone who's been yearning to see Ray Liotta play a devout evangelist who explains to his congregation why he just lit eight candles on a menorah, when, as we can see, he clearly lit nine.
As that should cover about a half-dozen of you, it's also for intensely devoted movie hounds who absolutely must see a new film at the cineplex every week, considering that this particular week, in this particular community, The Identical was our only option. Unless, that is, you count the 20th-anniversary IMAX release of Forrest Gump, which has the distinction of playing on a screen neighboring one that's housing the 30th-anniversary release of Ghostbusters. But why are we stopping there? It's the 40th anniversary of Benji! The 50th anniversary of Frankie and Annette in Bikini Beach! The 100th anniversary of Tillie's Punctured Romance, for Pete's sake!
I digress, but only because digressing is far more fun than The Identical - as is napping, or cleaning out the gutters, or not seeing The Identical. The setup isn't wholly uninteresting, as Marcellino's and screenwriter Howard Klausner's faith-based entertainment begins with a reasonably absorbing premise: What if Elvis' stillborn twin hadn't actually died, but was instead secretly given to, and raised by, a kindly preacher (Liotta) and his wife (Ashley Judd)? And what if, after the child grew into a young man, he became obsessed with the chart-topping, hip-swiveling musician (actual Elvis impersonator Blake Rayne plays both twins), and embarked on a career imitating the star on-stage as "The Identical," all the while unaware that he was his hero's brother? This storyline is just juicy and preposterous enough to work, and it's initially easy to be intrigued by the Bizarro-world possibilities in the material, even if exquisite pains are taken to assure viewers - among them, presumably, potential litigators - that the tale is not, not, about Elvis Presley. (I mean, come on! Elvis was "The King," and the famous singer here is nicknamed "The Dream"! Elvis lived in Graceland, and this guy lives in Dreamland! Totally different!)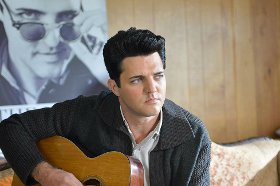 Yet beginning with the film's maudlin, Great Depression prelude (filmed in black-and-white so we'll know just how Depressing it was), one scene after another is presented with such thudding obviousness and hysterically synthetic sentiment that you'd almost think Lorne Michaels was the producer, and the movie a feature-length adaptation of one of Saturday Night Live's more interminable skits. That's not to say The Identical isn't funny. I certainly chuckled, albeit inappropriately, at the many homogenized bastardizations of Presley hits, the incessant stream of phony period wigs, and Liotta's and Judd's inability to fathom how their son could look so much like the famed Dream - apparently having forgotten that when they adopted their son, you know, he had a twin. (I also got a kick out of Rayne's continued reluctance to alter his facial expression as either the Dream or his preacher's-kid doppelgänger, suggesting that he's not imitating Elvis so much as an Elvis postage stamp. It's shocking that characters don't spend time licking the back of his head.)
Despite these pleasures, however, I was also crying on the inside: at Liotta's achingly forced, confused, and embarrassing portrayal; at the sad waste of the great Joe Pantoliano; at the potentially compelling narrative detours that were routinely ignored. (At an especially low point, Rayne's middle-aged, teetotaling Identical is about to take his first drink, but his plan is thwarted by the interruption of an Elvis-impersonating dwarf. I wish I were joking.) The Identical is atrocious, and in the entirely of its 105 minutes, I registered exactly one spontaneous moment: When Rayne, fixing papa Liotta's car, suddenly stood up and knocked his noggin on the hood. The bit was obviously accidental; a visibly amused Liotta asks, "Are you all right?" and Rayne smiles and replies to the clunking with "It's not the first time." But it says something when a film's only truly human touch comes from its only unscripted one. The whole movie seems to have been made by people suffering from mild blows to the head.
So Forrest Gump aside, that was our one cineplex debut this past weekend. Thankfully, though, the spare time also allowed for my third screening of Boyhood (which, happily and incredibly, is in its fourth week of local release), plus a few open hours to get caught up on some recent DVD titles. One of them - writer/director Steven Knight's Locke - was actually scheduled to open at Moline's Nova 6 cinemas this past May, but ... well, let's not go there. Instead, at least if you're a Tom Hardy fan, I recommend you hightail it to your home-video service or nearest Redbox, because how many chances will there be to see this frequent, figurative one-man-show cast in a literal one-man-show?
For the nearly 90 minutes of Knight's outing, Hardy's titular contractor drives from a construction site to an initially unknown destination roughly an hour away, chatting via phone with family members, business associates, and random others. And that's it. But of course, with an actor as magnificent as Hardy as the only character on-screen, that's not it, because he brings such specificity and escalating fascination to his man-in-a-box role that this talky, intentionally claustrophobic drama practically morphs into a nail-biting thriller. Sounding, here, rather uncannily like Richard Burton, Hardy soothes, instructs, and makes assertive demands with the voices on his phone (among them such notables as Ben Daniels, Olivia Colman, and Andrew Scott, Sherlock's Moriarty), giving the distinct impression that Locke is adamantly in charge even when many miles away. Yet worlds of heartbreak and panic are subtly gleaned through each seemingly calm directive - with less-subtle tirades aimed at an invisible backseat driver - and the actor makes his every moment riveting; Locke's words tell the story, but Hardy's eyes and inflections provide its meaning. I wish Knight's direction had the cleverness and expressiveness of his script and his steering of Hardy's performance. But even though, visually, the film is somewhat blah (even when compared to the less-successful Buried, which trapped Ryan Reynolds in a coffin for 90 minutes), the story has surprisingly powerful momentum. And Tom Hardy, unsurprisingly, is borderline-miraculous in it - further proof that screen charisma may, on occasion, be containable, but it absolutely can't be faked.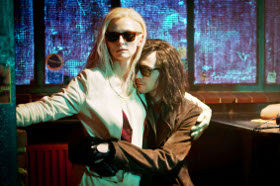 Charisma, meanwhile, all but oozes from Jim Jarmusch's Only Lovers Left Alive, and "oozes" is definitely the appropriate word for it here, considering that the film's leads are Tilda Swinton and Tom Hiddleston, and that the pair is playing bloodthirsty - if incredibly polite - vampires. All told, there might actually be less going on in Jarmusch's latest than there is in Locke. After hundreds of years of undead ennui, Hiddleston's and Swinton's European vamps, who call themselves Adam and Eve, find themselves in present-day Detroit, and most of the movie simply follows the pair around as they spend their nights listening to classical music and jazz, admiring the crumbling architecture, and admonishing humans (whom they refer to as "zombies") for ignoring the wondrous beauty around them. In short, it's Jarmusch in cranky-old-timer mode - chiding the philistines among us for our modern-era sins - but also a much better time than that suggests, partly because cranky-old-timer mode, for Jarmusch, is still pretty hip.
There are wonderfully underplayed jokes about the vampires' longevity and roles in history, with the music-minded Adam apparently responsible for one of Schubert's more thrilling adagios, and the film's cheeky literary bent could easily make it the new favorite vampire flick for English majors everywhere. (Hiddleston's creature, we're told, was a contemporary of Byron and Shelley; Dr. Faust and Daisy Buchanan are name-dropped; and the spectacularly grizzled John Hurt shows up as a Christopher Marlowe who's still peeved about the Bard getting credit for his work.) Added spark also arrives courtesy of Mia Wasikowska as Eve's Los-Angeles-based younger sister, who insists on procuring blood the old-fashioned way while her more cultured elders make late-night hospital purchases and feast on O-negative popsicles. Only Lovers Left Alive isn't a terribly energetic movie, but it's gorgeously shot and hypnotically engaging, and any vampire film featuring Swinton and Hiddleston as its leads - with their matching cheekbones and flair for melancholic comedy - clearly boasts no shortage of wit. Sink your teeth in and enjoy.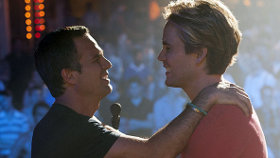 Those without access to HBO services can also finally enjoy - if that's the right term for it - the DVD debut of director Ryan Murphy's The Normal Heart, the long-gestating film version Larry Kramer's early-years-of-AIDS stage drama that recently won the Emmy for Outstanding Made-for-Television Movie. And it is a mostly outstanding made-for-television movie, if you're able to accept it for what it is, and for what it's been ever since Kramer's play debuted in 1985: an unapologetically incensed rallying cry for gay-rights awareness, health-care reform, and a cure to the AIDS epidemic. Viewers seeking subtlety should definitely search elsewhere. Kramer doesn't write dialogue so much as speeches spelled out in big block letters - every character may as well be toting around his or her own individual soapbox - and Murphy isn't above using tricks learned on American Horror Story for moments of particular unease. (American Horror Story would actually be a perfect title for this film, too.) Yet The Normal Heart's polemical forcefulness is also, in many instances here, spectacularly bracing, and for all of the movie's easy punchlines and overtly on-the-nose declarations, there's raw power in its well-meaning bullying techniques; by the finale, you feel, as you should, humbled, pissed, and overwhelmed.
The cast, meanwhile, further makes what could have been an unbearable, two-hour tirade an emotionally precise and devastating piece of work. Though he does have some excellent moments, there's still too much natural pleading - that suggestion of preemptive apology - in lead Mark Ruffalo's voice for his characterization as Kramer's proxy to be fully effective, and Julia Roberts, as a paraplegic doctor, appears to have reverted to her pre-Erin-Brockovich, "they'll know I'm serious if I don't smile" mode of dramatic acting. But in a film boasting exceptional support from Matt Bomer and a bunch of marvelous, openly gay Tony winners (Denis O'Hare, Stephen Spinella, B.D. Wong) in minor roles, there are especially astounding turns by Jim Parsons, reprising his Broadway role as an acerbic Southern sweetie, and Joe Mantello - who played Ruffalo's role on Broadway - as an incredulous, anguished Gay Men's Heath Organization leader. And while no movie by the creator of Glee would ever be wholly without kitsch, I'm happy to report that this one also has capitalized (Taylor) Kitsch, and that the frequently maligned performer is quite wonderful as a chiseled bleach blond whose good looks lead people (including us) to underestimate his smarts. The Normal Heart is messy and flawed, and absolutely shouldn't be missed.
Then again, in my opinion, neither should IFC's Funny or Die production The Spoils of Babylon (now streaming on Netflix), even though it doesn't really boast one ounce of redeeming social value. But who the hell needs redeeming social value when you're laughing nearly continuously for three whole hours? Designed as a six-episode parody of those gloriously trashy miniseries of the '70s and '80s such as The Thorn Birds and Shogun - decades-spanning melodramas boasting all manner of business and familial and sexual entanglements - director Matt Piedmont's sprawling saga tells of the Morehouse clan: the benevolent oil-baron patriarch Jonas (Tim Robbins), the straight-shooting adopted son Devon (Tobey Maguire), and the scheming romantic Cynthia (Kristen Wiig). Jonas wants to bequeath to the world his gift of an energy-saving carburetor. Devon wants to make himself worthy of the Morehouse name. Cynthia wants Devon - and he, to his shame, wants her. And on more than a dozen occasions, I was weeping with laughter at this unbelievably riotous, shockingly affectionate, and alternately brilliant and joyously stupid tribute to the camp-classic-posing-as-prestige-drama serials of my youth.
After more Spoils of Babylon viewings this past week than I feel comfortable revealing, I could go on and on about favorite scenes and comic gambits: Devon reading the touching, endless inscription on his pocket watch; a department-store mannequin cast as Devon's icy British wife (and voiced by Carey Mulligan); Cynthia's nearly indecipherable shriek of "Iwillnotbeloved!!!"; Jonas' deliriously protracted death scene, complete with blood pack not-so-surreptitiously tucked into his mouth. I could rave to no end about the satiric genius of Wiig (herself Emmy-nominated) and her succession of tacky costumes, and the astonishment of Maguire actually matching Wiig in terms of laughs per minute, and the fantastic contributions of such unexpectedly game participants as Jessica Alba, Michael Sheen, Val Kilmer, and Haley Joel Osment. Meanwhile, there probably aren't words enough for the hilarity provided by Will Ferrell as the miniseries' "author" Eric Jonrosh, a corpulent blowhard who introduces and summarizes each episode with the stunning condescension of Orson Welles hawking Paul Masson wine. (If you instantly get that reference, you are Babylon's ideal demographic.) But nothing kills comedy quite like overselling it ... unless it's giving away that comedy's best jokes, so either way, I'll shut up. Do yourself a favor: Give The Spoils of Babylon a shot. It's maybe not quite as ridiculous as The Identical, but it made me, for one, much, much less depressed.