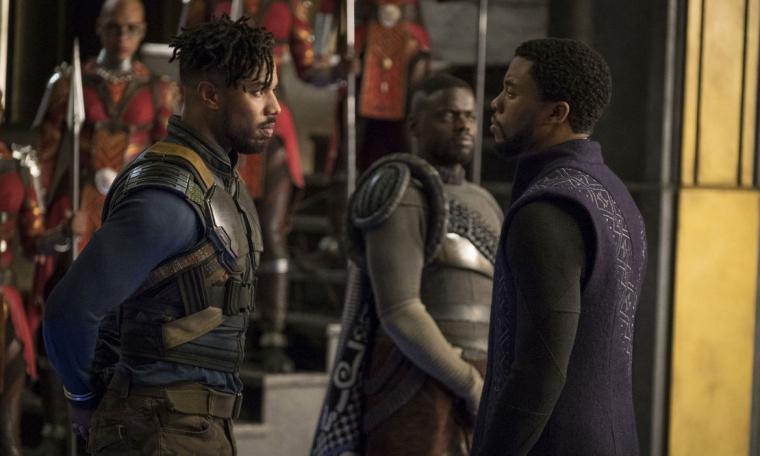 BLACK PANTHER
The relentless universe-building of the Marvel Studios output, with its seemingly endless introductions to (cinematically) new heroes and villains, can be exhausting, so I hardly want to make matters more complicated. Yet after seeing writer/director Ryan Coogler's enthralling, imaginative, fantastically enjoyable Black Panther, I'd be totally on-board with nearly a dozen spin-off series for debuting characters – even characters who expire before the end credits roll. I mean, hey, if Saw's serial killer and that Insidious medium can keep coming back for more … .
One spin-off could, and should, be earmarked for Michael B. Jordan, the gifted star of Coogler's previous features Fruitvale Station and Creed. (Heaven knows the guy deserves one just for making it through the recent Fantastic Four reboot with a straight face.) Jordan's scene-stealing bad-ass Erik Killmonger may be the official nemesis to Chadwick Boseman's T'Challa and his alter ego Black Panther. But the actor is so charismatic and startlingly empathetic in his role that audiences might actually cheer a release devoted solely to Killmonger's nefarious handiwork and the addition of decorative scars to his chest. While we're still awaiting a start date for Scarlett Johansson's long-rumored Black Widow offshoot, perhaps Marvel should tide us over – and help fill the gender void underlined by Wonder Woman's phenomenal success – with a trio of showcase films for Black Panther's awesome female support: Lupita Nyong'o's undercover spy (and T'Challa's ex) Nakia; Letitia Wright's tech whiz (and T'Challa's sister) Shuri; and, perhaps especially, Danai Gurira's militant warrior (and T'Challa's right-hand woman) Okoye.
Extending further through the populace of Black Panther's hidden African nation of Wakanda, I would happily spend two hours getting to know more about Daniel Kaluuya's wary security chief W'Kabi, and Winston Duke's fierce mountain-tribe leader (and unexpected comic relief) M'Baku, and Forest Whitaker's spiritual counselor Zuri, and Angela Bassett as T'Challa's imposingly regal mother Ramonda. If Marvel wanted to incorporate more recognizable figures from its canon (and when doesn't it?), maybe a spin-off for Martin Freeman's CIA diplomat Everett K. Ross. If Coogler wanted to return to his Fruitvale Station setting of Oakland, California, maybe a prequel series for Sterling K. Brown's hushed and haunted N'Jobu. And while we're at it, maybe, at long last, an entire franchise devoted to an Andy Serkis who actually looks like Andy Serkis, and not a motion-captured one such as Gollum or Kong or Snoke or Caesar the ape. Granted, 120 minutes of Serkis' cackling, pop-eyed Black Panther psychopath Ulysses Klaue could prove repetitive, but you can bet that audiences would have no problems staying awake.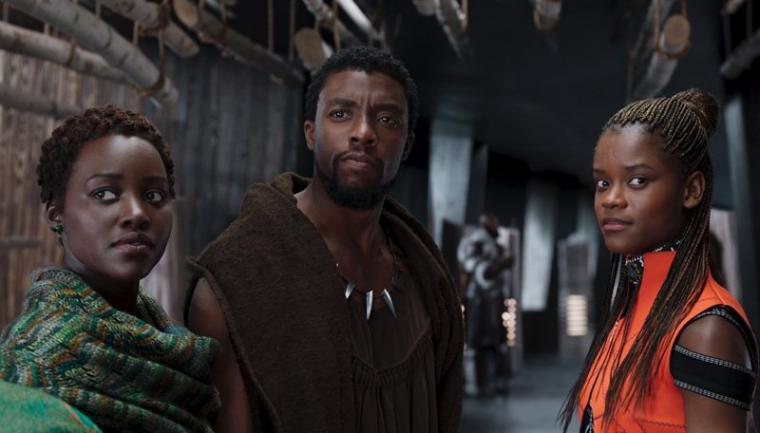 All of this is to say that Marvel's latest, co-written by Joe Robert Cole, is a smashing time even when its focus isn't on super-heroics – and in a stellar change from the norm, Coogler's offering only rarely is. As I'm pretty sure federal law mandates that Marvel blockbusters climax with epically scaled action involving at least three concurrent battles, Black Panther's finale certainly gives fans their fill in that regard (albeit with the delightful addition of enormous rampaging rhinos), along with zooming spacecrafts, copious gunfire, plenty of Bond-flick gadgetry, and that familiar shot from the trailers in which our hero somersaults over a somersaulting car. Yet as entertaining as these elements are – and one particular shoot-'em-up in a crowded casino, cannily edited to look like a single take, most assuredly is – they're not the movie's raison d'être so much as its pricey fringe touches. The gratifying shock of Coogler's singular achievement is that it's really about what so many superhero movies claim to be about but almost never are in any meaningful way: identity, duty, history, family, choice. Detailing the experience to a friend hours after seeing the film, I recounted a number of its coolest genre flourishes, but they weren't the reason why, near the end of my recitation, I found myself instinctively welling up.
We witnessed the death of T'Challa's father in 2016's Captain America: Civil War, and Black Panther, as expected, features its title character assuming leadership in his native Wakanda amidst internal conflict (whether to share the priceless metal vibranium with the outside world) and external strife (personified by Killmonger, who considers himself the rightful heir to the royal throne). In Coogler's presentation, however, that bare-bones narrative becomes nearly Shakespearean in its thematic grandeur and emotional reach – and no filmed Shakespeare has ever been the beneficiary of such gorgeously ornate costuming and production design. Whether it's T'Challa's conflicted struggles with Killmonger or his anguished confrontation with the truth of his past, or even the tense stare-down between Okoye and W'Kabi that resulted in applause at my screening, actions and decisions unequivocally matter here, as evidenced by the aching depth of the portrayals and Coogler's (and cinematographer Rachel Morrison's) clear-eyed lyricism.
Black Panther ends the way it begins, on the same outdoor basketball court in inner-city Oakland. Yet in its almost unbearably moving final seconds, you might find yourself overwhelmed at what in this film's universe changed, and what didn't, over the decades (and 130 cineplex minutes) separating these two similar sequences. You might also find yourself, like the characters on-screen, more hopeful than you've been in a long, long time. Because if Marvel can produce a comic-book adaptation boasting this much feeling and grace and wit – and landing so close on the heels of last spring's marvelous Logan – you have to wonder just what the studio couldn't do, at least if filmmakers of Coogler's artistry and talent continue to climb aboard. Black Panther isn't going to save the world, but for the moment, it's making the one we're living in a helluva lot more fun.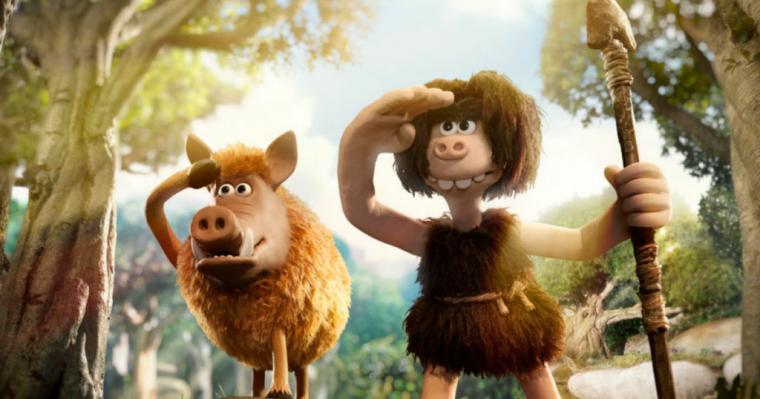 EARLY MAN
Early Man, the latest claymation kick from Great Britain's Aardman Animations and Wallace & Gromit creator Nick Park, opens in the Pleistocene era ("near Manchester … around lunchtime") and shows how a plummeting meteor killed off the dinosaurs and, in a nice perk, birthed the game of soccer. Beyond being hilarious, this prelude is presentationally artful, given that its images have been made to look like those of a 1950s educational film unreeling through an 8mm projector. And I promise that's the last time the word "educational" will appear in this review, because there's absolutely nothing of value to learn from Park's divinely silly 80-minute lark – unless you somehow still need to learn that the Aardman brain trust is filled with flippin' comic geniuses.
What plot there is concerns the planetary shift that found the Stone Age transforming into the Bronze age, much to the Stone-ers' chagrin. If any of your friends are pre-history buffs, they may inform you that, unlike in Early Man's telling, this change actually didn't happen overnight, and our ancestors actually didn't use baby crocodiles as clothespins, and the world's first soccer matches actually weren't accompanied by food vendors hawking "Jurassic Pork." Promptly cease all communication with these people. Because you really shouldn't hang with anyone who doesn't reflexively giggle at Park's and company's gags involving literal primordial soup and makeshift Tweeting and a skyscraper-sized mallard, to say nothing of a movie that gets so much comedic mileage out of endearingly questionable sports practices. ("What happens if you get the ball in the goal?" "Well, other men try to hug and kiss you." "Hmmm … .") With Eddie Redmayne providing sweetheart vocals as our Stone Age hero Dug, Tom Hiddleston doing his best imitation of Monty Python's Taunting French Guard, and wall-to-wall verbal and visual treats – I thought the "instant replay" provided by paper dolls on sticks was an especially winning touch – Early Man is an utter riot, from Dug's warthog glancing at his nonexistent watch to the Stone Age's wizened elder statesman being all of 32 years old. And I wouldn't dream of spoiling what happens when soccer players, here, are suspended for the season. It ain't pretty. But it's awfully funny.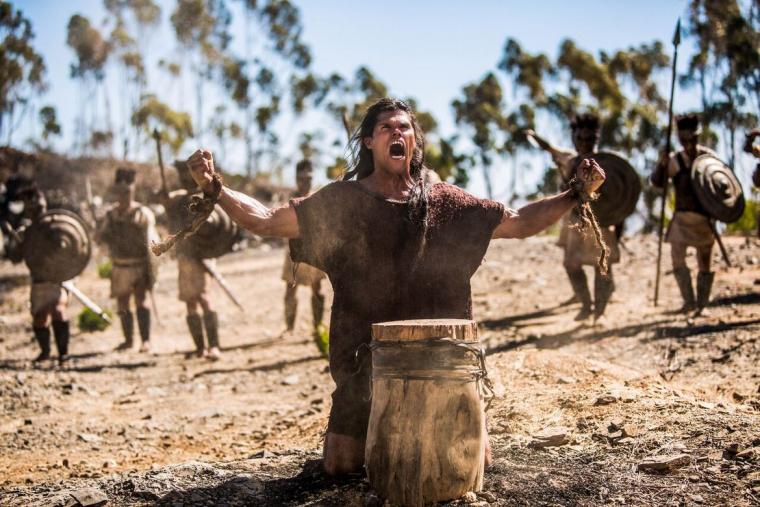 SAMSON
This probably won't be reason enough to catch the film for those inclined to skip it, but in director Bruce Macdonald's biblical saga Samson, the titular strongman's mother is played by Lindsay Wagner. Lindsay Wagner! TV's Bionic Woman herself! Considering that 2015's Do You Believe? included a substantial supporting role for Six Million Dollar Man Lee Majors, I've now started to look forward to these low-budget pro-faith dramas just to see where my childhood icons might pop up next. An adaptation of The Book of Judith starring Kristy McNichol? The Cain and Abel saga enacted by John Schneider and Tom Wopat? A Noah's Ark teeming with Muppets? The options are limitless.
Macdonald's Samson-and-Delilah tale, meanwhile, is limited in the extreme, not only by the stilted, anachronistic dialogue and frequently confused-looking extras, but by the understandable yet regrettable lack of sufficient funding for a movie that aims to be a PG-13 Passion of the Christ and barely makes it to the level of God's Not Dead. (When Samson lifted a gigantic boulder to crush a Philistine enemy, it was hard to be impressed by the guy's ability to hoist that much papier-mâché.) The early Dwayne-Johnson-esque joviality also doesn't at all jibe with the eventual misery, and scenes that should've been gut-wrenching – such as the ugly execution of Samson's bride-to-be Taren (the touching Frances Sholto-Douglas) – don't have nearly the biblical bite they should. Still, Samson portrayer Taylor James, when not forced to suffer and suffer and suffer, is genial and tries awfully hard, the bewitching Caitlin Leahy adds some depth to her blandly written Delilah, and Billy Zane, of all people, is entertaining as a King Balek apparently modeled, in look and dress, on Marlon Brando's Colonel Kurtz in Apocalypse Now. Aside from its presentational cheesiness, the film is perfectly respectable for its genre, and even brings Spielberg to mind at its finale, when Macdonald concludes Samson with hints of a potential David & Goliath the way The Post concluded with hints of All the President's Men. If Goliath winds up played by Lou Ferrigno, I'll be first in line.