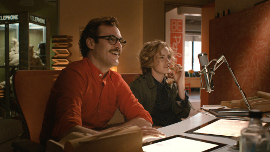 HER
Her, writer/director Spike Jonze's tale of a man who falls in love with his computerized operating system, and "she" with him, casts a weirdly hypnotic spell. Although billed as comedy (as least by the Hollywood Foreign Press Association), you don't really laugh much, and when you do, the laughter generally sticks in an odd, uncomfortable place in your throat; marveling at the unbridled sincerity of the thing, your chuckles are laced with a slight hint of mockery. Yet damned if Jonze, star Joaquin Phoenix, and the film's superb supporting cast and designers don't make this improbable project pay off in spades. Thoughtful, haunting, and perceptive, and at all times wickedly clever, Her is like a sci-fi Lost in Translation with a Scarlett Johansson you never get to see.
You do get to hear her, though, and one of the movie's many astonishments is that it not only makes Johansson's OS - who calls herself "Samantha" - a completely viable romantic partner for Phoenix's lonely, introverted Theodore Twombley; it creates a completely believable world in which Theodore can reveal to friends the object of his affections without anyone batting an eye. (His closest friend, Amy Adams' Amy, reacts to the news with happy encouragement and admitted jealously, and Theodore and Samantha enjoy yachting and picnicking double dates with pals played by Chris Pratt and Laura Kai Chen.) Considering how close we are to living our daily lives amidst seemingly sentient machinery, maybe Jonze's ability to pull off this seemingly far-fetched storyline isn't quite as miraculous as it might initially appear. (My brother's Xbox One, after all, greets him with an on-screen "Hi, Steve" every time he walks past it. Drives Sara crazy.) Yet even at its most melancholic and sad, I'm pretty sure I watched Her with a two-hour grin plastered to my face, reveling in Jonze's mastery of tone and absolute, deserved confidence in his fanciful creation. The film may be only slightly more "real" than Jonze's Being John Malkovich or Where the Wild Things Are - at least, at present - but it's incisive about human relationships, and human emotion, in ways that few other modern films can claim to be.
It's also one of 2013's most ravishing visual achievements. Her's Los Angeles of the not-too-distant future, rendered through the digital brushing up of exteriors in L.A. and Shanghai, is a triumph for production designer K.K. Barrett, whose employment of clean, smooth surfaces and eye-catching neons and pastels - echoed in the color palette of costume designer Casey Storm - lends every new image a lush, tactile yumminess. (This Los Angeles is a city you could eat off of, or perhaps just eat.) And Hoyte van Hoytema's cinematography is, somehow, simultaneously crystalline in its clarity and just soft-edged enough to suggest the odd, beguiling other-ness of Jonze's invention. Walking into Her is like entering a particularly lucid dream that you feel no desire to wake from.
Yet none of the film's technical splendor would mean much here without a central performance as playful and moving and empathetic as Phoenix's. Outfitted (as many of this future world's men are) in notably high-waited pants, and boasting an unfortunate bushy mustache that makes you immediately think "person of interest," Theodore would, at first glance, seem just like the sort of creepy techno-nerd who might want to treat his laptop to dinner and a movie. From the outset, however, Phoenix burrows so deeply into Theodore's damaged, disappointment-prone being that when he finally finds true joy with Samantha (having recently broken up with his wife, played by Rooney Mara), it feels less like a narrative inevitability than the answer to an unspoken prayer. Amazingly, because of Phoenix's beautifully humane work, you find yourself actively rooting for the union between Theodore and his computerized love - a proposition made less dicey thanks to Johansson's wonderfully committed and sensationally emotional vocal performance. Funny, sexy, inquisitive, and unexpectedly vulnerable, Samantha is as fully realized a character as Theodore, and her heartbreak stings just as much as his; this OS may be a creation of zeros and ones, but you'd be hard-pressed to think that it isn't in possession of a soul.
As it follows Theodore's and Samantha's relationship from first blush to its logical conclusion, there are times in which the film appears to be merely spinning its wheels and reiterating points already made (specifically regarding our collective urge for more and greater reasons to avoid human contact), and visually resplendent though they always are, several romantic montages could have easily been shaved off with no noticeable loss. (Jonze's 125-minute outing might've been more effective had it hewed closer to Lost In Translation's 90 minutes.) Despite its over-indulgences, though, Her remains a fantastically touching and evocative entertainment - a tale of mechanized courtship with a heart that never stops beating.
AUGUST: OSAGE COUNTY
Based on the Pulitzer Prize-winning play by Tracy Letts - who, for director John Wells' screen version, trimmed his three-hour-plus stage drama into a more manageable two - August: Osage County is a Plains Gothic about the world's most dysfunctional family, who gather, following the patriarch's disappearance, for several days of grudges, recriminations, spilled secrets, and almost nonstop verbal abuse. And as the film's cast includes (take a deep breath and pack a lunch) Meryl Streep, Julia Roberts, Chris Cooper, Margo Martindale, Ewan McGregor, Juliette Lewis, Julianne Nicholson, Benedict Cumberbatch, Abigail Breslin, Dermot Mulroney, Misty Upham, and Sam Shepard as the Oklahoma clan members in question, I entered the movie safely predicting that I'd be treated to some serious, capitalized Acting. I was. Alas, I wish there had been more of it. And I wish that so much of it wasn't quite so bad.
Most of the complaints I've read about Wells' and Letts' film, the darkest of dark comedies, are that it's too loud, strident, and bullying. Those were the parts I enjoyed. I could've watched Streep hungrily devour the scenery as matriarch Violet Weston - screaming and cursing and popping endless pills - for hours on end, and felt the same whenever Roberts emerged from her mopey dourness to slap the hell out of Breslin, or hurl her mother to the floor, or command this harridan at lunchtime to "Eat the fish, bitch!" In general, though, this sort of wildly theatrical over-acting is in depressingly short supply in August. With the exceptions of Cooper and Martindale, who are both hilarious and affecting as longtime marrieds Charlie and Mattie Fae Aiken, Wells' other supporting performers flail under lethargic, overly earnest direction that sucks the juicy fun out of the material and makes everything the characters say sound false. (McGregor, Cumberbatch, and Mulroney, in particular, are depressingly forced and tell us everything about their characters in their first two minutes; these may be the worst screen performances any of these talented men has ever given.) And while, as a huge fan of this work on-stage, I was greatly bothered that so much good stuff was lost in the screen adaptation - Sheriff Gilbeau, a significant character in the play, is reduced to a voiceless cameo here - in the end I guess I was grateful, as three-hours-plus of this turgidly presented and mostly laugh-free melodrama would have made me tear my hair out. Excepting a few powerhouse scenes and portrayals within those scenes, August: Osage County is a bummer, and all the evidence we needed for Letts' achievement to remain one for the theatre. Now, an astounding piece of drama has been ruined for everybody.
Follow Mike on Twitter at Twitter.com/MikeSchulzNow.