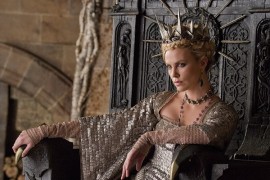 SNOW WHITE & THE HUNTSMAN
The first words heard in Snow White & the Huntsman are "Once upon a time ... ," and for the next 125 minutes, the movie unfurls like a malicious, exhilarating fairytale for adults - or a bedtime story for really, really naughty kids. In an age when most screen adaptations of familiar childhood stories quickly descend into camp - either intentionally (Mirror Mirror) or unintentionally (Red Riding Hood) - the intelligence and violence and emotional hunger of debuting director Rupert Sanders' Snow White saga feel utterly welcome, and even somewhat revolutionary. By the film's finale (and I presume this isn't a spoiler), good has triumphed and evil has been vanquished, but the weight of the characters' horrific experiences hasn't been forgotten; it's clear from their serene yet exhausted expressions that while Snow White and her kingdom's subjects get their Happily Ever After, they'll more likely be living Happily, Hesitantly, Ever After.
In truth, I'm a little embarrassed to admit how enraptured I was by Sanders' telling of his tale, because it's pretty easy to imagine the Hollywood pitch meeting for Snow White & the Huntsman: "It's like Braveheart meets Twilight ... but with dwarfs!" Snow White, you see, isn't just an innocent at the mercy of the woods, a poisoned apple, and a wicked stepmother; she's also a fierce combatant who rallies her troops, at the climax, with a rousing speech that's only missing the blue face paint and roar of "Freedom!!!" And while this Fairest of Them All - played by Bella Swan Cullen herself, Kristen Stewart - is dutifully given a Prince Charming in Sam Claflin's William, there's also a romantic near-rival in Chris Hemsworth's Huntsman, the smoldering, hard-drinking, bad-boy alternative to Snow White's courtly suitor.
Beginning, however, with the prelude's haunting imagery and stark, somber color palette - an evocative blend of reds, metals, whites, and blacks - it's apparent that Sanders and company mean business with this thing. Adapted by Even Daugherty, John Lee Hancock, and Drive screenwriter Hossein Amini, the Grimm fairytale is presented with much the narrative arc you expect. But its details (including its rather extraordinary visual and makeup effects) are serious-minded and bold and ceaselessly thrilling, and in Charlize Theron's Queen Ravenna, the movie features a potentially unforgettable nemesis, a figure so frighteningly, hypnotically perverse that you may be shocked at how much legitimate empathy she engenders.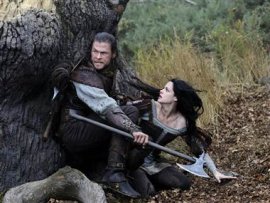 Theron has always been a fearless performer - it would be hard to name another stunningly beautiful movie star so seemingly disinterested in being likable on-screen - and she's delectably vicious here, whether murdering her husband on their wedding night, or screeching at her creepily solicitous brother (Sam Spruell), or lazily plucking out, and consuming, the heart of a dead bird. Her frequently red-rimmed eyes, though, suggest the crazed need and panicky fear behind Ravenna's malevolence. As a quick, dramatically essential flashback reveals, this queen is monstrous for a reason, and without jettisoning any of the storybook enjoyment inherent in the role, Theron manages to suggest the soul-crushing weight of Ravenna's plight. Stewart does a fine job conveying Snow White's delicacy and yearning and growing strength, and Hemsworth is sensationally appealing and provides a few necessary laughs, but this is Theron's movie all the way.
At least, it is whenever the dwarfs aren't around. For among the film's many examples of ingenious technical bravado (and the enchanted-garden trek and Ravenna's transformation into a swirling flock of crows both rank way, way up there), none delighted me more than the means by which those recognizable British character actors Bob Hoskins, Ian McShane, Ray Winstone, Nick Frost, Eddie Marsan, and Toby Jones became Snow White's diminutive traveling companions. In his review of Sanders' film, Roger Ebert expressed disappointment that these roles weren't assumed by actual dwarf performers, and it's a tough sentiment to argue with. Yet the audaciousness of the stunt - with the CGI enhancing the already-clever compositions that allow the little men's portrayers to appear half their usual sizes - seems to me perfectly fitting with the magical realism of the entire movie. And besides, when the actors in question are as unabashedly marvelous as the seven (and, for a time, eight) dwarfs are here - gruff and weary and defiantly not adorable - what's the point in complaining? Dark and menacing and terrifically exciting, Snow White & the Huntsman is a pretty spectacular achievement, a reminder that, oftentimes, dreams only come true after you've endured a lot of nightmares.
Follow Mike on Twitter at Twitter.com/MikeSchulzNow.