THE RUINS
I caught The Ruins during a minimally populated Saturday-afternoon screening, so I pray that a larger, rowdier audience laughed like mad when our surgeon-to-be hero (the hilariously stalwart Jonathan Tucker) surmised the deadly situation he and his friends were in and barked, with absolute earnestness, "Four Americans on vacation don't just disappear!"
That poor, dumb kid. Never saw a horror movie.
This one, a Turistas-like endeavor wherein four Americans find their Mexican stay literally cut short, finds A Simple Plan's Scott B. Smith again adapting his own best-seller, and so the relief of The Ruins is that, for the torture-porn genre, it isn't entirely reprehensible. In many ways it's even kind of fun, especially since the film's torturers aren't, for once, human, or even particularly nightmarish; they look like quaintly miniature versions of the full-grown Audrey II in Little Shop of Horrors. (The Americans here all slit their own skins; the Aztec flora merely goad them into it.)
Directed by Carter Smith (no relation to the author), The Ruins is most enjoyable when it's at its cheesiest - even when that cheese is probably accidental - and it's always a welcome surprise to see some bona-fide acting talent in one of these hot-youths-in-peril jobs, which we get with Jena Malone, Shawn Ashmore, and the excellent Joe Anderson, last seen singing a heartfelt "Hey, Jude" in Across the Universe. I'm thinking I could've lived happily without ever watching Anderson get the lower halves of his legs sawed off without anesthetic, as he does here, but maybe that's just me.
The movie has flashes of wit and a few satisfying surprises (the murder of tour guide Dmitri provides a jolt on top of a jolt), yet I was never quite as amused as I was annoyed, due to The Ruins' rather juvenile obsession with its flesh-slicing and entrails-spilling - modern-horror elements that have officially become boring as sin. Every time minutes are spent staring into our heroes' gaping wounds, it's the film's momentum that dies; you feel that director Smith included these gore fests because he was terrified of how crowds might react without them. (The Smiths seem to be desperately shouting, "Our movie is just as stupid as you hope it'll be!")
In the end, The Ruins isn't all that much fun, though I'll likely have fonder memories of it than I have of most bastard children of Saw, as it's hard to hate a scare flick that outfits victim-to-be Ashmore in a T-shirt with an honest-to-God bull's eye on it. Apparently, that poor, dumb kid never saw a horror movie, either.
LEATHERHEADS
As blithe, zippy, fast-talking screwball entertainments go, director/star George Clooney's Leatherheads - set in the burgeoning world of pro football, circa 1925 - is a bit of a dud. Neither Clooney the director nor Clooney the star seems comfortable with either the tempo or, more surprisingly, the style (the actor too often reverts to italicized, O Brother, Where Art Thou?-esque eye-popping), and his repartee with the pert, vaguely out-of-her-element Renee Zellweger feels overly self-conscious; even the script's wittier lines - "How quiet it must be at the Algonquin with you here in Duluth" - sound rather forced. (Clooney appears far more comfortable trading barbs, and punches, with the exceedingly likable John Krasinski.)
Yet while Leatherheads would have benefited from a livelier pace, there are still plenty of inspired routines - the staging of Krasinski's World War I "heroics," and a potential jump from a high-rise apartment, have true comic snap - and Clooney has a gift for lingering on a sentimental moment without allowing it to become saccharine; a soldier's drunken, lightly mournful refrain of "Over There" stays in your head long after memories of Leatherheads' slapstick have vanished. A mixture of terrific scenes and dully competent ones, the movie is a considerable comedown from Clooney's previous directorial efforts - Confessions of a Dangerous Mind and Good Night, and Good Luck. - but it remains a perfectly pleasant light entertainment.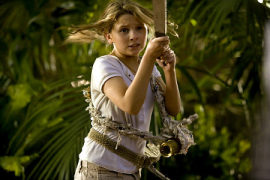 NIM'S ISLAND
I'm not sure what I expected from the children's-book adaptation Nim's Island, but here's something I absolutely didn't expect from it: A slapstick-comedy performance, and a damned good one, from Jodie Foster. Jodie Foster! The film's heavily-plotted storyline is nearly impossible to adequately summarize; suffice it to say that it's an adventure involving an island-dwelling 11-year-old (Abigail Breslin... and you expected someone else?) whose aquatic-scientist dad (Gerard Butler) is feared to be lost at sea, and an agoraphobic novelist (Foster) who grudgingly comes to the young girl's rescue. Very grudgingly. As her character performs routines of comic apoplexy outside her apartment - and even inside her apartment, as attested by the computer-centric writer's ritualistic applications of Purell - Foster throws herself into the role with fantastically entertaining abandon; seriously, she hasn't been allowed to be this funny on screen since... wow, was it 1976's Freaky Friday? This adult viewer was underwhelmed by much of the rest of the film, as the frequent escapes into fantasy felt superfluous given that it's all a fantasy. (Breslin's tyke has the ability to communicate with animals, and apparently lives in a treehouse that's Wi-Fi accessible.) But directors Mark Levin and Jennifer Flackett at least know how to keep the momentum going - there are surprisingly few dead spots - and Breslin, thankfully, hasn't yet lost her affectless appeal. And, seriously, Jodie Foster is a riot in it, so whether you have kids or not, you may want to think about catching Nim's Island before another 32 years passes us by.
SHINE A LIGHT
Martin Scorsese's Shine a Light, the director's concert-movie celebration of the Rolling Stones (playing at the Putnam Museum & IMAX Theatre), is 110 minutes of almost delirious joy. Filmed during the band's two-night, 2006 engagement at Manhattan's Beacon Theater, the shows were captured by a remarkable 18 cinematographers, each of whom - thanks to the wizardly editing of David Tedeschi - seems to be in exactly the right place at the right time; Shine a Light sounds glorious, but as you feel intimately connected to the passionate fun in Mick Jagger's, Keith Richards', Ronnie Wood's, and Charlie Watts' performances, it looks even better. No other movie this year has offered bigger highs: Jagger's exhilarating shimmying in "All Down the Line"; the elating, eternally satisfying "(I Can't Get No) Satisfaction"; the earth-shaking, soul of guest artist Buddy Guy. And speaking of highs, Richards' magnificently demented grin - suggesting a man who couldn't possibly he happier - is alone worth the price of admission. At the end of his "You Got the Silver" solo, Richards laughs at the thunderous ovation and says to the crowd, "Cool, huh?" Absolutely!