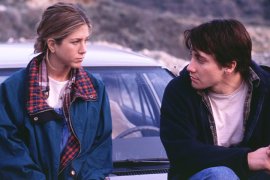 THE GOOD GIRL
The Good Girl is the most fun I've had at the movies since Spider-Man and, with the possible exception of Y tu mama tambien, the finest movie I've seen all year, and I can't begin to describe how shocking that is.
After all, this very black comedy is a collaboration by director Miguel Arteta and screenwriter Mike White, who previously teamed up for 2000's Chuck & Buck, a scuzzy, repellant little oddity that asked audiences to find the romance and humor in Buck, a mentally challenged man-child, stalking and harassing Chuck, the sexual-experimentation partner of his youth; the movie's judgmental, heavy-handed queasiness made you want to shower immediately after viewing it. But what a difference two years makes. For The Good Girl is a tremendous success, both hysterically funny and touching without being sentimental; in addition to being flat-out terrific entertainment, it shows Arteta as a comic stylist with a sure touch with performers, and White as a writer of inventive plotting and disarmingly hilarious dialogue (maybe his experience of screenwriting the charming Orange County mellowed him).
Jennifer Aniston, in her first great film role, plays Justine, a depressed, 30-year-old Texas wife who works the makeup counter at a five-and-dime called the Retail Rodeo. She decides to jump-start her life by beginning an affair with a young, equally morose employee (Jake Gyllenhaal) who, forever reading Catcher in the Rye, pretentiously calls himself "Holden," and the complications that result for the pair, for Justine's stoner husband, Phil (John C. Reilly), and for the others in their lives suggest what might occur if the Coen brothers adapted Larry McMurtry. Arteta offsets the banality of the small-town setting with the hyper-bright colors of the discount store, and stages his scenes of comic desperation with a deadpan that, miraculously, never makes fools of the film's characters. The Good Girl is devilishly clever throughout, but never at the expense of the people, who remain unique and endearing, though often half-witted.
Under this care, the performers flourish. Those who doubted whether Jennifer Aniston would ever land a good movie role - or even a good movie - will have all their fears allayed; this superb comedienne gives an incredibly inventive performance while graciously ceding the spotlight to her more colorful co-stars, and in doing so, is heartbreakingly moving and real. Gyllenhaal is achingly funny in a role that many would play for cheap pathos (if you haven't yet, catch his equally inspired work in the awesome Donnie Darko); Reilly is a loveable, albeit continually high, teddy bear; John Carroll Lynch, Deborah Rush, and Mike White himself are sensational as Justine's co-workers; and Tim Blake Nelson, as Phil's dimwitted best friend, and Zooey Deschanel, as a surly Retail Rodeo employee, give what are easily the high-comic supporting performances of the year. Just about every line they uttered gave me the giggles. Though arriving in the area relatively unheralded, The Good Girl deserves a success equal to that independent blockbuster My Big Fat Greek Wedding, even though it's by no means as "sitcom-friendly"; it's tougher, funnier, and, with no disrespect to Wedding, more rewarding. Don't miss it.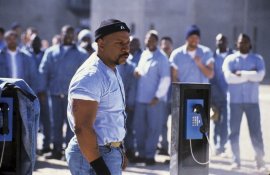 UNDISPUTED
Undisputed melds two genre staples of testosterone-fueled melodrama - the boxing flick and the prison flick - into one tight little package, yet it still manages to defy several conventions of its genres; it's a boxing movie where the victor of The Big Fight is in no way predetermined, and it's a prison movie without a sadistic warden, a potential rape-in-the-shower scene, or even a death. Walter Hill's film stars Ving Rhames as heavyweight boxing champ James (Ice Man) Chambers who, à la Mike Tyson, finds himself serving a prison sentence for rape. Among his fellow inmates is Monroe Hutchins (Wesley Snipes), a former professional fighter now serving time for murder who is also a favorite son to his fellow prisoners, who have watched Hutchins go undefeated in forty-odd boxing matches. Eventually, of course, the two must duke it out in the ring, in a match set up by an aging gangster (Peter Falk, awash in ornery Peter Falk-ness) and a crooked guard (Michael Rooker), and the dynamics that result from the intended fight - both Chambers and Hutchins, for various reasons, think the match is beneath them - give Undisputed its pungency and edgy unpredictability.
The movie is a lean, spare piece of work. Though several familiar character actors pop in and out - Fisher Stevens, Wes Studi, Amy Aquino, Jon Seda - Undisputed isn't hindered by extraneous plotlines, and Hill directs the proceedings with propulsive energy; the characters' conversations are as loaded with barely veiled hostility as the boxing scenes are. And Ving Rhames gives a splendid performance, scary and insinuating and commanding. The film as a whole would be awfully fine if it weren't for a big, gaping vacuum at its center, and that vacuum is Wesley Snipes. Granted, Hutchins is the less showy of the two leads - he has an almost Zen-like tranquility outside the ring - but Snipes doesn't give us any indication that anything is going on in Hutchins's head. He's one-dimensionally dour, and Snipes' monotone delivery, hampered by a faux baritone timbre, makes his character nearly inconsequential. (Imagine the role played by Mekhi Phifer or Keith David and you'll understand what's missing.) Chambers and Hutchins are supposed to be evenly matched, yet Rhames so wipes the floor with Snipes that it seems like an unfair fight - a true heavyweight battling a featherweight.
FEAR DOT COM
Director William Malone's fear dot com plays like the bastard child of The Cell, so unless you're Roger Ebert, you might want to think twice about catching this one. The film features two concurrent sets of serial killings - those perpetrated by a madman (Stephen Rea, mimicking Gary Oldman's line readings in Hannibal) who wants to expose the masses to the true brutality of murder, or something, and those that result from innocent Web-surfers landing on the maniac's Web site and, through a combination of gruesome imagery and MTV-esque shock-cuts, meeting their maker 48 hours later. (Good luck figuring out how the two storylines can possibly be connected.) The plotting is ludicrous, with dialogue to match, and Stephen Dorff and Natascha McElhone have their abilities wasted in the leads, though McElhone has marvelous eyes for looking spooked. Trashy though it is, it must be said that fear dot com isn't wholly without style. Christian Sebaldt's cinematography has some of the gloom-and-doom expressiveness of Darius Khondi's work for David Fincher, and though the misogynistic torture scenes are reprehensible, they're certainly visually arresting; like it or not, and I'm not saying I do, a lot of work went into giving fear dot com a distinctive look, and the work shows. It's hard to be impressed, though, when the end result is still a ridiculous, convoluted mess.