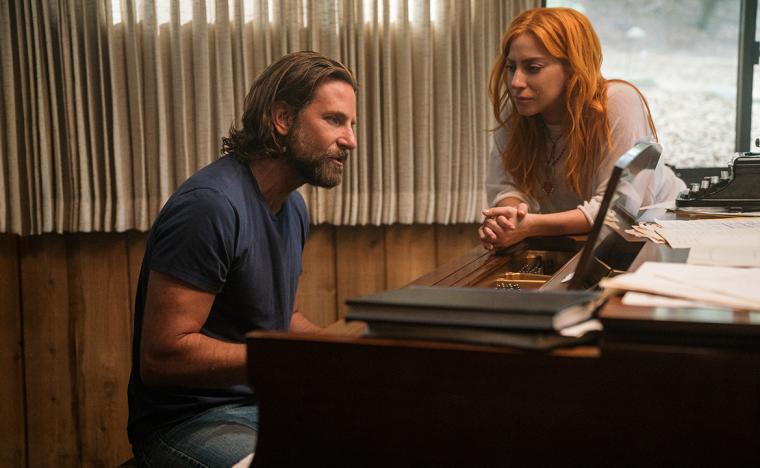 A STAR IS BORN
You know a tearjerker is really working when, in its last 15 minutes, the mere sight of a well-done steak is enough to get viewers weepy. But the latest iteration of A Star Is Born – the third American remake of this timeless show-biz melodrama since 1937's original (itself a sort of remake of 1932's What Price Hollywood?) – is a tearjerker that leaves you less wiped out than electrified.
Tears are definitely shed at this directorial debut by Bradley Cooper, who also served as co-producer, co-writer, co-songwriter, and, it should go without saying, co-star to the force of nature that is Lady Gaga. Yet from the opening scene of Cooper's hard-living rocker thrilling a raucous crowd of thousands to the climactic scene of Gaga's chanteuse riveting a hushed crowd of a few hundred, this A Star Is Born is a phenomenally complete entertainment: heartbreaking, yes, but also smart and incisive and funny and nerve-racking and, above all, devastatingly romantic. The film is a true, and truly believable, love story, and it's been so long since we've had one of those at the cineplex that the movie's very existence almost earns it a badge of honor. And if you respond to Cooper's achievement the way I did (and the way others at my screening clearly appeared to), you might agree that the primary love story is profoundly personal. Because in addition to being about Cooper's and Gaga's musicians falling in love, this musical drama is also very much about you falling in love with it – with getting swept up in the whole lush, grand, unbridled emotionalism of the thing. I don't feel blind to the movie's flaws: Its first, transcendent third is almost inarguably stronger than what follows; due to his age, Cooper's character doesn't make much sense given the modern setting; the creaky mechanics of the 1937 plotting, though well-lubed, still appear to have needed extra oiling. I also don't really care. I fell madly, deeply, for A Star Is Born, and feel no need to equivocate. Is it perfect? No. Is it perfect for what it needs to be? Absolutely.
In Hollywood's latest version of this tale as old as time (or at least as old as motion pictures with sound), Cooper plays Jackson Maine, a legendary rock singer/guitarist and chronic alcoholic who's obviously loaded even before he steps on-stage for the most recent stop on his national tour. We witness only a minute or two of Jackson's concert, but a jump cut of screaming fans and flashing cameras post-performance suggests that the show was a hit – albeit one that leaves the musician, in the back of his limo, downing the last of his stashed gin bottle and suggesting to his driver that they stop for more en route to the airport. There are no liquor stores to be found, so Jackson suggests that they pop into a downtown nightclub for a cocktail or several, which is where he first encounters Gaga's Ally. Arriving on drag night, he finds Ally the only cis singer in a room full of female impersonators, and watching her captivate the room with a glorious live rendition of Edith Piaf's "La Vie en Rose," Jackson, too, is captivated. Wiping away tears, he agrees when her best friend Ramon (the fantastic Anthony Ramos) asks if he'd like to meet her backstage. Ally – a harried restaurant worker unsuccessful in her attempts to launch a singing career – is initially blindsided by Jackson's presence, and agrees to join him for a drink. The rest, as they say, is history.
By which I mean A Star Is Born history, in that the two quickly fall in love, Jackson gives Ally her big break, and for the rest of the film, her star exponentially rises while his irrevocably tumbles. It's a storyline your grandmother, or great-grandmother, could handily recall. Yet the narrative familiarity, here, does nothing to impede the excitement of Jackson's and Ally's initial courtship, which begins when Jackson gingerly peels off one of Ally's false Piaf eyelashes – as if to say to Ally, to Lady Gaga, and to us, "I want to actually see you" – and leads to honest and fiercely connected conversation, a thrown punch in a cop bar, and a bag of frozen peas in the supermarket parking lot. Our familiarity with the material does nothing to diminish the ecstatic, breath-holding moment of Jackson inviting Ally to join him on-stage, in front of screaming thousands, to debut the first song she sang for him, followed by 10 exquisite seconds of a backstage Ally psyching herself up to the task. (Seriously: Actors have won Oscars for less than what Gaga pulls off in those 10 seconds of screen time.) And by the finale, no matter how many Star Is Borns you've seen or how many times you've seen them, Cooper's offering feels recognizable yet astoundingly new. Cooper and co-screenwriters Eric Roth and Will Fetters don't much deviate from the saga's traditional arc, and they add plenty of modern-day signposts: music videos, a rehab facility, a guest spot on Saturday Night Live. Yet the leads' hunger – for the spotlight, for each other – feels completely of-the-moment, and couldn't have transpired without utter fearlessness and truthfulness on the parts of Lady Gaga and Bradley Cooper.
No one entering the film could've doubted whether Gaga would pull off her role's vocal demands, and while her head-voice soprano is still a little wobbly, she's blisteringly good in her lower register and when belting, especially on the "Shallow" earworm that had fans (myself included) stoked for the film since its first previews. What I absolutely didn't anticipate from A Star Is Born was how much I'd adore her portrayal even if she didn't sing at all. Cooper wisely gives Gaga several scenes to win us over before Ally ever croons "La Vie en Rose," and her early humor and seemingly effortless naturalism – combined with the nearly revelatory experience of seeing Lady Gaga sans makeup, wigs, and elaborate costumes – puts you in the fledgling performer's corner from the start. But Gaga is extraordinary throughout her intensely demanding and rewarding role.
I can't remember the last time physical gestures made me teary-eyed. When Ally first sings "Shallow," though, under blinding lights in front of cheering masses, and with the rock legend Jackson grinning to her side, she instinctively covers her eyes and mouth at critical junctures, as if to say, "I can't believe what I'm doing right now." Those are gestures unimaginable coming from the actual Lady Gaga. They're absolutely right, though, for the struggling Ally, whose previous existence under the roof of her intensely sweet, well-meaning dad (a priceless Andrew Dice Clay) never hinted at a moment of such fairytale perfection. Throughout the film, Gaga is never less than this level of awesome, as wholly realized in her tactful battles of will with her humanely soulless manager (a very fine Rafi Gavron) as she is in her embraces, fights, and significant sorrows with Jackson.
While Gaga's performance jazzed my soul, Cooper's broke my heart, and in the most laudatory sense of the phrase. I'm still not sure how I feel about his Jackson Maine as a present-day conceit, given that his drawling, hard-drinking, unimpeachable Artist of Integrity – considering that he appears to be in his mid-40s – would've probably debuted on the charts in the mid-to-late-'90s, many years after songs by rock greats such as Tom Petty or Bruce Springsteen began landing on "oldies" stations. (It seems unlikely that Jackson would've made such a splash in a post-Nirvana world.) But despite that built-in hindrance, A Star Is Born reminds you that Cooper is a frequently brilliant interpreter of very specifically damaged characters, and his Jackson Maine may be the film performance of his career to date. The externals – gravelly voice, sunburned complexion, six-days-without-a-shower hair – are all there, as is the actor's veracity as a decades-long rock idol who no longer notices how much people still love him. (Cooper's countrified singing voice and guitar-picking skills – or fakery – are also evident, even if no decades-long alcoholic in history has ever appeared quite as physically toned.)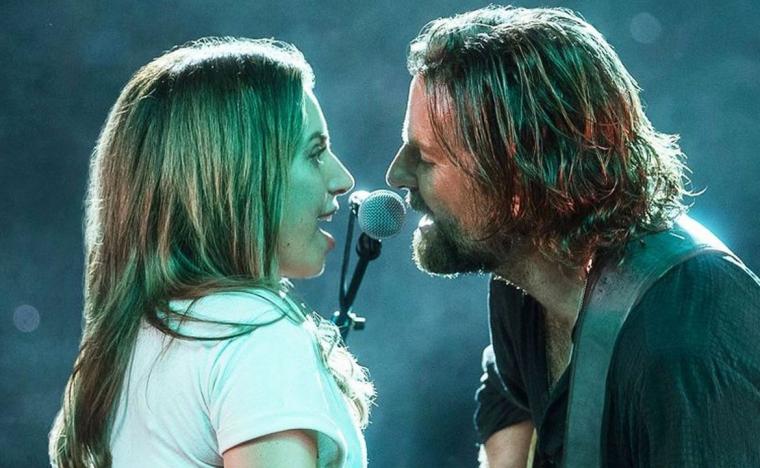 What truly slayed me about Cooper, though, was how convincingly he played inebriated, and not even inebriated – wasted. Jackson isn't an angry drunk; even when he's being hostile, as when confronting Ally while she's bathing or "lovingly" smearing cake on her face in a "playful" act of pride, you can sense the rocker telling, begging, himself to keep his cool. But Cooper's wrenching portrayal never lets you forget the sadness and shame that has led Jackson to this state, and after attempting sobriety, the anguish as he tries to make amends with Ally and his much-older brother Bobby (a tremendous Sam Elliott) is nearly unbearable to watch. That it isn't is testament to Cooper's extraordinary delicacy and honesty in his role. This A Star Is Born fixes a colossal problem from previous versions in that it doesn't turn its male lead into a narcissistic bully by the finale, but rather a figure in every way as deserving of love and empathy as its female lead.
Those who remember the 1954 Star Is Born with Judy Garland and James Mason no doubt remember the film's signature dramatic moment, which occurred when Mason's Norman Maine slapped his wife Vicki Lester at the Oscars. Cooper sets up a similar sequence here at the Grammys. But just as we're wondering how he's going to pull off a similar moment in 2018 – surely no modern pop star would stand for a man who hit her on live TV in front of millions of viewers! – Cooper delivers a jolt similarly stunning and, in its way, equally painful for Ally, and for Jackson. It's one of numerous instances here in which Cooper's storytelling is both inventive and spectacularly confident. For a directing novice, Cooper is remarkably assured in delivering delayed answers to lingering questions, and there are wonderful bits involving the punchlines to the rambling Sinatra stories told by Ally's dad and Jackson's odd purchase of a bag of Cheetos. But aided in no small part by cinematographer Matthew Libatique and editor Jay Cassidy, the movie hums with professionalism and skill for the whole of its 135 speedy minutes. After the performance of "Shallow" that arrives some 40 minutes into the film, there are random merely-competent scenes, but no bad ones.
And God but there are so very many moments to cherish: Ally's wide-eyed amazement as Jackson knocks back the first of many shots he'll end up drinking in front of her; Jackson taking full scale of Ally's talent in that supermarket parking lot; Ramon's silent applause as his friend ascends the stage for her star-making debut; Ally quelling friends' nervous concern when a loaded Jackson falls to the floor and she offers a publicly blasé, secretly upset "He does that a lot"; Jackson's pal George (Dave Chappelle, marvelous) offering a helping hand and a place to stay; Bobby's silent, teary understanding of Jackson's love as he backs out of a driveway; the late-film arrival of that well-done steak, whose purpose is achingly evident the instant it appears. Given all this and much more, and Bradley Cooper and Lady Gaga in roles that aren't consummate so much as instantly iconic, A Star Is Born is a dream of a moviegoing experience. I can't wait to experience it again and again.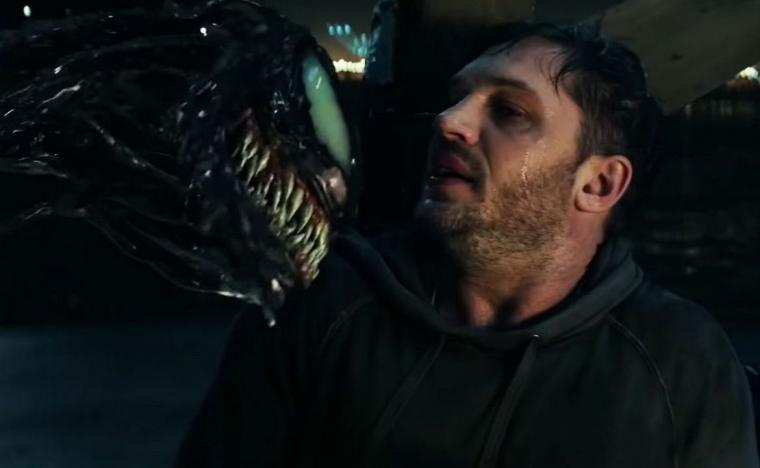 VENOM
A gelatinous extraterrestrial with self-esteem issues morphs with the world's least convincing investigative reporter – one played by Tom Hardy! – in Venom, and the movie still isn't enjoyable enough to qualify as a guilty pleasure. I promise I'm not one of those Lady Gaga-fueled hate-bots that, as was reported by Variety magazine, spit out fake-news advance dissings of director Ruben Fleisher's Marvel-character origin saga in order to drum up business for A Star Is Born. But I honestly have to ask: Was this astonishingly unfunny and tonally lunatic comic-book adventure somehow conceived by a team of hyperactive third-graders with access to an A-list Rolodex?
I'll admit there's something kind of endearing and kinky about the idea of a loser alien melding with a loser human in order to stamp out encroaching interplanetary takeover and win back the heart of a TV journalist's former fiancée (Michelle Williams, looking like she's rather be anywhere else). And setting the tale in San Francisco has its obvious perks, as those rolling hills are at least good for some appealing vistas amidst all the prototypical chase scenes and action choreography. But don't Marvel fans, to say nothing of other humans, deserve better than the hackneyed plotting that finds twitchy, tic-y Hardy's Eddie Brock losing his job, his girlfriend, and his apartment on the very same day, followed by the requisite "six months later" tag that finds a bar patron asking if our hero is Eddie Brock and the sloshed has-been muttering, "I used to be"? Don't they/we deserve better than Riz Ahmed, as the token soft-spoken über-villain, grimacing through dialogue such as "Get me my symbiote – now!"? Can anyone really think it's funny when a purportedly higher intelligence demands food like it's the man-eating plant from Little Shop of Horrors and wisecracks in comic-book balloons less sophisticated than the ones the film's flesh-and-flood figures are tucked beneath? Isn't it apparent to everyone that Hardy is doing way too much physical acting and Brando-esque mumbling for the noxious All of Me adventure he's trying, nearly singlehandedly, to pull off? The stunningly embarrassing, in-all-ways-terrible Venom plays like an imagination-deprived Deadpool stuck with a PG-13 rating its parents insisted on, and I was more than happy to bolt the auditorium before, as I understand, Woody Harrelson showed up mid-credits to offer the threat of Venom sequels. Unlike Hardy, Williams, and Ahmed, I'll at least be able to watch Harrelson in his next movie without my first thought being, "What were you thinking?!?"