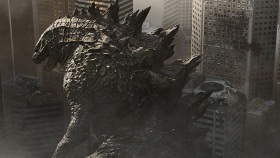 GODZILLA
To get the inarguable out of the way, director Gareth Edwards' new take on Godzilla is an incalculably stronger piece of work than Roland Emmerich's woebegone 1998 version. Its visual effects are superb, and occasionally stunning. Its supporting cast boasts some obscenely gifted actors. It has been crafted with professionalism, confidence, seriousness of purpose, and obvious respect for its cinematic forebears. And taken overall, I found the experience so deathly boring that in the midst of its incredibly loud, debris-strewn action finale, I actually fell asleep. On two separate occasions.
This was not, to put it mildly, the reaction I anticipated (or hoped for) when I entered the auditorium, given that the simultaneously giggle- and shudder-inducing trailers for Edwards' inevitable blockbuster were easily my favorite movie teasers since the ones that helped promote Gravity. Yet as if to suggest, once again, that some films should perhaps be left as trailers, the three-or-fewer-minute takes on Godzilla prove more powerful, haunting, and memorable than Godzilla in its entirety; like its radioactive title character, the film itself emerges as lumbering, heavy-spirited, and devoid of personality. While I did feel some mild shame for my momentary attacks of narcolepsy, it was nothing compared to the surprise I felt for not having fallen asleep sooner.
Even though, as someone who's never much cared about Godzilla lore, I couldn't quite follow the scientific gobbledygook being spouted during the 1999 preambles set in Japan and the Philippines, there was at least enough going on - including an obvious, extended nod to Ridley Scott's Alien - to pique my initial interest. Plus, as I've always been more intrigued by screen humans than screen monsters, there was oftentimes more than more-than-enough to be jazzed about. (Look! Sally Hawkins! Juliette Binoche with a sexy short hairdo! Bryan Cranston with hair!) Between the goodwill generated by the performers and Edwards' smart compositions and staging, with his speedy onrush of life-threatening smoke especially riveting, Godzilla certainly started well. And not long after the film's "15 Years Later" title card appears, the movie's opening third concludes with a true beauty of a narrative kicker, in which one of the skyscraper-sized Mosura - the spindly, shrieking, radioactive creatures that eventually threaten humanity's existence - wreaks exceptional havoc and then unexpectedly sports wings and takes to the sky. (In a gorgeous touch, this scene is witnessed, in near-silence, from the interior of a hazmat suit.)
But immediately after that exceptional bit of annihilation and terror, Godzilla begins to turn into a major slog, primarily because you begin to realize just how little there is to it; put simply, the film is about two gargantuan creatures desperate to get it on, and an enormous lizard intent on performing the world's most demolition-filled act of cock-blocking. While the winged (male?) Mosura from the Philippines and the wingless (female?) Mosura from Las Vegas telepathically agree to rendezvous and mate in San Francisco, the long-slumbering Godzilla rises from his underwater hiding place - insistent, as says the scientist portrayed by Ken Watanabe, on "restoring nature's balance" by killing the Mosura and ending their city-smashing ways. Yet unless you count the "human interest" element involving the charisma-challenged Aaron Taylor-Johnson attempting to reunite with wife Elizabeth Olsen - and it's hard to imagine that many viewers will - that's pretty much all that's going on in the movie's second half. Generic expressions of fear lead to generic attacks on monsters lead to generic (if visually amazing) wreckage involving major metropolises, and by the time Watanabe says of the creatures, "Let them fight!", the proclamation seems motivated less by circumstances than by screenwriter Max Borenstein's criminal lack of imagination. Viewers craving nothing more than tediously slow and repetitive destruction may well have a ball. The rest of us may find our eyelids getting a tad bit droopy.
Edwards, whose only previous feature film was 2010's far superior Monsters, has clearly learned a lot from Spielberg. Early on, he shows a not-insignificant talent for the building of suspense, and he's very good at misdirection, guiding our focus to the foreground right before something unexpected pops out from the side of the screen. Yet I'd argue that he's also learned far too much. I counted no fewer than four adorable little kids employed for those signature Spielberg moments in which children stare at sci-fi astonishments with expressions of implacable calm while the adults around them panic, and, also like Spielberg, Edwards lays on the goopy missing-parent/daddy-issues melodrama with an embarrassing lack of restraint. (Godzilla also feels inordinately, distractingly beholden to Close Encounters. The Mosura make noises that sound exactly like Spielberg's mother ship attempting to communicate, and despite the pleasure of Cranston's Walter White-style intensity, several of his scenes are uncannily reminiscent of Richard Dreyfuss' after being quarantined near Devil's Tower.)
Many of the film's minor touches are pulled off with crackerjack skill; I loved the bit in which a casino full of slot-machine players whined when the power went out right before all hell broke loose, and there's a wonderful casualness to the way one of the Mosura swats at a locomotive and subsequently eats it. But despite its state-of-the-art visuals, Edwards' movie still feels too much like stale goods. (This also feels true of much of Borenstein's dialogue, especially when one of the film's young military men makes the comment, "It takes a licking and keeps on ticking." Could any 20-somethings possibly be aware of this ancient slogan for Timex?) And even though any film that casts the eternally relaxed David Strathairn as its de rigueur Grouchy Military Commander demonstrates inherent cleverness, there's far too little of it on display in this Godzilla. "I have to see this!" shouts Watanabe at a critical moment. I had to, too. And now I'm a little bummed that I did.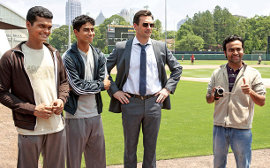 MILLION DOLLAR ARM
I do feel kind of bad for Godzilla, because within its action-packed-summer-blockbuster genre that requires every new release to outdo the one that came before, it faced an uphill climb from the start. By contrast, Disney's Million Dollar Arm - an inspirational sports movie about a washed-up agent (Jon Hamm) who wants to get a pair of Indian baseball novices (Madhur Mittal and Suraj Sharma) into the major leagues - only has to best the likes of Miracle, Secretariat, and The Blind Side. I'm happy, and incredibly surprised, to report that it kind of does.
Sure, director Craig Gillespie's lighthearted drama is expectedly sappy, shameless, and obvious in that Disney manner, with the lump-in-the-throat moments landing right on cue and precious little, if anything, of intellectual or emotional complexity on hand. (Once their characters land in America, Mittal and Sharma are also forced into a few too many unfortunate fish-out-of-water gags, but these effortlessly appealing actors from Slumdog Millionaire and Life of Pi, respectively, execute them with considerable grace.) Yet all formulaic feel-goods of this sort should be so blessed as to have Tom McCarthy as their screenwriter; the profoundly gifted director/author of The Station Agent, The Visitor, and Win Win may hit all the traditional beats, but he does so with absolute elegance and wonderfully grown-up wit. (The teasing, frisky byplay between Hamm and the forever luminous and charming Lake Bell might make this the most enjoyable superfluous screen romance in the history of superfluous screen romances.) And while the early scenes in India, with their Disney-fied yet undeniable exoticism, are the movie's high points, Gillespie's outing has energy and drive even in its more rote L.A. sequences, plus a superb cast that includes Aasif Mandvi, Alan Arkin, Bill Paxton, Darshan Diwala, and the live-wire Indian comedian Pitobash. Million Dollar Arm may appear to be the family-friendly love child of Slumdog Millionaire and Jerry Maguire, but it's entertaining and sincere and consistently watchable, and at no point did I even consider a nap.