300: RISE OF AN EMPIRE
No movie that opens with Gerard Butler being beheaded, even off-screen, can be all that bad, and so maybe I shouldn't be surprised by the not-so-bad-ness of director Noam Murro's 300: Rise of an Empire. I still am, considering how little fun I had at Zack Snyder's smash-hit predecessor from 2007, yet personally speaking, it's not hard to identify what makes this CGI-heavy bloodbath an overall better time - a much better time - than 300. But we'll get to her momentarily.
It's the ancient Greeks versus the Persians again in Rise of an Empire, and the film's relative cleverness is apparent right off the bat, once you realize that it's not a sequel to Snyder's movie so much as a parallel narrative; the exploits of Empire's heroic Greek warrior Themistokles (Sullivan Stapleton) are actually happening more or less in tandem with those of Butler's Leonidas in 300. (Written by Snyder and Kurt Johnstad, this new outing is based on Frank Miller's graphic novel Xerxes, with that titular god-king, here, still an electronically enhanced basso profundo played by Rodrigo Santoro.) The niceties of the plotting barely matter - for roughly 100 minutes, the pissed-off Persians attack and the honorable Greeks retaliate - and the ultra-violent battle sequences are again presented with such fetishistic (albeit arbitrary) slow-motion detail that we're forced into becoming connoisseurs of carnage, and are consequently yanked out of the experience more often than we're sucked into it. (Like 300, Rise of an Empire oftentimes suggests a particularly gory version of the Olympics; you half-expect each viscera-splattering thrust of the sword to be accompanied by Bob Costas exclaiming, "Ooooo! That's gotta hurt!") There's also a formulaic, lamely sentimental subplot involving an antsy young Greek soldier and the father worried for his son's safety, and a strange, distracting proliferation of dust bunnies floating amidst every scene; you don't want to swat them from your face so much as swat Murro for this bizarre stylistic curlicue that, in comparison, makes J.J. Abrams' lens flares appear completely unobtrusive. And Stapleton, unfortunately, is a real drag on the proceedings, because despite having the requisite abs - even though, in general, the movie is less of a cinematic Playgirl spread than its forebear - the actor projects no authority in voice, manner, or presence. But, really, who cares? For that we have Eva Green.
Despite my ingrained hydrophobia, I was happy to discover that the vast majority of Rise of an Empire would take place on the high seas among warring battleships; the thunderstorms and crashing waves added some visual texture to the action scenes, and the icy blues and grays nicely offset the 300 films' traditional burnt-umber color palette. But I was overjoyed to discover that Green was portraying the arch-villain Artemesia - a native Greek whose horrific childhood abuse put her staunchly on the side of the Persians - because from her first entrance, the performer's withering stare, commanding throatiness, and depraved wide grin suggest that she might be a baddie for the ages. (And if she were in a somewhat better film, she would be.) Green brought fearless bravado to her sick-puppy role in Tim Burton's 2012 Dark Shadows reboot - she was really the only actor there who did - but she's even more gloriously unhinged here, and her unquestionable sexiness and comic aplomb blended with her character's nightmarish, single-minded desire for vengeance plant you firmly in Artemesia's corner without Green having to say or do anything remotely empathetic. The sequence in which she literally uses sex as a weapon against Themistokles is sure to be one that, for the 300 series' young-male demographic, will get a lot of repeat viewing once this thing hits home video. But the French starlet will no doubt have won over Rise of an Empire's fan base much sooner than that, beginning with the scene in which she slices an apple with a knife that would give Crocodile Dundee the shakes, and then proceeds to behead a man with two flicks of the blade, kiss him on the mouth, and blithely toss his severed melon to the ground. Now that's a Green party.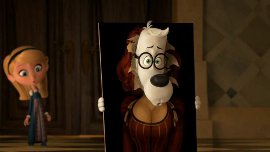 MR. PEABODY & SHERMAN
For those of us old enough to remember the riotous cartoon adventures of a talking, time-traveling dog and his adoptive human son from the '60s classic The Bullwinkle Show, director Rob Minkoff's animated Mr. Peabody & Sherman features some delights: Ty Burrell and Max Charles gamely mimicking the cadences of canine-and-boy predecessors Bill Scott and Walter Tedley; moderately smart puns involving Oedipus and Marie Antoinette and the Egyptian city of Giza; Sherman showing up at school with a Stephen Hawking lunchbox. (I would've preferred a stronger punchline than the "A Brief History of Lunch" shown on the container but nonetheless appreciated the attempt.) For young viewers who don't know Mr. Peabody from Mr. Potato Head, at least they'll be given a lot of shrieking and chase scenes and poop jokes. (Admittedly, I did chuckle at one of the poop jokes, when a series of Greek soldiers, seen in silhouette, plopped to the ground from the back end of the Trojan Horse.) But it's doubtful that either set of viewers will learn more about history - or have a better time doing it - over Mr. Peabody & Sherman's generic 90 minutes than we used to during the TV serial's fewer-than-10. And despite the breezy pacing and vocal performances by the likes of Ariel Winter (Burrell's Modern Family daughter Alex), Stephen Colbert, Leslie Mann, Allison Janney, Mel Brooks, Stanley Tucci, Dennis Haysbert, Lake Bell, and the inevitable Patrick Warburton (a hoot as a dim-witted Agamemnon), a sickly sentimentality appears early and, to the film's detriment, suffuses the whole experience. Why would anyone want to update a Jay Ward creation and use it to elicit tears? The film may be Mr. Peabody's in title, but in practice, it's really just Droopy.
TITANS OF THE ICE AGE 3D
It took me an embarrassingly long time to get to the Putnam Museum's not-so-recently booked, 40-minute edu-tainment Titans of the Ice Age 3D. But I'm also kind of glad that it did, because had I caught director David Clark's movie in early February and heard the line "The world is becoming warmer than it has been in the last 120,000 years," I might've been forcibly removed from the auditorium for screaming "Like hell it is!" I presume many you weren't nearly so tardy about seeing this ice-age exploration of woolly mammoths and saber-toothed cats and such, so you likely don't need me to tell you that Clark's offering is terrific: gorgeously photographed and boasting perhaps the finest CGI I've ever seen in a National Geographic doc, the film is both informative and a heck of a lot of fun. (We're given plenty of details regarding the mammoths' physical makeup and habits, but I was having such a good time watching these enormous beasts lumber about and smack one another with their tusks that I didn't retain nearly as many as I probably should have.) There are also fascinating segments devoted to tar pits - which look like really awful places to die - and an amazing-looking extinct creature called the Shasta ground sloth, which was as big as a black bear but had a head seemingly too tiny for its frame, like a furry Kevin James. Plus, for a large-format doc at the Putnam, there's very little dialogue beyond the voice-over narration - and as that narration is delivered in Christopher Plummer's mellifluous tones, you couldn't possibly want more. All told, Titans of the Ice Age is a sensational piece of work, and a timely one, considering that Plummer tells us, "The ice age is a climate story more relevant now than ever." We may finally have made it to March in this endless winter, but still: Tell me about it.
Follow Mike on Twitter at Twitter.com/MikeSchulzNow.