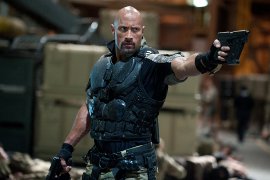 G.I. JOE: RETALIATION
If you handed a box of crayons to a group of eight-year-olds with action figures, they'd probably come up with a more entertaining storyline for G.I. Joe: Retaliation than the one we're stuck with, which is your standard blockbuster nonsense about a megalomaniac's plan for world dominion and the crack team of well-armed, quip-ready hotshots attempting to thwart him. In a welcome surprise, though, director Jon M. Chu's follow-up to 2009's G.I. Joe: Rise of the Cobra is, unlike its forebear, quite a bit of zippy, throwaway fun, a fast-moving and happily unpretentious diversion with jokes, and good ones, obviously written specifically for viewers well over the age of eight.
It should go without saying that a lot of things blow up in Retaliation: vehicles, buildings, bad guys, whatever remnants of career respectability Bruce Willis was previously clinging to. Yet while Chu can stage an action scene with professional acumen (and even, in one complexly choreographed mountainside battle here, a fair amount of wit), the movie is too blandly conceived to be truly satisfying, and several prominent figures are denied even the faintest hints of personality - principally D.J. Cotrona's heroic Flint, whose character description could easily begin and end with "buff." Still, this second entry in what will likely be a long, lucrative franchise at least boasts a healthy share of clever ideas; I particularly admired the miniature spy-cameras-slash-explosive-devices designed to resemble fireflies, which created lovely, picturesque images of nighttime calm before blasting things to smithereens. And while we could have used more of Channing Tatum, who delivers some winningly low-key laughs before being unceremoniously dropped from the proceedings, Adrianne Palicki exudes some spark, Justified's Walton Goggins adds some snaky vibrancy as a mid-level henchman, and, best of all, Jonathan Pryce returns as both the president and the nefarious mastermind impersonating the president. If the crowd's collective response at my screening was any indication, kids are going to have a terrific time at G.I. Joe: Retaliation; there aren't many dead spots, and star Dwayne Johnson, as is often the case, is like a comically genial cartoon character come to life - Wreck-It Ralph with a pulse. But against considerable expectation, and thanks to smart contributions by screenwriters Rhett Reese and Paul Wernick, even adults generally averse to generic blow-'em-ups such as this one may find themselves frequently amused. It's tough, after all, to resist a movie in which the commander-in-chief is dealt a vicious smack with the reprimand "That's for the tax hike," or one where the prez's doppelgänger makes an argument, and a rather hilarious one, for the employment of torture techniques. "I know they call it a waterboard," says a grinning Pryce after an act of off-screen malevolence, "but I never get bored."
THE HOST
As an out-of-state vacation kept me happily away from film-related Web articles for a whole week-plus, I walked into my screening of The Host almost completely blind, knowing nothing about the picture except that it was based on a lesser-known book by Twilight author Stephenie Meyer, and it starred the preternaturally gifted and luminous Saoirse Ronan in the lead. I'll readily admit, then, that the movie did make me gasp at one point ... though not because of a shocking narrative development, or an unexpected visual thrill, or any other reason I might have hoped for. What inspired my vocal astonishment was actually the end-credits title card "Written and directed by Andrew Niccol," because as a huge fan of the man's The Truman Show screenplay and the writer/director's beautiful, underrated Gattaca - and a moderate fan of the recent Justin Timberlake vehicle In Time - I was flabbergasted that Niccol could now be responsible for such a silly, embarrassing, endless dud of a film.
There's this alien race of floating energy balls called Souls, you see, which is systematically inhabiting the people of Earth and turning them into shiny-eyed, smiling vacuums. One of the Souls' intended victims, however, isn't losing her humanity without a fight, and after a feisty teenager named Melanie is taken over by a glowing creature, The Host turns into nothing so much as a laughably serious-minded All of Me with Ronan cast in the Steve Martin and Lily Tomlin roles. Melanie and her alien invader squabble about the visitors' plans and personal freedoms and which of two interchangeable hunks (Jake Abel and Max Irons) is the cutest, and with this lone doubles act continuing for the rest of the film - and with the Souls slowly, slowly seeking out Melanie and her traveling companions for thorough brainwashing - you find yourself staring at the inert goings-on with slack-jawed amazement, astonished that not one remotely compelling or even vaguely interesting event is taking place over a two-hour running length. Meyer may be responsible for The Host's fundamental idiocy, but I'm afraid Niccol is to blame for the movie looking and playing like an amateurish Invasion of the Body Snatchers re-designed as a mopey teen romance that even the estimable talents of Ronan, William Hurt, and Diane Kruger can't salvage. By the time the film mercifully ended, I actually found myself actively missing the charisma and nuance and high style of Taylor Lautner. The mind kind of boggles, doesn't it?