WORLD WAR Z
Beginning with the fact that it's directed by Marc Forster - a competent-enough craftsman whose previous works (including Finding Neverland, The Kite Runner, and the deadening James Bond entry Quantum of Solace) have hardly been known to quicken one's pulse - practically everything about the suspenseful and exciting zombie chiller World War Z feels a little bit off, and that's what I liked about it.
Forster's film (based on a novel by Max Brooks) finds the world's population, for reasons left unexplained, being quickly overrun by hordes of snarling, flesh-devouring, lightning-quick creatures, and Brad Pitt portraying a former United Nations investigator assigned to ferret out the epidemic's origin. It is, in essence, Steven Soderbergh's Contagion with the collective undead cast in the role of the virus, and the greatest of World War Z's pleasures is that, like Contagion, it's a movie whose focus narrows, rather than expands, as it progresses. Following its sharply edited opening montage of TV-news broadcasts and a couple of scenes of domestic bliss between Pitt and his family (Sterling Jerins and Abigail Hargrove as his daughters and the exceptional Mireille Enos as his wife), the film gets down to business with a terrifying sequence of Philadelphia under zombie attack, complete with brutal assaults, hideous transformations, car crashes in rush-hour traffic, and the requisite fiery explosions. (How, exactly, the zombie masses cause the fiery explosions is unclear, but it's a grandly scaled action set piece in a summertime blockbuster, so we go with it.) While watching this sequence, you may wonder if Forster will ever manage to top it, and with the possible exception of one thrilling and enjoyably ridiculous scene set aboard an airborne jet, he doesn't. What's fascinating about the film, though, is that he doesn't really try to; rather than continually shooting for louder and bigger, Forster and his quartet of screenwriters instead opt for quieter and smaller, and in World War Z's case, that proves the far more satisfying way to go.
With his family in the (presumably) safe care of a UN command ship, our hero begins hopping the globe in search of a zombification cure, making Pitt stops in South Korea, Jerusalem, and a World Health Organization outpost in Wales. Yet while there's still plenty of visceral fun to be had during these detours - especially when the undead, crawling over one another with horrifying speed and determination, scale a towering Israeli wall like ants on a sugar cube - your brain, happily, winds up nearly as tickled as your insides. Forster and the script's authors may not provide a rationale behind the existence of zombies, but their storytelling is terrifically lucid and specific regarding the means by which protection from zombies may be possible, and that makes World War Z, by its midpoint, an unusual beast - a subtly rendered, intellectual thriller in the guise of a big-budget scare flick. With Pitt giving a strong, tough-minded performance as an intensely smart man, the movie's emphasis on the procedure behind saving the world adds true gravitas to the proceedings, and keeps you engrossed in the narrative even during its most nerve-jangling encounters. (And there are plenty of them, particularly after Pitt and a soldier played by Daniella Kertesz infiltrate the World Health Organization facility; the image of one zombie vacantly clacking his teeth in nightmarish closeup might linger in my head for weeks.) You might giggle at the film's sillier contrivances - just how did that zombie get aboard that plane, exactly ... ? - yet taken as a whole, World War Z is a shockingly thoughtful shocker suggesting there's still plenty of life in its death-laden genre.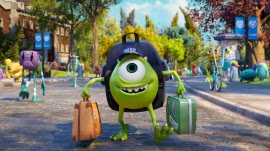 MONSTERS UNIVERSITY
Monsters University, Pixar's prequel to its 2001 animated smash Monsters, Inc., is an almost constant smile. Like many of you, I'd imagine, I've been pretty disappointed in the company's apparent need of late to augment its cash flow by revisiting every last one of its properties. (That candy-colored bummer Cars 2, at least, was a continuation of one of Pixar's lesser offerings, but do we really need that forthcoming follow-up to Finding Nemo?) And if you've seen Revenge of the Nerds or Pitch Perfect or, really, any collegiate comedy involving warring sets of frats and sororities, nothing about Monsters University's storyline - which finds Billy Crystal's ambulatory eyeball Mike meeting, initially loathing, and eventually loving John Goodman's hulking blue fuzzball Sully - will come as much of a surprise. But to its considerable credit, director Dan Scanlon's effort is chockablock with quick, funny throwaways and marvelous slapstick timing, and just about every shot features some delightfully weird visual curlicue to catch your eye; the movie opens with a priceless gag involving a two-headed pigeon and never looks back. The vocal cast, too, provides plenty of amusement, and among an ensemble that includes Steve Buscemi, Sean Hayes, Dave Foley, Charlie Day, Alfred Molina, Aubrey Plaza, John Krasinski, Bonnie Hunt, Julia Sweeney, and Nathan Fillion (doing a dandy riff on his spectacularly conceited Captain Hammer from Dr. Horrible's Sing-along Blog), Helen Mirren might steal best-in-show honors for her seemingly subdued university head Dean Hardscrabble, who boasts the feet of a caterpillar but the body, and interior demeanor, of a fire-breathing dragon. And you thought Mirren's Queen Elizabeth was formidable.